This post contains affiliate links. See my disclosure for more information.


Is it cold where you live? Here, in the Kansas City area, it's so cold that all I want to eat is hearty soups, stews and chili.
This soup is terrific ladled into a generous soup bowl and even better ladled over gluten-free egg noodles. I used Jovial's egg noodles, cooked according to the instructions on the box. I prefer noodles separate from the soup, as most soup recipes create enough for leftovers. I'm not a fan of noodles that have been sitting in soup for a few days, I prefer that freshly made pasta feel.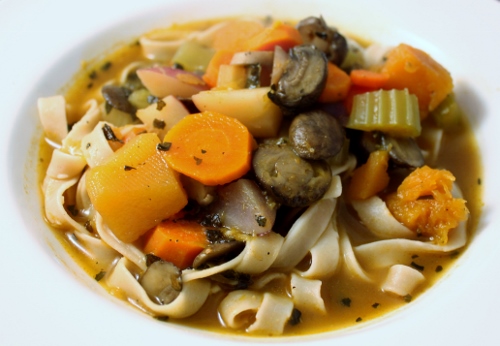 Speaking of leftovers, if it's possible, this soup improves after hanging out in the fridge for awhile. Yesterday for lunch we had the last little bit of a batch of this soup. My favorite fella commented that this soup just keeps getting better. He liked it better the third time around than when it was fresh!
I cook most soups in my Lodge 5 quart Dutch oven. I love cooking in cast iron because of the rich, deep flavors that seem to live in a well-seasoned cast iron pan. I'm also buying into the thinking that cooking in cast iron puts a bit more iron in food, which works great for me. Oh, and also, toting this pan around counts as a workout. I believe it weighs something like 15 pounds. I honestly don't move mine around much, it lives on my cooktop because it gets used so often.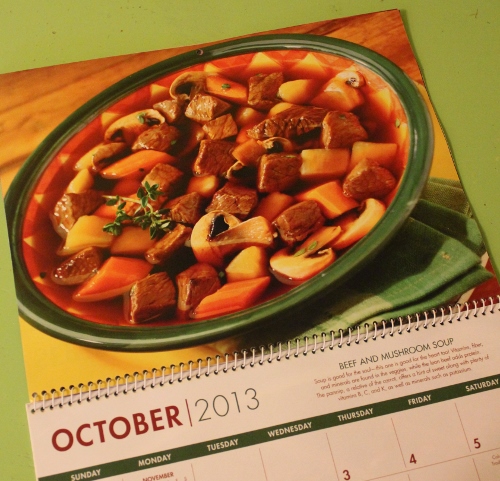 For those keeping track, this is the October recipe from the Twelve Months of Healthy Eating calendar project. October's recipe was for Beef and Mushroom Soup. Biggest change: no beef. I've also amped up the veggies and seasonings. Below the recipe, I've included links for all of the recipes so far this year. Next up, an amazing recipe remodel for meatloaf!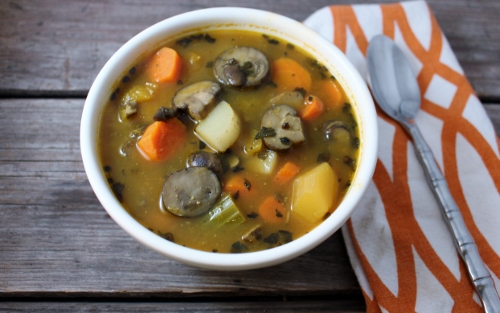 Hearty Mushroom and Veggie Soup
Ingredients
1

Tablespoon

olive oil or cooking oil of your choice

2

cups

sliced carrots

2

stalks celery

, diced

1

cup

diced potatoes

1

cup

diced butternut squash

8

ounces

sliced baby bella mushrooms

4

cups

vegetable broth

(make sure it's gluten-free)

1

cup

gluten-free beer

(I used Trader Joe's NGB)

1

cup

water

1

teaspoon

dried basil

1

teaspoon

dried oregano

1

teaspoon

cumin

1/2

teaspoon

freshly ground black pepper

(Optional) gluten-free egg noodles
Instructions
In dutch oven or large saucepan, heat oil over medium. Stir in carrots, celery, potatoes, butternut squash and mushrooms. Cook, stirring occasionally for 5-7 minutes.

Once vegetables start to soften, add broth, beer and water. Bring to a boil.

Reduce heat, cover and simmer for 1 hour. Season with basil, oregano, cumin and black pepper.

Optional: cook gluten-free egg noodles according to package instructions. Place a serving of noodles in the bottom of soup bowl, ladle hot soup over the noodles.
Here are the recipes so far in the Twelve Months of Healthy eating project. Enjoy!
January: Hummus Wrap with spicy orange cashew creme
February: Pumpkin Kale crockpot chili
March: Spinach Artichoke Panini
April: Weeknight Vegetable Stir Fry
May: Double Bean Salad
June: Double Blueberry Shakes
July: Mini Tomato Basil Pizzas
August: Dairy-Free Raspberry Ice Cream
September: Pesto Stuffed Mini Potatoes
This post contains affiliate links for products I personally own, use and believe in. Should you click on the links and purchase these items, I may receive a small percentage commission. By purchasing via links in my blog posts, you are helping me earn a few pennies to buy a bunch of kale, a pound of flour or a new spatula. This allows me to continue producing high-quality, free content including original recipes like the one above. I appreciate your support!