This post contains affiliate links. See my disclosure for more information.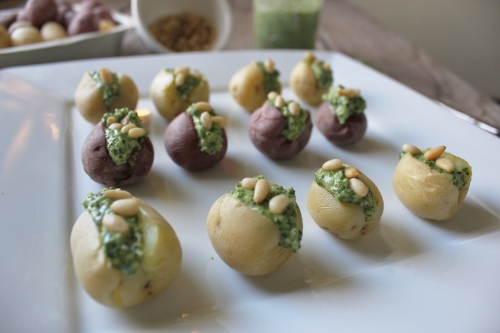 I bet you thought I had given up on my calendar project. Nope, I'm about to conquer that silly twelve month goal.
If you don't know what I'm talking about, here's the scoop: last December I got a calendar at Fausto's in Key West. It featured a recipe each month that was healthy but didn't necessarily work for me. I decided I would re-create each of the recipes to work for how I eat…and maybe how you eat.
I'm admittedly not a calendar person. I keep a paper day planner for business appointments and use my phone's calendar for everything else. We don't usually have pretty calendars on the wall in our house. I hung this one in the kitchen and realized late last week it was still on the September page. That means I'm three months behind in my project!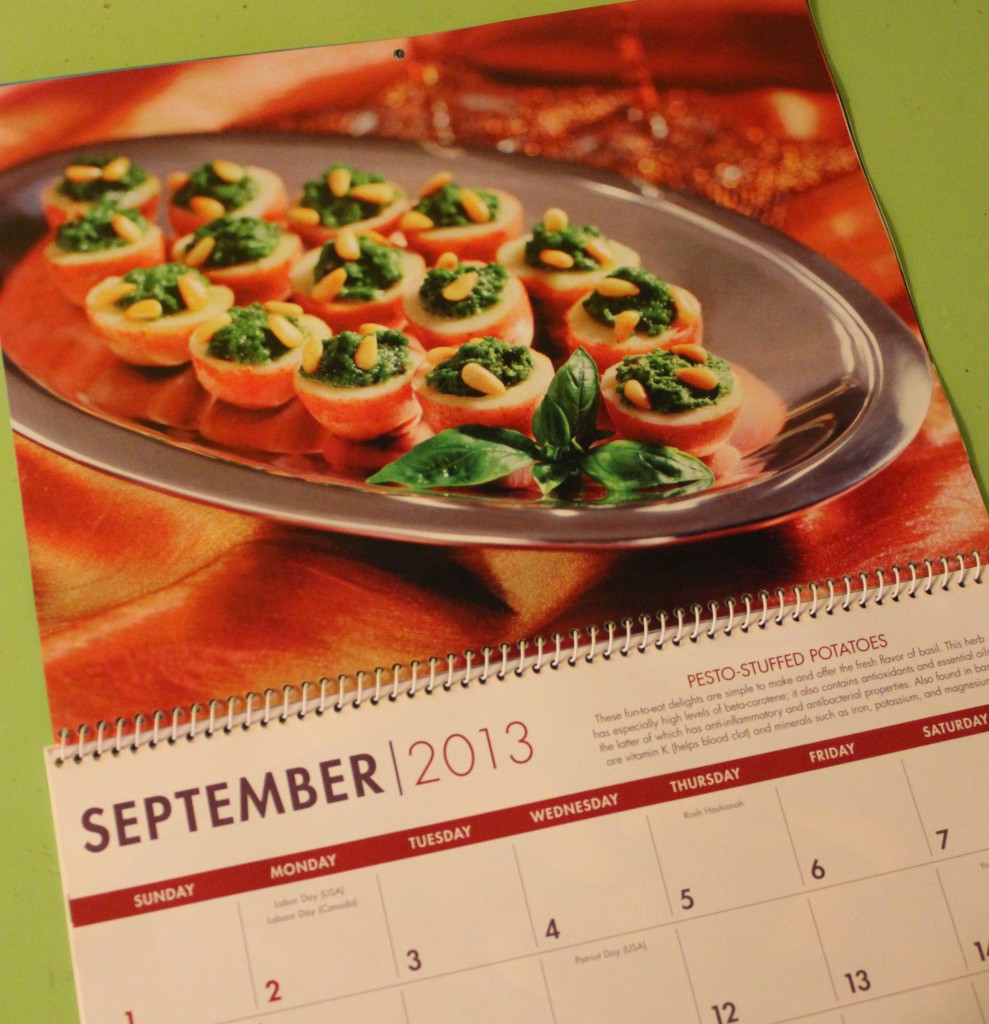 The September recipe, Pesto Stuffed Potatoes, called for baby potatoes that were sliced in half, bottoms leveled off and then scooped out. I had issues with this. First, what was I gonna do with the itty bitty pieces I sliced off of the bottom to make them stand upright? Second, what was I gonna do with the potato goodness I scooped out? Oh, yeah, right…I was gonna eat it while making these. Instead of doing that, I made an even easier variation. These are good hot or cold AND they are perfect for holiday party nibbles. Perhaps being behind in this project isn't such a bad thing. I just created my new favorite party food!
So here we go, I'm gonna catch up and share with you four more amazing recipes. And I'm gonna hope Santa sends me a plane ticket to Key West so I can get another calendar for next year. 😉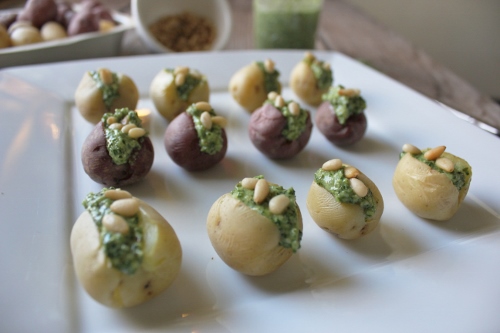 Pesto Stuffed Potatoes
Ingredients
1

pound

Small potatoes

(I use Melissa's peewees, micro-steamed or baked)

1

cup

fresh basil leaves

1

cup

kale

, stems removed

1/4

cup

pine nuts

, plus additional for garnish

1/4

cup

brazil nut parmesan

(dairy parm works, too)

2

cloves

garlic

2

Tablespoons

lemon juice

1/3

cup

olive oil

salt and pepper to taste
Instructions
Cook potatoes by either microwave steaming or baking until fork tender. I use the Melissa's peewees, which are in 1-pound packages in the produce department. Any small potato is fine.

Allow potatoes to cool while preparing pesto.

In bowl of food processor fitted with "S" blade, combine all ingredients except olive oil.

Process until all are finely chopped.

With process running, drizzle in olive oil. Stop when combined.

Place potatoes you will be using on a flat surface. This is important, as you want to see how they sit flat. Once you have determined which is the bottom of the potato, cut a small slit in the top of the potato and get it a little smoosh from the ends, opening the potato up just a bit to make room for the pesto.

Fill with a small spoon full of pesto and top with a few pine nuts. Serve either hot or cold, they are tasty both ways!

Store any leftover pesto in the refrigerator. It's excellent spread on crusty bread, with zucchini noodles or pasta.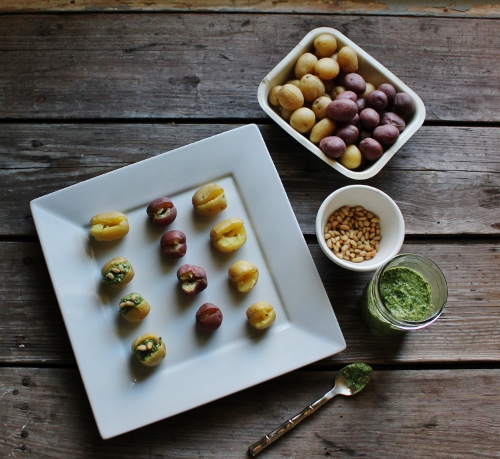 Want to see more of the recipes I've remodeled from the calendar? Here they are:
January: Hummus Wrap with spicy orange cashew creme
February: Pumpkin Kale crockpot chili
March: Spinach Artichoke Panini
April: Weeknight Vegetable Stir Fry
May: Double Bean Salad
June: Double Blueberry Shakes
July: Mini Tomato Basil Pizzas
August: Dairy-Free Raspberry Ice Cream