This post contains affiliate links. See my disclosure for more information.


Happy National Spinach Day!
I love all of the quirky food holidays. And I love spinach. As a kid, I may have been the only one in the school cafeteria who looked forward to spinach being served. Even when it was the overcooked, stewed spinach that was only made palatable by an ample dousing of malt vinegar, I would eat it. I was also a fan of Popeye, watching the cartoon every morning before school. Kinda makes me wonder if we got more cartoon characters behind healthy food if it would be more appealing?
I eat spinach in lots of ways for lots of reasons. I put it in smoothies, in salads and today, on a sandwich. I eat it for many of the usual nutrition reasons (magnesium, Vitamin A, K, etc…) but also because it contains glycoclycerolipids. There is very promising research showing the glycoclycerolipids in spinach can protect the lining in our digestive tract from damage related to inflammation. For any of us with gluten-related health concerns, this is big! Eating something that tastes great AND is good for our bodies works for me.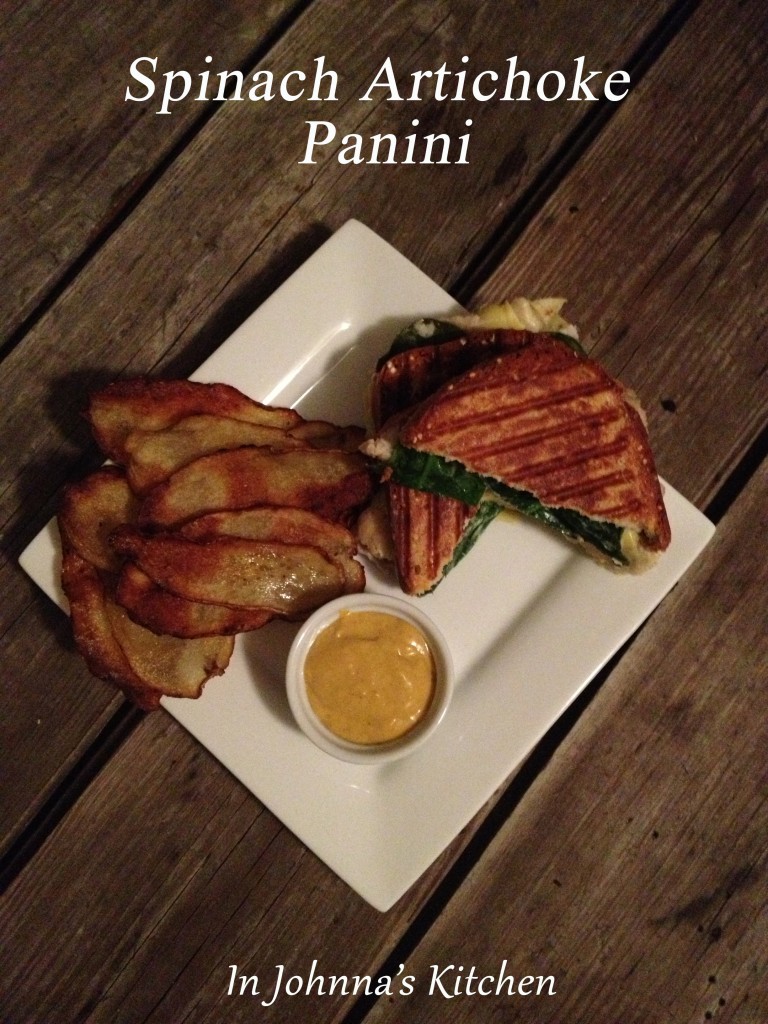 Today's recipe is part of my Fausto's calendar project, Twelve Months of Healthy Eating. You may have read my January and February entries related to this calendar I snagged at my favorite Key West grocery store. Each month I'm remodeling the recipes featured in the calendar. This month's recipe is a Spinach Artichoke Panini.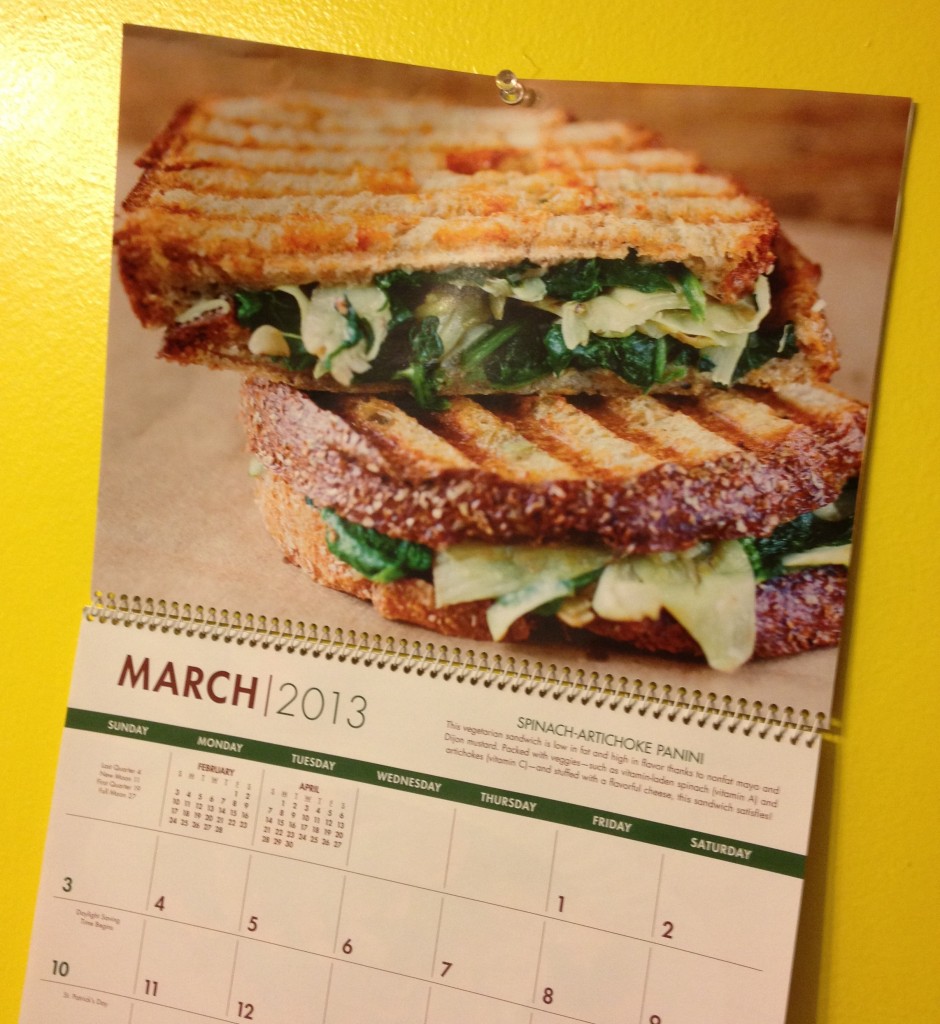 To modify this recipe, I used gluten-free bread, Nasoya mayonnaise and made my own Swiss cheese spread. It makes a great panini, so creamy and reminiscent of spinach artichoke dip without the less-nutritious ingredients I used to put in such dips. This one is going into rotation on our menu plan! On the side, I made garlic chips with a curry mayo dip. Watch for the recipe tomorrow!
Oh, and about the mayonnaise. You'll notice in the recipe I didn't use butter or a butter substitute on the bread. I used mayonnaise. Try it instead of butter on any grilled sandwich, you'll love the appearance and the flavor!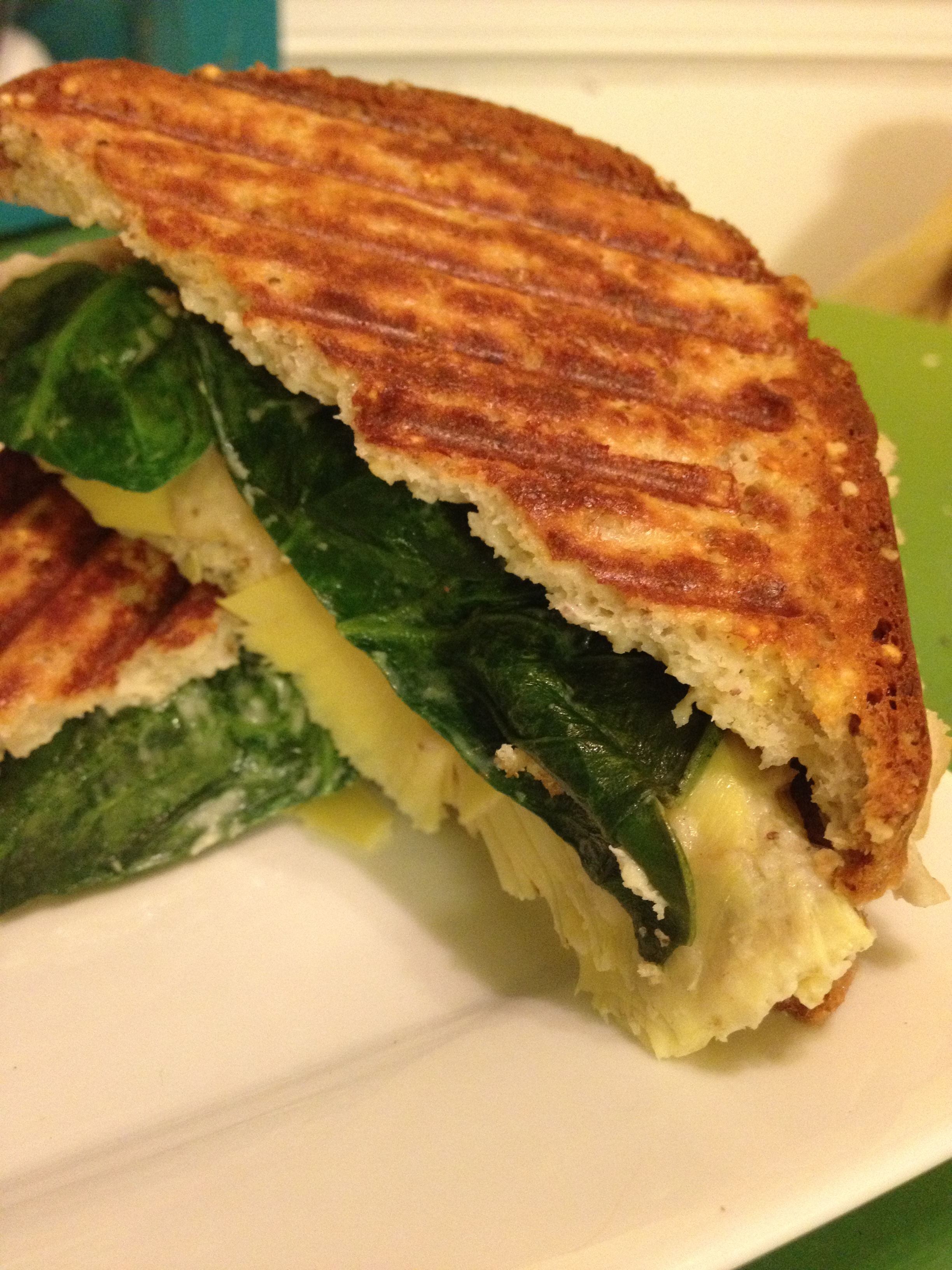 Spinach Artichoke Panini, Gluten-Free, Dairy-Free, Vegan
Ingredients
4

slices

gluten-free bread

1

batch Johnna's Swiss Cheese Spread

2

t

. vegan mayonnaise

2

t

. dijon mustard

handful of spinach

handful of artichoke hearts

, drained and patted dry
Instructions
Preheat sandwich press or griddle pan.

Spread outside of each slice of bread with a bit of mayonnaise

On the inside of the bread, spread two slices with mayonnaise, two slices with mustard.

Atop the slices of bread with mayonnaise on the inside, cover with a handful of spinach leaves. Top with a generous dollop of Swiss cheese spread and gently spread.

On the remaining two slices of bread, spread with mustard. Top with artichoke hearts.

Assemble into sandwiches and grill. Serve hot!
Disclosure: Nasoya provided complimentary mayonnaise for me to use in this recipe.