This post contains affiliate links. See my disclosure for more information.


I'm rolling right along with the calendar project and I'm almost caught up!
Next up is May's recipe: Bean and Tuna Salad, without the tuna. Well, you know I'm not a fan of tuna so I'm gonna skip over that. The recipe in the calendar also called for cannellini beans, which I don't keep in the pantry. It's not that I don't like them, just that I use them infrequently and prefer building recipes around ingredients I think more of us are likely to keep handy. I've used garbanzos instead. Or chickpeas. Which do you call them?
But the part I like the most about this salad is that I got to use garden fresh produce! My friend Janey dropped green beans by from her garden. The little orange cherry tomatoes and oregano in the dressing came from my garden. I love this time of year when I really know where at least part of my food is coming from.
This salad made two entree sized salads for lunch. Perfect for a quick meal on a hot Summer day. Enjoy!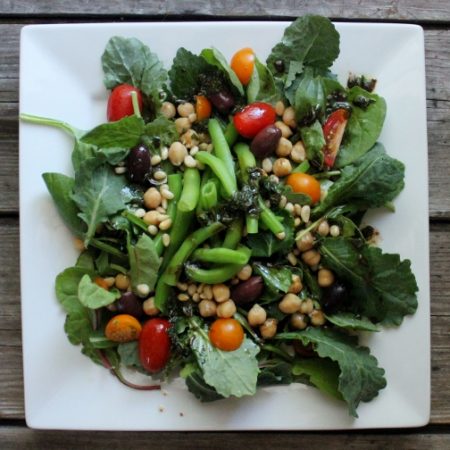 Twelve Months of Healthy Eating: Double Bean Salad
Ingredients
2

T

. extra virgin olive oil

1

T

. balsamic vinegar

1

T

. fresh oregano leaves

, finely minced

1/2

t

. prepared Dijon mustard

salt to taste

1

cup

green beans

, blanched

1/2

cup

garbanzo beans/chickpeas

14

cherry or grape tomatoes

, halved

12

kalamata olives

2

T

. pine nuts/pignolias

2

generous servings of salad greens of your choice
Instructions
Blanch green beans and set aside.

On each of two plates, lay down a bed of salad greens.

Top each with half of the green beans, garbanzos, tomatoes, kalamata olives and pine nuts.

In a small bowl, stir together the dressing ingredients. Drizzle over salad and serve.