This post contains affiliate links. See my disclosure for more information.


I fell a little off track with my Twelve Months of Healthy Eating project, inspired by the calendar I got at Fausto's in Key West. While I might not be prompt, I'm not a quitter. So here I am, tackling this one and getting back on schedule. Which, um…means I have to backtrack to April.
April's recipe was a Chicken and Shrimp Stir Fry. I'm not going to re-model this with processed faux meats, instead I'm modifying the sauce to include healthier ingredients and adding in more veggies than the original recipe included. Stir Fry is a favorite quick dinner for us and also our go-to for cleaning out the crisper drawer. I often use up odds and ends of veggies left over from other recipes to make a quick stir fry. So feel free to add in whatever you have handy when making this recipe.
Here's the photo from the calendar: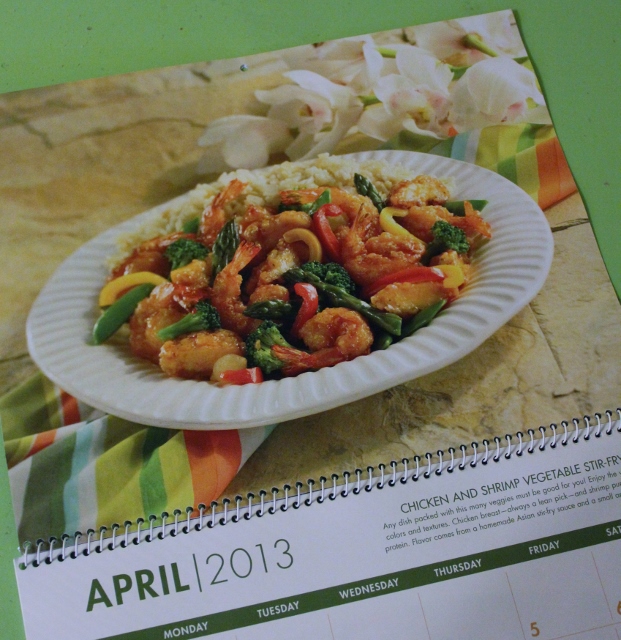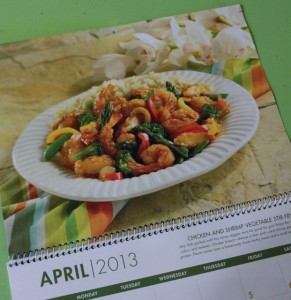 And here's my version. Enjoy!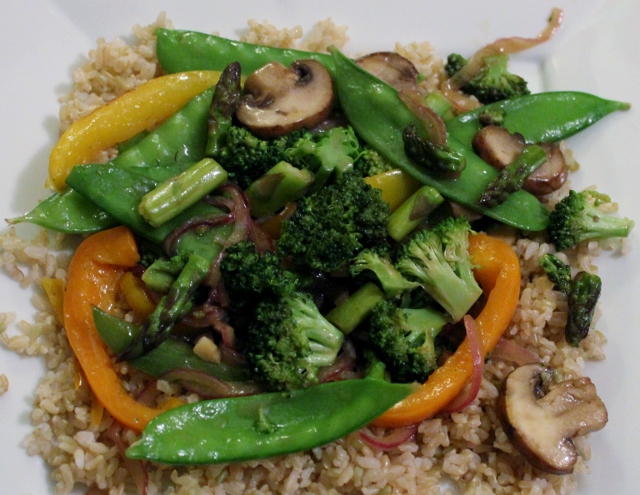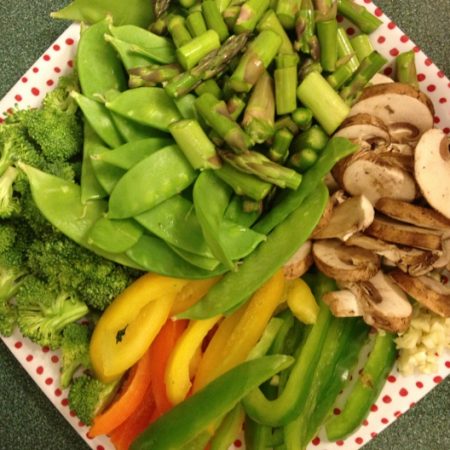 Weeknight Vegetable Stir Fry
Ingredients
2

T

. Bragg's aminos

, gluten-free soy sauce or coconut aminos

2

T

. filtered water

2

T

. rice vinegar

1

T

. raw local honey

2

t

. arrowroot powder or cornstarch

2

t

. dry mustard

1

T

. toasted sesame oil

2

cups

fresh broccoli florets

1/2

red bell pepper

, sliced

1/2

green bell pepper

, sliced

1/2

orange or yellow bell pepper

, sliced

3

garlic cloves

, minced

1

cup

sliced baby bella mushrooms

1

cup

fresh asparagus pieces

1

cup

snow peas

1/2

red onion

, thinly sliced

cooked brown rice

, quinoa or millet (optional)
Instructions
In a small bowl, stir together aminos or soy sauce, water, vinegar, honey, arrowroot or cornstarch and mustard. Set aside.

In wok or large skillet, heat sesame oil until hot. Over medium heat, add broccoli, bell peppers and garlic, Stir fry for 2 to 3 minutes. Add mushrooms, asparagus, snow peas and onion. Stir fry for 4 to 5 more minutes until mushrooms and onion are cooked.

Give the sauce a quick stir, then pour until wok or skillet. Stir-fry for just a couple more minutes, until sauce has thickened a bit.

Serve atop rice, quinoa or millet.