This post contains affiliate links. See my disclosure for more information.


In my last pumpkin post, I mentioned it was almost time for me to become cranberry-obsessed.
That time has officially arrived.
I eat cranberries year round, but love this time of year when more folks are interested in joining me in the combination of sweet and tart that goes just as well in desserts as savory dishes. I'm kicking off the cranberry fest this year with cookies. Because, well, cookies. That's enough, right?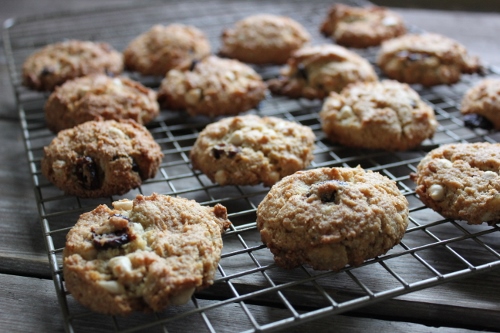 A few notes on ingredients: I used dried cranberries from Eden Organics in these cookies. They are sweetened with apple juice instead of refined sugar. While I'm not completely eliminating any trace of refined sugar in this recipe, I am reducing it where possible. For white chocolate, there are a couple of options. The cookies in the photos were made with Lieber's white chocolate decorating chips, which are dairy-free. I order mine from Vegan Essentials. Because I tolerate goat milk better than cow milk, I sometimes splurge and buy a bar of Davao White Chocolate from Askinosie. Unlike most "white chocolate," Askinosie's white chocolate is technically chocolate. It's also technically divine and made with three simple ingredients: organic cane juice, cocoa butter and goat milk powder. It's almost too good to eat any other way than straight out of the wrapper, but I put it in cookies for special occasions. For the crystallized ginger, I used the Crystallized Ginger Chips from The Ginger People. You can use any crystallized ginger, just dice it finely.
Ok, let's dive in to the recipe and get this cranberry obsession rolling…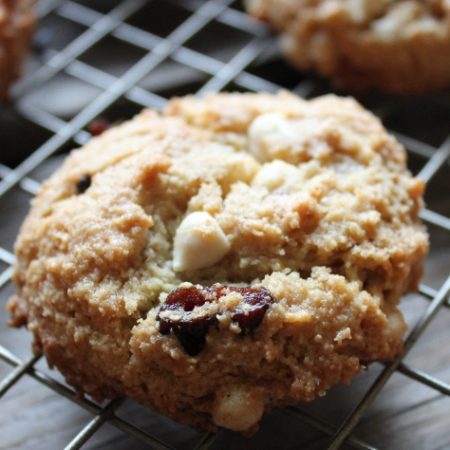 White Chocolate Cranberry Ginger Cookies (Gluten-free, Dairy-Free, Egg-Free)
Ingredients
3

cups

almond flour

(I use Honeyville)

1

teaspoon

baking soda

1

teaspoon

sea salt

1/2

cup

grapeseed oil

(coconut oil, liquified, is also fine)

1/2

cup

maple syrup

(I use Grade B)

2

Tablespoons

flax seed meal in 1/3 cup hot water

(egg replacement)

1

teaspoon

vanilla extract

3/4

cup

white chocolate chips or chunks

1/2

cup

dried cranberries

1/4

cup

finely diced crystallized ginger
Instructions
Preheat oven to 375 degrees. Line large baking sheet with Silpat or parchment paper.

In a small bowl, combine flax seed meal and hot water. Set aside, allowing it to gel.

In large mixing bowl, combine almond flour, baking soda and sea salt. Set aside.

In medium mixing bowl, combine oil. maple syrup, flax seed meal (which is now a slurry), and vanilla extract. Stir to combine.

Add the wet mixture into the dry ingredients. Stir to combine.

Fold in white chocolate, cranberries and ginger.

Drop batter by heading tablespoons* full onto baking sheets. Bake at 375 degrees for 13 to 15 minutes. Edges will be lightly browned. After removing from oven and cooling on baking sheet for a few minutes, move to cooling rack. Allow to completely cool before moving to an airtight container for storage.

*I use OXO's medium cookie scoop for this size cookie.