This post contains affiliate links. See my disclosure for more information.


Whoohoo! The end of my Twelve Months of Healthy Eating Project is getting close!
The November recipe in the Healthy Eating Calendar was for Turkey Meatloaf. How appropriate with Thanksgiving. I knew this one was going to be a challenge for me to modify, since I've never been a fan of nut loaf, lentil loaf or any of the other vegetarian variations on meatloaf. The only one I've ever liked was in the Amy's frozen meal and I haven't had it in over 4 years.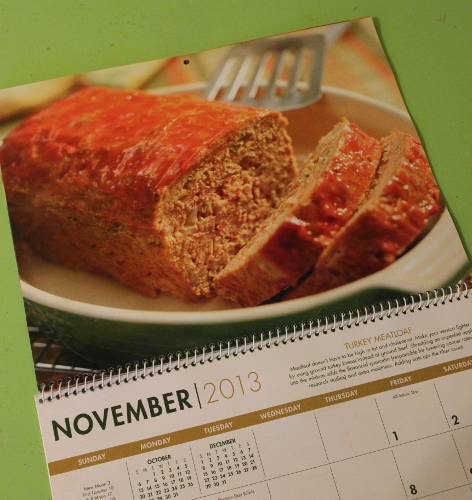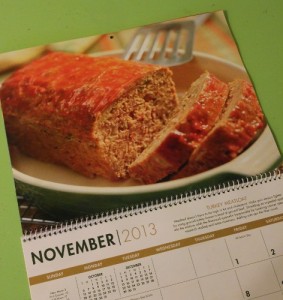 So off I went, trying to find a variation of meatloaf that I like. It took a bit of practice…Ok, so maybe more than a bit of practice. There were four failures along the way and then three tests of the final recipe to make sure I liked it. We've been eating a lot of not-meatloaf. And I'm still arguing over who gets the leftovers. It's pretty darned good stuff!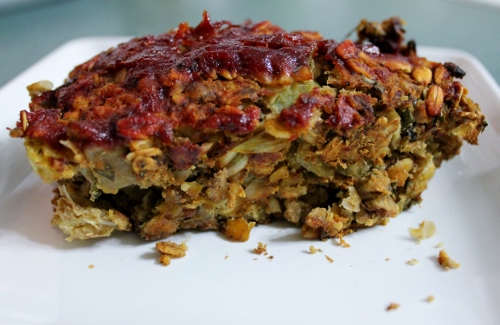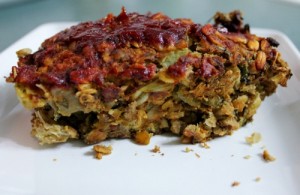 This Not-Meatloaf can be made in two sizes: a standard 9 x 5 loaf pan to make one big meatloaf (which slices nicely for meatloaf sandwiches) or eight mini loaves. You can use either the separate mini pans or a handy pan like this one that has eight minis all in one. I like to make the minis, serve two for dinner, two for next-day leftovers and freeze the remaining four for another time.
Not-Meatloaf, a veggie variation
Ingredients
2

stalks celery

, finely chopped

1

small yellow onion

, diced

2

cloves

garlic

, minced

1

teaspoon

grapeseed or olive oil

2-15

ounce

cans garbanzo beans

, drained and rinsed

2

large eggs

1 1/4

cups

gluten-free oats

1/2

cup

finely chopped walnuts

1/2

cup

cooked lentils

(I use Melissa's steamed lentils)

3

Tablespoons

gluten-free soy sauce

, Tamari or Bragg's Aminos

2

Tablespoons

ketchup

(or 1 Tablespoon ketchup and 1 Tablespoon gluten-free BBQ sauce)

1

Tablespoon

yellow mustard

(prepared mustard, not mustard powder)

2

teaspoons

dried parsley or 2 Tablespoons fresh parsley

, finely chopped

2

teaspoons

poultry seasoning

Additional Ketchup and BBQ sauce for top

(1/4 cup to 1/2 cup)
Instructions
Preheat oven to 375 degrees.

In a small skillet, saute celery, onion and garlic with oil until onions are transparent.

In a large mixing bowl, mash the garbanzo beans with either a fork or a potato masher.

Add all other ingredients, except the additional ketchup and bbq sauce for the top.

Stir well to combine. Prepare baking dish with cooking spray or oil of your choice.

Press mixture into either a standard size loaf pan OR eight mini pans.

It is important to compact the mixture tightly or it will not slice after cooking.

Top with additional ketchup or ketchup/bbq sauce mix. For a standard loaf size, I use a total of 1/4 cup. For the eight minis, I use a total of 1/2 cup.

Bake at 375 degrees, 55 to 65 minutes for standard loaf size, 35 to 40 minutes for minis.

Allow to cool for 5 minutes before removing from pan to serve.
Santa hasn't dropped by with plane tickets to the last island yet, so I'm guessing I've got just one more month to go in the Healthy Eating calendar project. Unless someone drops by Fausto's and brings back a 2014 calendar for me, it's just December that remains. It's going to be a tough one, as December is bagels topped with salmon, eggs, cream cheese and herbs. Got any suggestions?
Here are the other months in my Healthy Eating calendar project:
January: Hummus Wrap with spicy orange cashew creme
February: Pumpkin Kale crockpot chili
March: Spinach Artichoke Panini
April: Weeknight Vegetable Stir Fry
May: Double Bean Salad
June: Double Blueberry Shakes
July: Mini Tomato Basil Pizzas
August: Dairy-Free Raspberry Ice Cream
September: Pesto Stuffed Mini Potatoes
October: Hearty Mushroom and Veggie Soup
This post contains affiliate links for products I personally own, use and believe in. Should you click on the links and purchase these items, I may receive a small percentage commission. By purchasing via links in my blog posts, you are helping me earn a few pennies to buy a bunch of kale, a pound of flour or a new spatula. This allows me to continue producing high-quality, free content including original recipes. I appreciate your support!