This post contains affiliate links. See my disclosure for more information.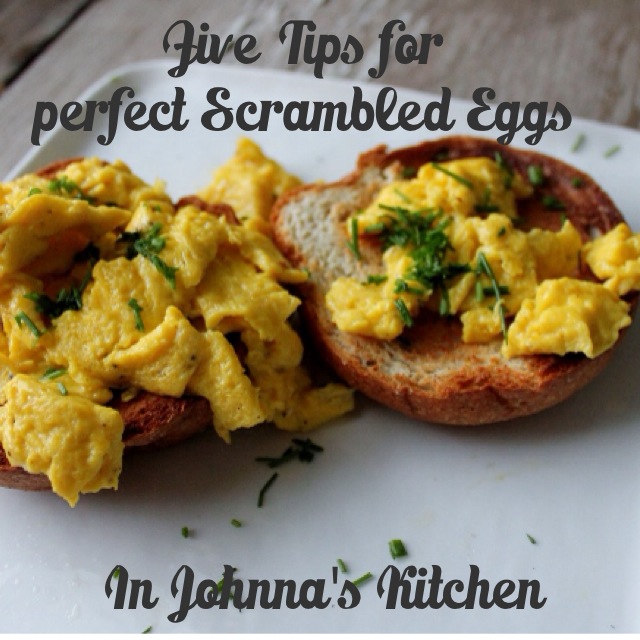 If you've been following along, you know this is the last post of a twelve month project inspired by a calendar I picked up at my favorite Key West grocery store, Fausto's. The very last recipe left for me to remodel was a bagel with scrambled eggs and salmon.
I pondered this for quite awhile. I don't eat salmon, so I was left with a bagel and scrambled eggs to work with. The recipe in the calendar added cream cheese to the scrambled eggs, promising a creamy texture. I like my eggs just fine without that. Then it hit me, I spent most of 2013 learning to make a terrific omelet. Many of my early omelet-making sessions ended up as scrambled eggs. I also learned a lot about what it takes to make perfect scrambled eggs. I'm excited to share my favorite tips with you!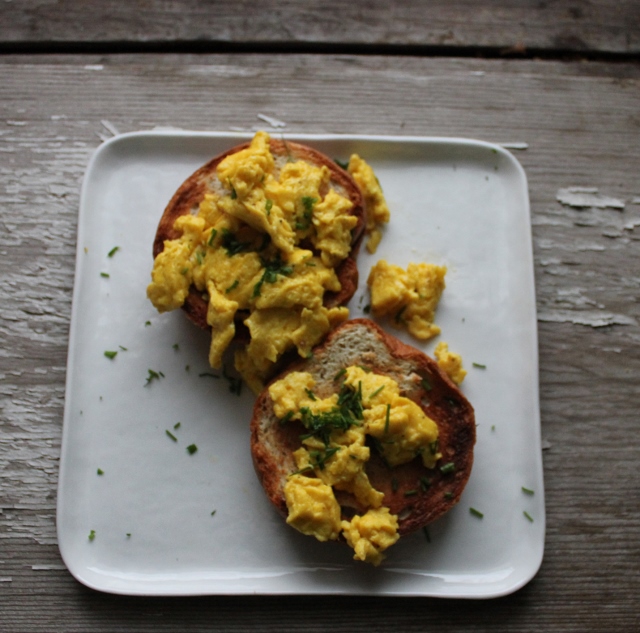 Five Tips for Perfect Scrambled Eggs
1. Start with room temperature eggs. Whisk them by hand, adding in 1 Tablespoon of milk or non-dairy milk per egg. Add in a pinch of salt and a pinch of pepper at this time. I do not recommend blending eggs for scrambled eggs or for omelets. This incorporates a lot of air, which will result in a spongy texture.
2. For each egg, add 1 teaspoon of butter or butter substitute of your choice to skillet. Heat over medium until the butter is bubbling. Pour the eggs into the center of the skillet. (This pushes the butter to the edges instead of immediately incorporating into the eggs. This is good.) I like this skillet for three eggs, but often use a little cast iron skillet when making just one egg.
3. Allow the eggs to cook for a few moments untouched. Using a silicone spatula OR a flat wooden spoon, stir in a clockwise motion to break the eggs up into large curdles. There is no need to do this fast, unless you want tiny pebbles of eggs instead of wonderful, large curdles.
4. Turn the heat down to low and cook until the eggs are no longer liquid. Do not cook until they look completely dry though. There is a fine line between liquid and the beautiful glossy texture of a perfectly cooked scrambled egg.
5. Serve on a warm plate. Scrambled eggs cool very quickly. Heating the plate up a bit in the oven (or in the microwave in a pinch) will help your eggs stay warm until you get them to the table.
Thanks for following along on my calendar project. I enjoyed remodeling all of the recipes and discovered I like having a wall calendar in the kitchen. Here are the other 11 recipes from this project:
January: Hummus Wrap with spicy orange cashew creme
February: Pumpkin Kale crockpot chili
March: Spinach Artichoke Panini
April: Weeknight Vegetable Stir Fry
May: Double Bean Salad
June: Double Blueberry Shakes
July: Mini Tomato Basil Pizzas
August: Dairy-Free Raspberry Ice Cream
September: Pesto Stuffed Mini Potatoes
October: Hearty Mushroom and Veggie Soup
November: Not-MeatLoaf, A Veggie Variation
Full Disclosure: This post contains affiliate links. Should you click through and use the services or products mentioned, I may make a few pennies. I only to items which I personally own and use unless otherwise indicated. Affiliate links allow me to continue providing high quality, original recipes and content to you at no charge. I appreciate your support!