This post contains affiliate links. See my disclosure for more information.


If you've ever needed to re-focus, to take a little timeout to reclaim your sanity, I've got the solution for you today. Three Minutes to Zen…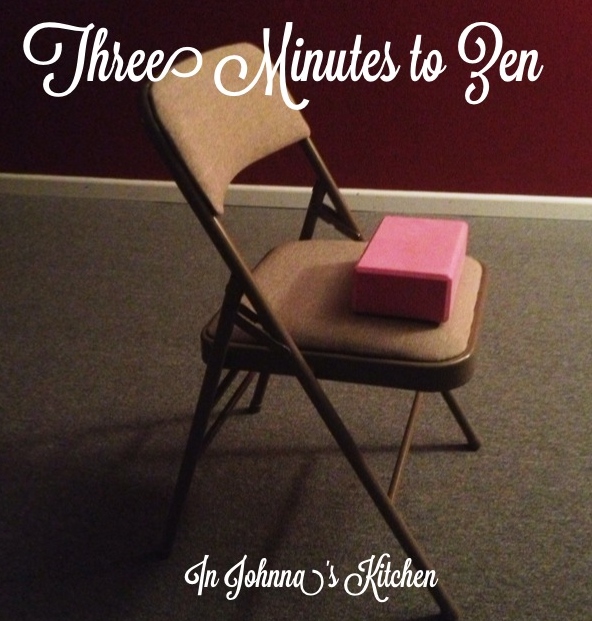 It's freezing cold here and we've all been inside together for far too long. The dogs can't spend much time outside running off their extra energy and are barking at every.little.noise. The way my favorite fella was chewing his salad at lunch grated on my last nerve. My inattention to picking up my socks caused an exaggerated sigh from him. And stupid socks anyway, it sucks when it's so cold we have to wear socks! So reclaiming zen..it's important right now. This is my tip on how to Soften this Saturday…or any day of the week.
You need only three things: a chair, a yoga block and three minutes. Don't have a yoga block? No problem! Grab a small box or fold a towel. It's okay to improvise.
Situate the chair in a quiet spot, turn the lights down. Put the block (or improvised block) on the front edge of the chair.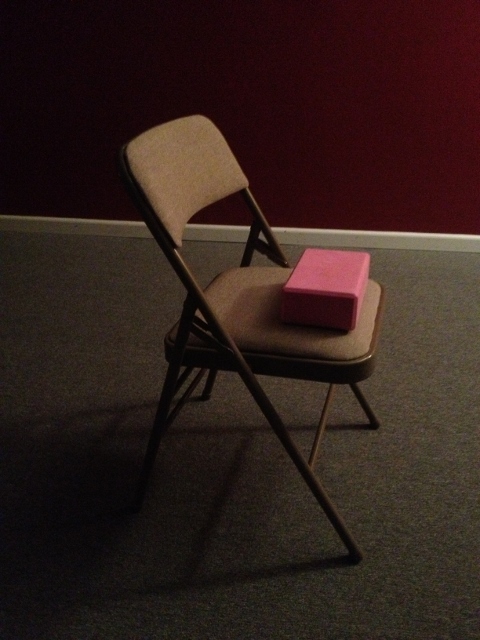 Have a seat on the floor. Place your legs either through the chair or around it.
Rest your head on the block, placing pressure on the space right between your eyebrows on your forehead. (This is sometimes referred to as Sixth Chakra, Third Eye or Ajna.)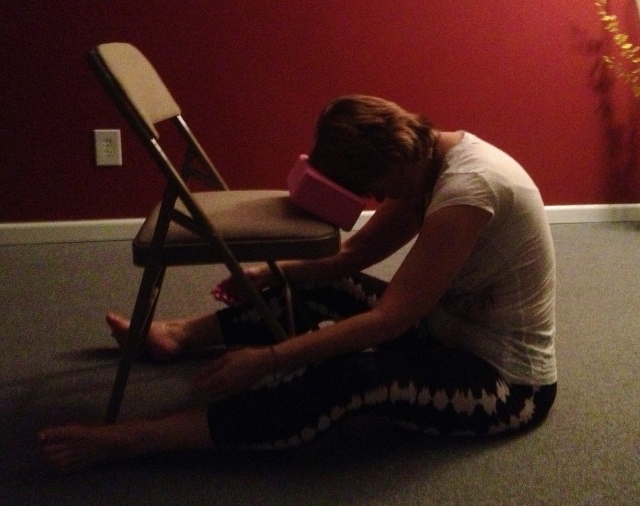 Stay here for 3 minutes. Focus on nothing…or just on your breath. If you have trouble tuning out your thoughts, count your breath in and out. Or count your heartbeat.
After 3 minutes, very slowly lift your head. Don't move too quickly, you could get dizzy. Slowly bring yourself back to the present moment. Big deep breath…ahhhhhh. And just like that, you'll feel more relaxed, less stressed out, more zen!
Wanna know why this works? That spot where you are placing your head on the block? It is thought it stimulates the vagus nerve. The vagus nerve is responsible for parasympathetic responses in our body, including rest and digestion. So not only will this help you become more calm, it may also encourage your body to release more digestive enzymes. It's pretty incredible that a short 3 minute break can make such a difference.
I hope you'll try this and let me know what you think. It's my favorite way to Soften!
A big thanks to Marilyn Gibson, my restorative yoga guru. This is a technique I learned from her and she was gracious to pose for photos for this post. You can attend her classes at InBliss Yoga.