This post contains affiliate links. See my disclosure for more information.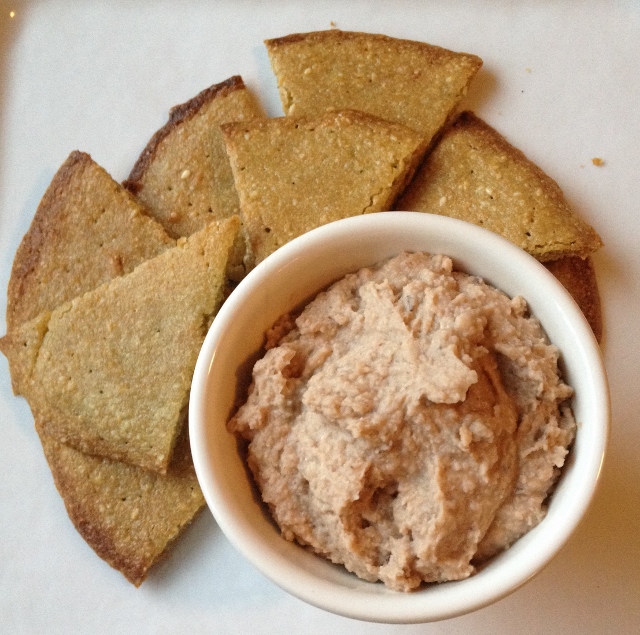 Pitas were a favored bread choice back in the gluten-full days for me. When I eliminated gluten, I couldn't find gluten-free pita bread in the store. When I did finally locate it in the store across town, it was cost prohibitive.
I've spent a couple of years making others recipes for pita bread and often commit more time than I'd like. I'm definitely a convenience girl when it comes to bread. I have no shame in saying I buy my sandwich bread and bagels. Sometimes I even buy toaster waffles. But when I figured out I could make pita bread at home in no time at all, I stopped looking for it at the store!
Here's the scoop on this bread: it's made with sesame flour. Super simple, just grind white sesame seeds into flour using your high speed blender, food processor or coffee bean grinder. I use the coffee bean grinder most often since this recipe only uses 1/2 cup of sesame flour. When I take the lid off of the grinder, I exclaim, "Open, Sesame!" There truly is a treasure inside, sesame flour, and it doesn't require forty thieves to unveil it.
I am having so much fun exploring uses of sesame flour beyond pita bread and hope to share some of those soon, too. For now, here's my pita bread recipe. I hope you enjoy it as much as I do!
If you enjoy pita wedges with hummus, make sure you check out the Black Eyed Pea and Roasted Garlic Hummus shown in the photos!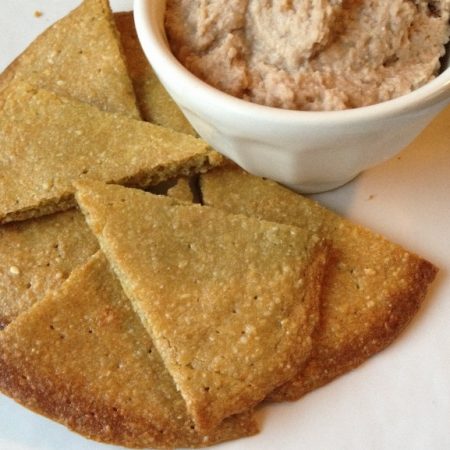 Pitas in a Hurry: Gluten-free, Grain-Free, Dairy-Free AND Nut-Free!
Ingredients
1/4

cup

filtered water

1

large egg from a happy hen

1

Tablespoon

grapeseed oil

1/2

cup

sesame seed flour

(sesame seeds ground using blender, food processor or coffee bean grinder)

1

Tablespoon

coconut flour

1/4

teaspoon

baking soda

pinch of sea salt
Instructions
Preheat oven to 350 degrees.

Line one large baking sheet with a Silpat mat or parchment paper. Set aside.

In a small mixing bowl, whisk together water, egg and oil.

Add in sesame seed flour, coconut flour, baking soda and salt. Mix well to combine.

Let rest for five minutes.

Pour into two equal portions on the baking sheet. Using a spatula, spread to a 6" circle.

Place in oven for 15 to 18 minutes. The edges will begin to brown.

Remove from oven and allow to cool.

For pita pockets, cut in half and then slice into the halves to make pockets.

For wedges to serve with hummus (as shown in photo), turn oven onto broil. Cut each baked pita into 8 wedges. Lightly brush with olive oil if desired. Broil on high until crispy.