This post contains affiliate links. See my disclosure for more information.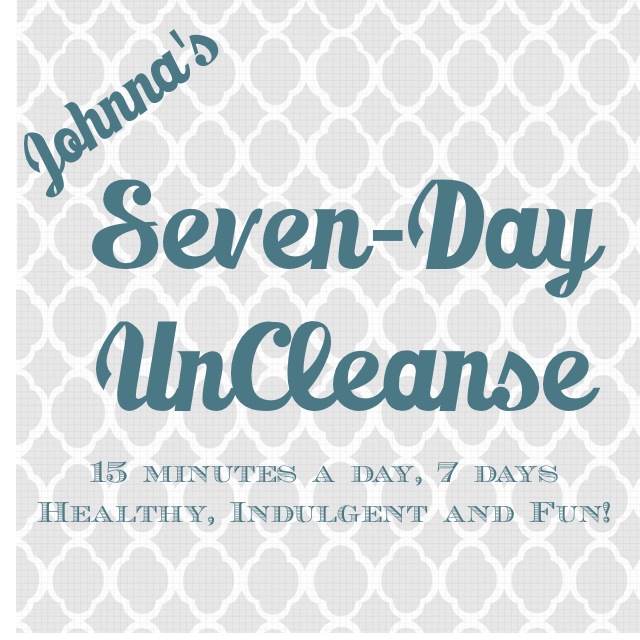 For the next seven days, I invite you to join me for a New Year's UnCleanse. Invest just 15 minutes a day in yourself, doing indulgent things that are also supportive of your health. Sounds good, right?
I see so many people embark on an unhealthy path this time of year, all in an effort to either become healthy, lose weight or be more active. And between a week to ten days later, I see and hear them beating themselves up, feeling defeated because they couldn't stick to the radical changes they attempted. They couldn't keep up with the drastic changes in eating, couldn't get to the gym at 5 am when their bedtime is 11 PM, couldn't live on only juice or without carbs or whatever their chosen cleanse eliminates. What if I told you it is possible in just 15 minutes a day to make healthy changes AND indulge in things you enjoy, things that make you feel great?
Welcome to Johnna's UnCleanse.
Instead of doing things that don't work for our bodies, instead of beating ourselves up, let's spend seven days doing wonderful things that both feel good AND are great for our bodies in just 15 minutes a day.
You can choose what day to start and what order you do these seven activities. I've started with an activity that may be easiest for some on Sunday, but I want you to do this in a way that best speaks to you. Let's support each other in doing this. Feel free to leave comments here, share photos on Facebook, Twitter and Instagram with the hashtag #uncleanse. I'll be posting my photos, too, on Facebook and Instagram! I'll also share my favorites along the way. Let's spend a week doing things that feel great AND are great for our health!
Day 1. Sleep In! During the Winter, when there is less light, it is our body's natural inclination to spend more time being still, more time at rest. This is the prime time of year to be softer! Indulge your body in this, even if it is only for 15 minutes. Can't sleep in? Try going to bed 15 minutes early.
Day 2. Indulge in Dark Chocolate. Treat yourself to a lovely square of dark chocolate, one that is 70% cacao or higher. Packed with flavanols, flavonoids, and antioxidants, dark chocolate is good for your heart, blood pressure, cholesterol…plus it's a wonderful treat.
Day 3. Rub Your Tootsies. Spend 15 minutes rubbing your feet. I suggest rubbing them with a bit of sesame oil (the untoasted kind) which is warming. I like to do this at bedtime, but you choose the time of day that works best for you. Rubbing your feet reportedly helps with eye strain, so it could even be a good mid-afternoon computer break!
Day 4. Move Your Body in a Way You Enjoy. You know I like a good kitchen dance party. I also like spinning around in a hula hoop. I adore long, indulgent stretches at yoga. And I like walking the trails at my neighborhood park. What do you enjoy doing that moves your body? Today, do it, if only for 15 minutes.
Day 5. Have a Warm Cuppa… Is coffee your thing? Maybe a wonderful cup of hot, herbal tea? Warm water with lemon? Or maybe it's a double spice chai that speaks to you. Today, indulge in a warm cup of a beverage that you enjoy. Really sit with it, savor it, enjoy the sensation of having a warm mug in your hands. Allow yourself a quiet 15 minutes to indulge in this.
Day 6. Eat Food That Sounds Appealing. Instead of depriving ourselves of food, today make a point to eat something that sounds appealing to you. If it's a baked potato you crave, have it and truly enjoy every bite of it. Maybe it's a big steaming bowl of chili or soup that sounds good. Perhaps it's a juicy piece of fresh fruit. Or maybe it's super cheesy lasagna. Today, mindfully choose a dish that appeals to you and enjoy every morsel of it.
Day 7. Connect. Today, take 15 minutes to call a friend or sit and talk with a friend or loved one. You know the phones we use to send text messages and emails? They also can be used to make old-fashioned phone calls, where we actually have real-time voice conversations! I had almost forgotten how to access this function on my phone but am really enjoying having a 15 minute chat with friends. It's perfectly fine to call a friend and say, "I've got 15 minutes and would enjoy spending it chatting with you. Got a minute? Tell me what you've been up to lately." Or if you'd prefer, you can sit down and chat with your family or a friend uninterrupted. This means turning off the TV, putting down the phone, the iPad, the electronic interruptions. It is amazing how many wonderful things we can learn about each other's lives in just 15 minutes!
Are you ready to UnCleanse? Me, too!
Feel free to leave comments here and don't forget to tag your social media photos with #uncleanse. We'll all support and encourage each other with this healthy way to feel great about ourselves without deprivation. It is possible to support our health without depriving ourselves, without participating in activities that make us feel bad physically and emotionally. The UnCleanse is a big step in that direction.
I'm excited you are here and ready to UnCleanse with us! Here we go…