This post contains affiliate links. See my disclosure for more information.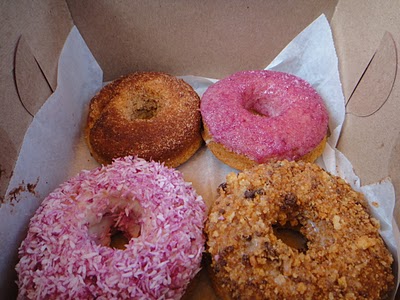 There's no recipe here today, no great insight on being softer to ourselves, just a few thoughts on fried dough and the places where they are sold. Will you indulge me?
Earlier this week it hit me, I miss donut shops. Not because of the donuts, but because of the culture and the people behind the counter. So off I went to visit a few of my favorite spots… I had not a single donut on my trip to visit some local donut shops, but saw so much good.
My first stop, a tried and true favorite owned by the same family for 46 years. A lady, a customer I didn't know, greeted me at the door of the donut shop and teased me that she had bought all the apple fritters. She knew how to get a reaction–and a smile. See, those apple fritters are coveted, as is the warm welcome from the white uniform-clad guys behind the counter. And darn it, she DID buy all of the apple fritters. She was obviously hustling off to work, otherwise I would have stopped long enough to tell her that two of those fritters make a great bun for a fried tenderloin. You know, if I wasn't a healthy eater and all… 😉
At the next shop, the same two Korean war vets sat at the same table they were at the last time I was there. Two guys at the cash register dug in their pockets for cash (no credit cards accepted) and upon discovering they had none, the owner said, "Ok, next time," before I even had a chance to offer to pay for their $2.40 of fried dough. Off they went with their free donuts…
On to the third shop, where I discovered the owner had fallen asleep while reading the newspaper. I apologized for waking her (it was late in the morning, the rush had long since passed) and she said, "Oh, but I'm so happy to see you! You come again on Saturday?" Yes, I will…
At the fourth stop, I had a lovely chat with the owner about what makes donut shops unique. We agreed it's because all people eat donuts, even if they know they shouldn't. Forbidden fruit… From her nondescript shop in an area of the city some would call rundown, she creates some of the best donuts in town. Her pastries are sold in upscale shops in the trendy part of town, where the customers are none the wiser of the origin or the woman with a heavy accent who lovingly makes them.
My final stop is a new favorite of my fella, not an old established donut shop but one that has the right vibe. The owner is groovy and exudes a sense of welcome, like you are in her home. Chatter from the open kitchen flows freely with the customers as their made-to-order chunks of dough are fried with their choice of fillings, some savory, some sweet. A lady waiting on her fried dough, wearing a brightly colored, flowy ensemble sat down in the vintage armchair beside us where we perched on a shabby sofa and immediately asked where we live. When I told her, she said, "Oh, do you live in an historic home?" A conversation began about old homes, new homes, kitchen remodeling, funky cotton clothing that makes us smile. My fella chimed in little, he was busy stuffing some sort of fried, doughy, chocolate hazelnut concoction in his mouth. As we left, everyone in the kitchen bellowed, "See you Saturday!" I love that place, even though I've never had a single thing to eat there.
On Saturday, I'm going to visit these five donut shops again with more than 40 of my friends. We're going on a donut tour of Kansas City. I won't eat a single donut unless I get up early enough to bake my own. I'll have a few cups of bad donut shop coffee, a lot of laughs and watch as my friends eat the gluten-full donuts. And I'm perfectly fine with that.
I guess I should have some great lesson to share with you in all of this. But all I've got is that I still love donut shops, even if I can't eat the donuts they sell. Maybe one day there will be a donut shop in my city where I can enjoy a donut, but for now, I'm going to enjoy the camaraderie of my friends while we visit these wonderful, locally owned gems.
And next week, I'll have a donut recipe to share with you. One I can eat…and maybe one you can eat, too. Just in case donuts are the part of donut shops you miss. Thanks for indulging me.