This post contains affiliate links. See my disclosure for more information.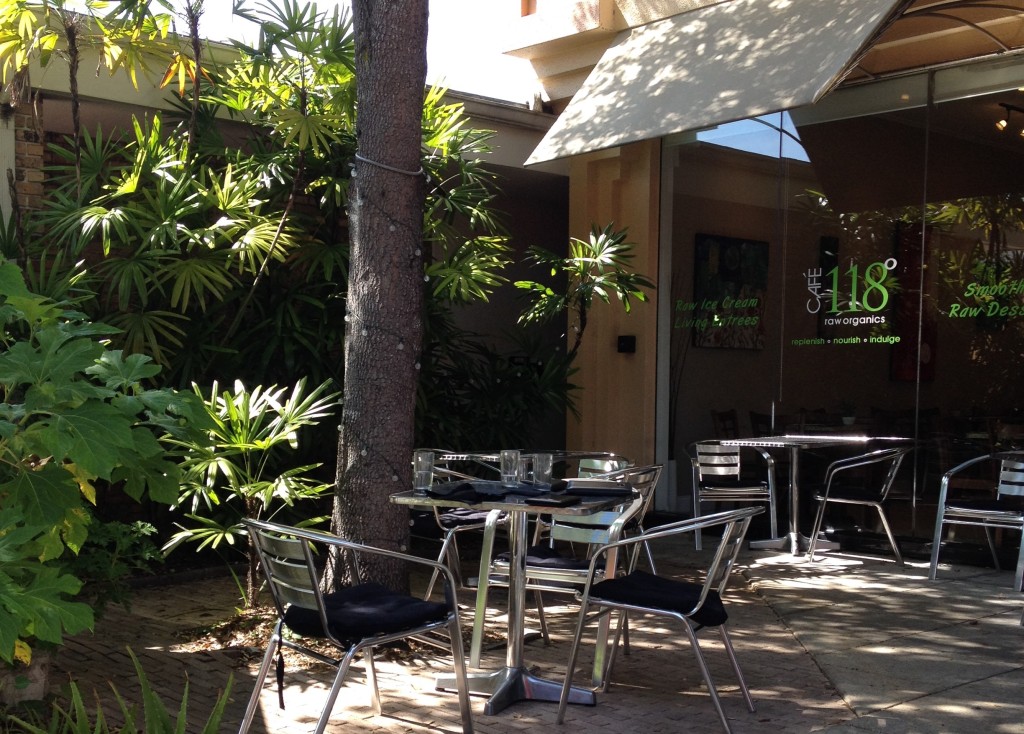 While in the Orlando area, I had the chance to venture beyond the tourist areas and visit a couple locally owned restaurants. The first I have to share with you is Cafe 118 in Winter Park. It's a raw vegan restaurant, hence the 118. Nothing there is heated over 118 degrees. Everything is raw, organic and plant-based, so no animal products here. For this girl who is a certified Living Foods chef, this was a wonderful treat.
My friend Mary took me here, straight away from the airport. We met Mary's friend Amy on the beautiful patio. What a treat to dine outside just hours after leaving cold weather! Because of that long flight, hydrating was essential. I had a pineapple, celery and mint juice.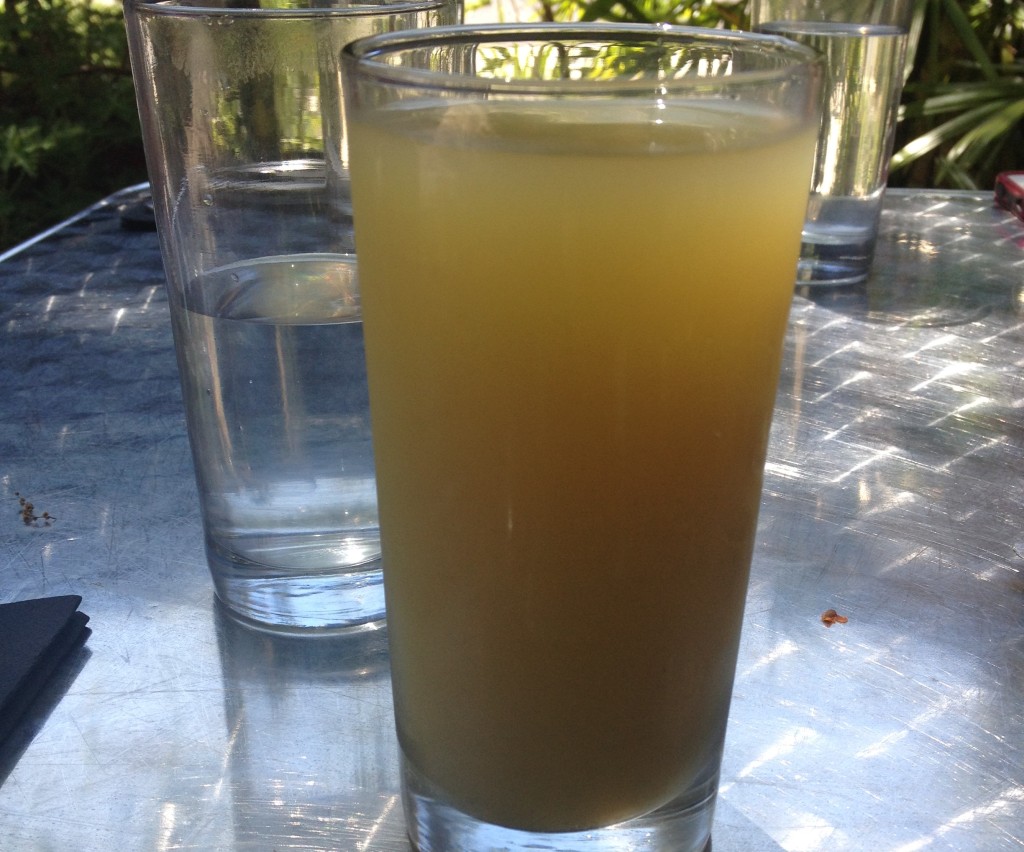 Amy arrived before us and ordered the appetizer of spiced macadamia nut hummus and sundried tomato flax crackers. The crackers were made in a dehydrator, perfectly thin and crispy. The hummus was divine, I would definitely order it on my next visit!
We each chose a different entree. I had the Pad Thai with tamari cashews, spiralized zucchini and carrot noodles, avocado, red cabbage, red pepper, all tossed in a sesame almond sauce and drizzled with red pepper glaze. While it looked like a mountain of fresh veggies, I ate all of it. It was one of the best raw dishes I have ever had!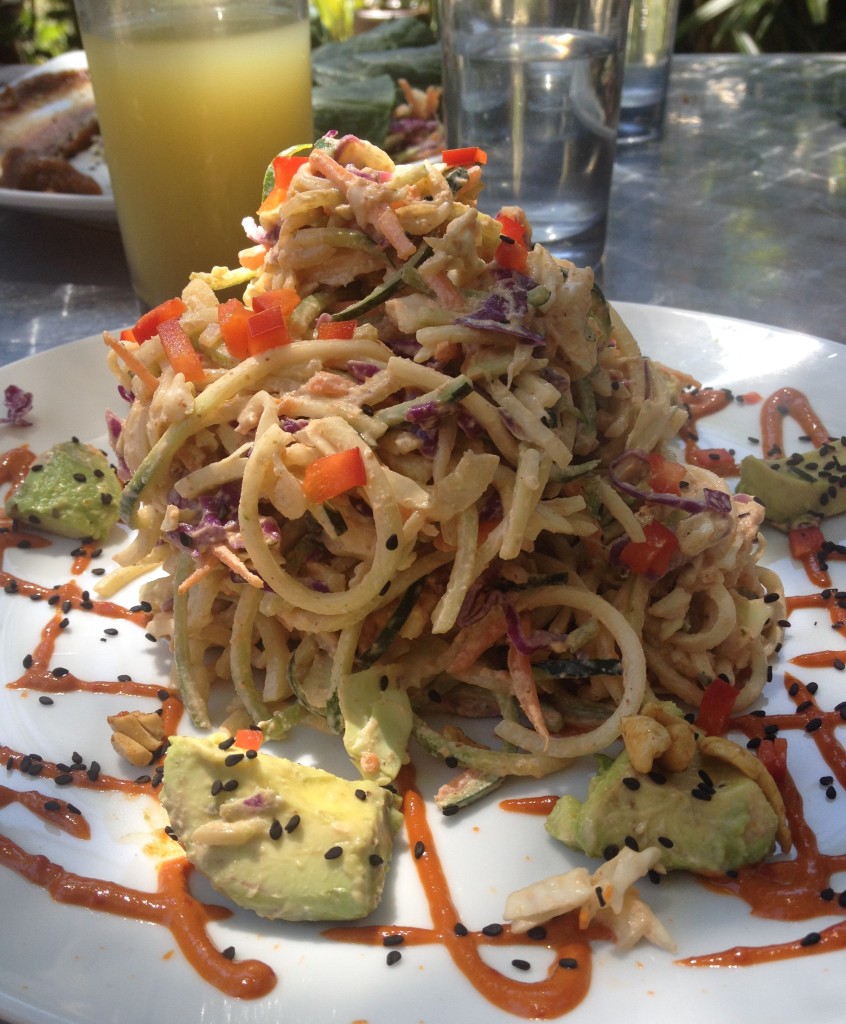 Mary had the Crispy Vegetable Rolls. Wrapped in a cabbage leaf, the filling was vegetables similar to what was in my Pad Thai, however they were dressed with a creamy almond dressing and served with a smear of ginger-date sauce. I tried these and they were also excellent.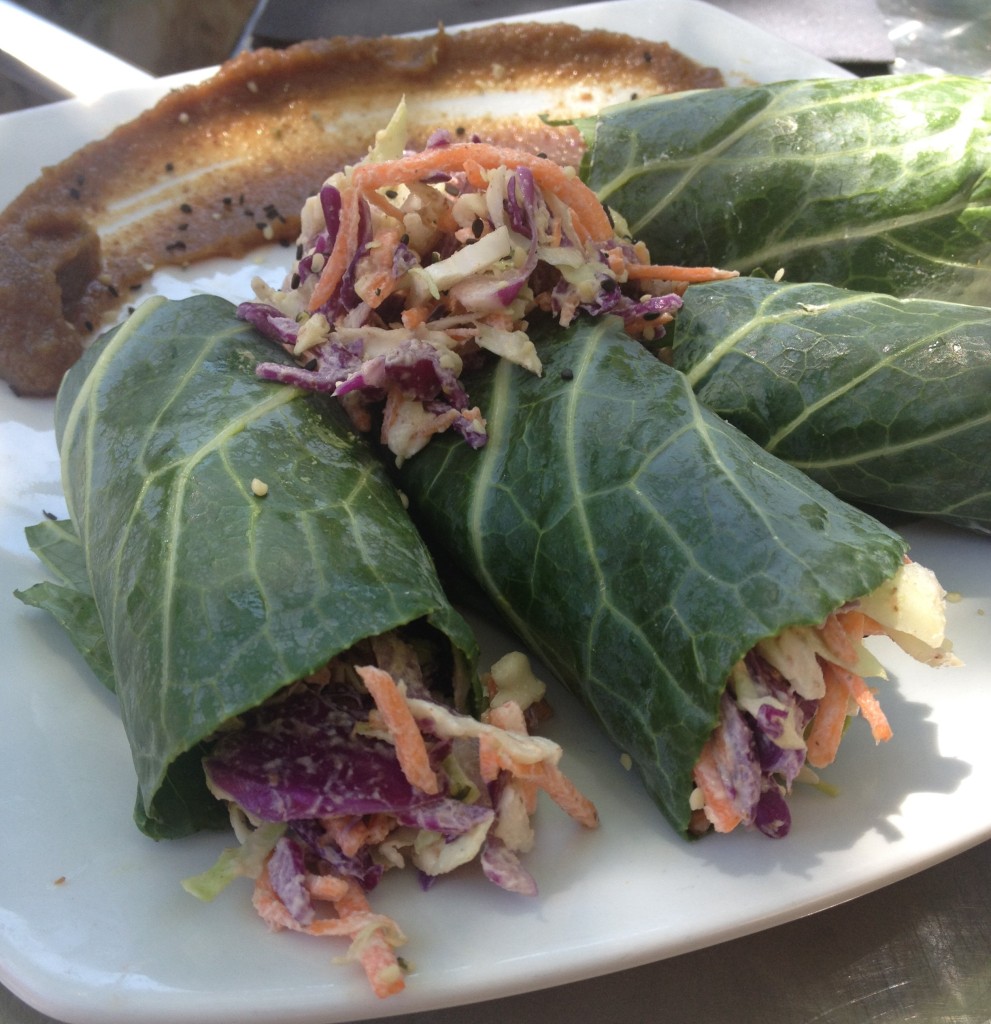 Amy had the Citrus Kale Salad. Kale, zucchini noodles, carrot, avocado, dates, a creamy citrus tahini sauce and a sprinkle of black sesame seeds. This is the one dish I didn't try but Amy said it was very good. It sure was pretty!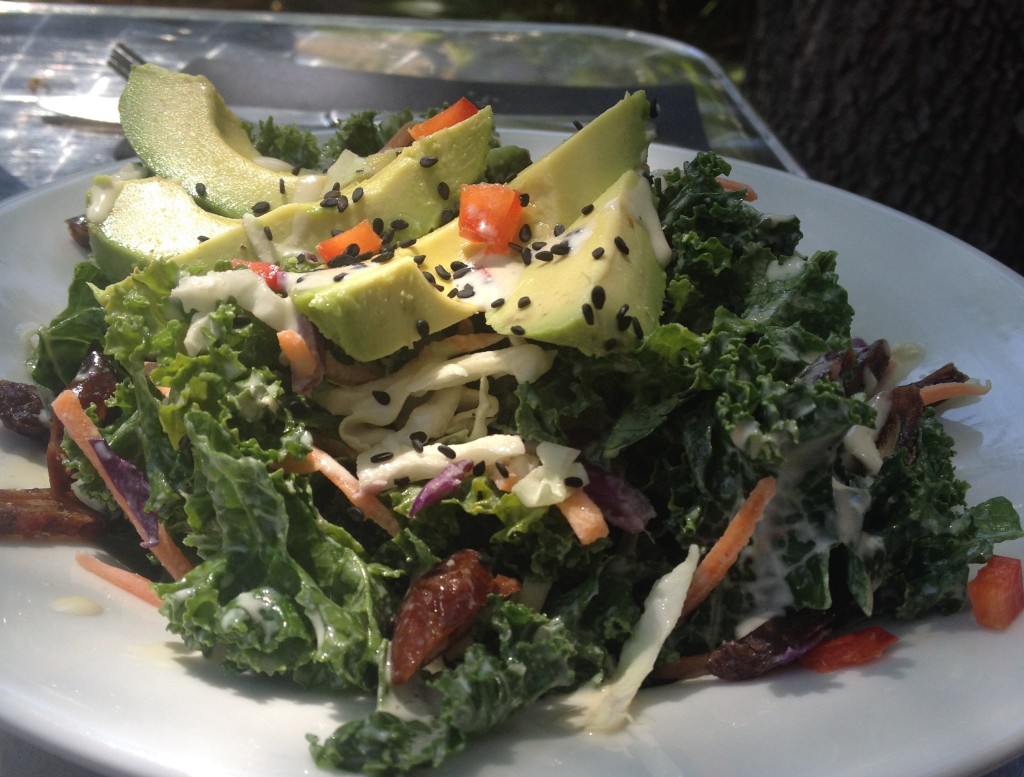 After a leisurely lunch and lots of chatting and laughing on the patio, we decided to split a dessert. We had cashew cheese cake with a "graham cracker" crust made of nuts and dates with a berry drizzle. It was excellent. I sometimes find raw desserts to be heavy, so it was nice to share this with friends and even better to eat somewhere that serves food all of us could enjoy!
Cafe 118 is located just a block off of Main street, the major roadway through the quaint shopping district in Winter Park. There is naturally shaded seating, as shown in the first photo of this post, as well as umbrella-shaded seating on the sidewalk. It's even dog-friendly!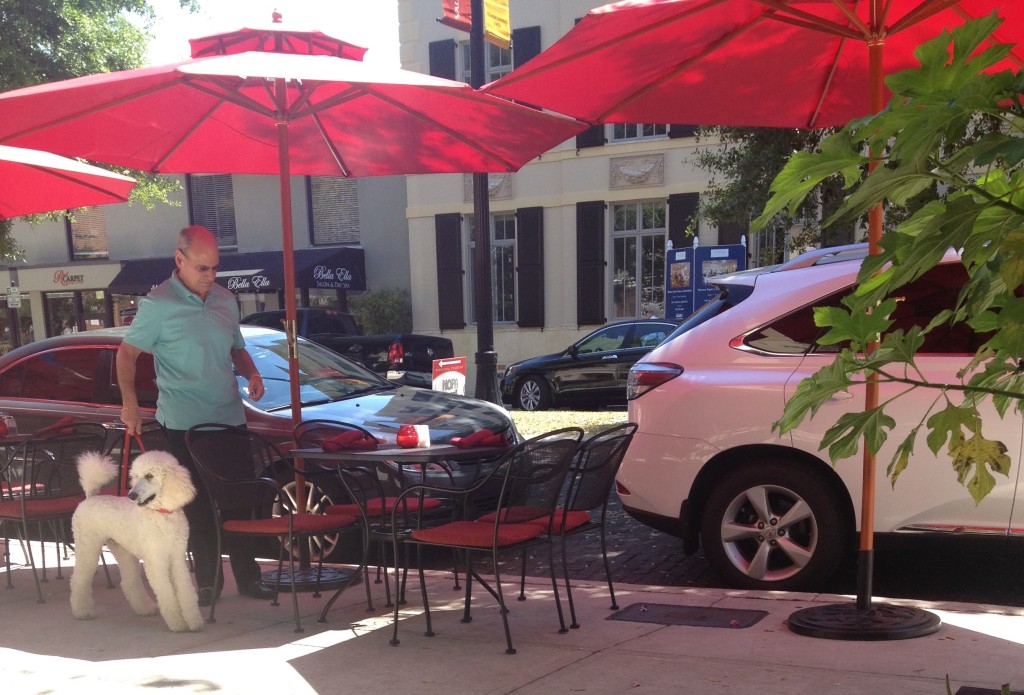 The interior of Cafe 118 was also inviting, with artwork displayed on the walls. The staff here were terrific and quick to explain ingredients in dishes. At the time of my visit, absolutely everything on the menu worked for my needs.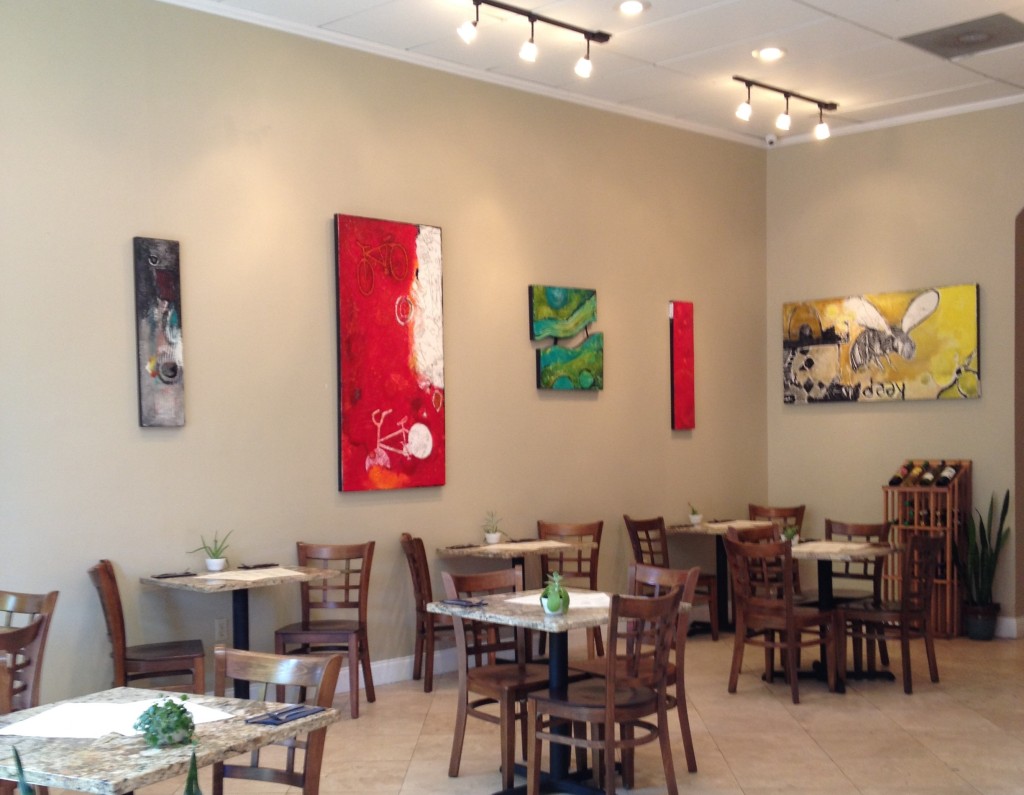 In Winter Park area, there are lots of sidewalk cafes and enough shopping to keep me busy for days. Everything from locally owned boutiques to Williams-Sonoma. There is a nice sprinkling of national chains like Penzey's spices as well as unique boutiques and art galleries. Look at the beautiful flowers outside of this cute shop!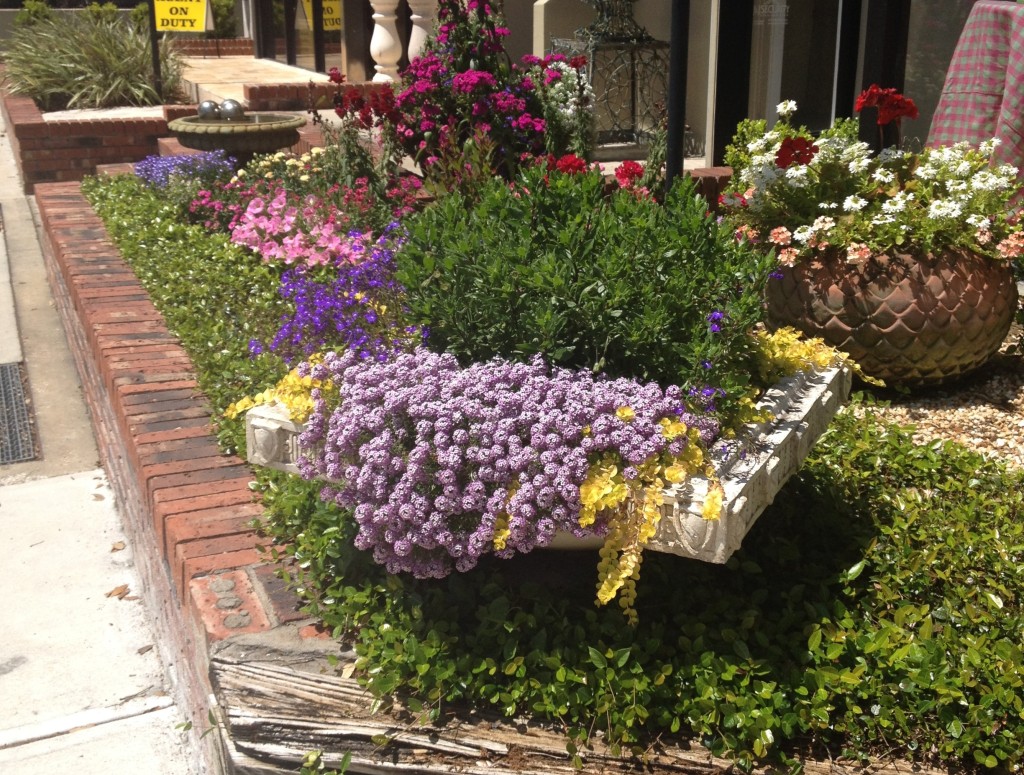 Should I be in the Orlando area again, I will make an effort to visit Winter Park again. The food at Cafe 118 was exceptional and the community was worth a visit.
Eat With: Minimal Caution. At the time of my visit, there was no gluten being used here. Always best to ask, though.
Cafe 118 is located at 153 Morse Blvd. in Winter Park, Florida, 32789. 407.389.2233


Johnna's I Ate Here series is not intended as a restaurant review, rather a summary of Johnna's experience dining out. You may or may not have a similar experience. Menu prices, items and ingredients featured were current at the time of writing. Please read the menu carefully and ask your server for assistance in ordering if you have dietary restrictions. It's a good idea to call ahead and let the restaurant know of your food needs. If you are eating gluten-free or specific allergen-free, Johnna suggests informing the restaurant staff of this, so they know this isn't a food choice, but a necessity, and consumption will result in illness.