This post contains affiliate links. See my disclosure for more information.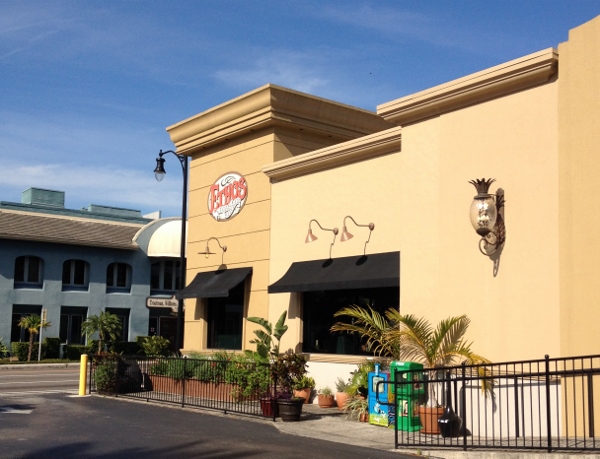 I recently wrote about the amazing meal I enjoyed with friends at Cafe 118 in Winter Park. The good meals didn't stop there! I planned ahead and got a carryout lunch from Ethos Vegan Kitchen for the next day of my stay in the Orlando area.
Prior to my visit, a friend suggested to me that I might not find the atmosphere and furnishings welcoming at Ethos. When I arrived, I think I understood what she meant. Instead of being the stereotypical, crunchy, hippie haven many picture when they hear "vegan restaurant," the inside is much like any chain restaurant. But I DID like the atmosphere. And looking around, the concept made me realize the restaurant could easily be dropped into any city, making me hope that franchising or expansion is in the plans.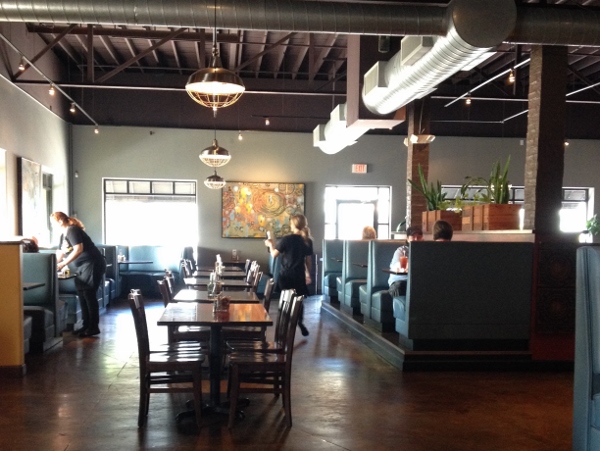 A cheerful hostess directed me to the bakery counter to order my carryout meal. I took my time perusing the menu and a nice young man behind the bakery counter offered to help should I have any questions.
I selected a salad and a wrap. When ordering, I confirmed that both items were gluten free. I asked if the wrap could be made de-constructed so that I could prepare it when I was ready for lunch without concern that the tortilla would become soggy. That was absolutely no problem!
It took just a few minutes for my order to be prepared. I sat and chatted with my friend Mary and another gal who was waiting for her order. The food was ready so quickly that we weren't quite done with our conversation with the other gal so we were there a few more minutes. Super speedy service!
The salad I ordered was the Ethos Garden Salad with mixed spring greens, artichoke hearts, vine ripe tomatoes, black olives, sprouts, red onions, carrots, cucumbers and broccoli. I added grilled tofu. The salad was around $10 with tofu. The grilled tofu was a great texture, not too smooshy with a nice crust on the exterior, plus it was flavorfully seasoned. The vegetables were abundant in the salad, which was nice as I ended up splitting the salad the next day with TWO friends. It was a very generous size!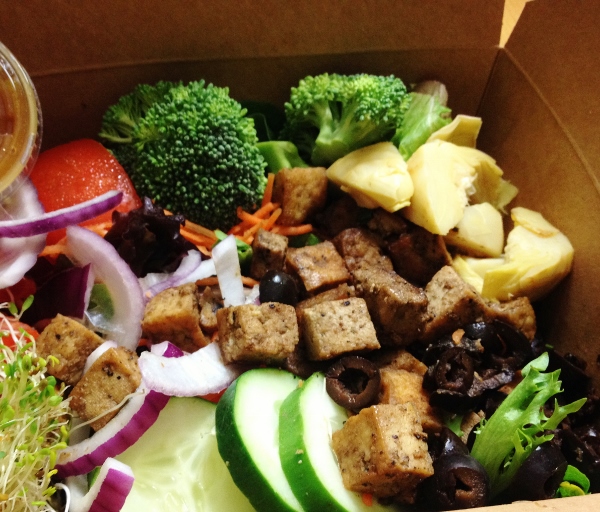 The wrap I had was the Chickpea Salad Wrap. Oh my goodness, it was SO good! While sharing it with friends, I commented that I wanted to re-create the recipe at home. The filling was chickpeas, celery and dill relish tossed in veganaise and topped with lettuce, tomato and Monterey Jack cheese. For around $9, I got the wrap along with a side of blue corn tortilla chips and tomato mango salsa. Many of the sandwiches on the menu can be made into a wrap to make it gluten-free.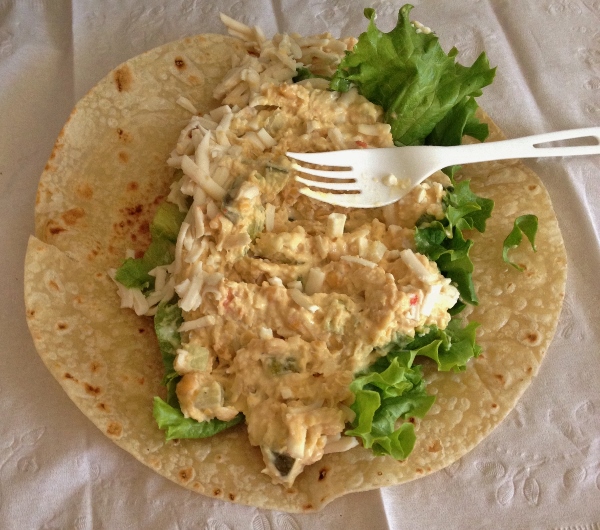 There was no shortage of options on the menu at Ethos Vegan Kitchen for me. There were soups, salads and sandwiches to pick from. At the time of my visit, pasta and pizza was not available gluten-free. That said, it is sometimes easier for me to eat a gluten-free vegetarian meal at a 'regular' restaurant as opposed to a vegan restaurant because of the use of processed meat-like replacements and seitan. This is NOT the case at Ethos. While they do offer some dishes with meat-like replacements and use seitan, that is not representative of the majority of their dishes. I could have eaten there for several days and not had the same dish twice.
Speaking of options, at the bakery counter there were a few grab-and-go goodies, including Primal Strips. (Please take note: not all flavors of Primal Strips are gluten-free, however there are at least two that are.) I also spotted fruit leather that would make a nice snack. I would definitely drop by Ethos Vegan Kitchen again for either a meal in or a meal to go, along with a few extra snacks. It was just super easy to eat here.
Eat With: Minimal Caution. The menu has gluten-free items clearly labeled. The staff were well educated and communicated my needs clearly with the kitchen. I had a great experience here.
Ethos Vegan Kitchen is located at 601-B South New York Avenue, Winter Park, Florida, 32789. 407.228.3898.


Johnna's I Ate Here series is not intended as a restaurant review, rather a summary of Johnna's experience dining out. You may or may not have a similar experience. Menu prices, items and ingredients featured were current at the time of writing. Please read the menu carefully and ask your server for assistance in ordering if you have dietary restrictions. It's a good idea to call ahead and let the restaurant know of your food needs. If you are eating gluten-free or specific allergen-free, Johnna suggests informing the restaurant staff of this, so they know this isn't a food choice, but a necessity, and consumption will result in illness.