This post contains affiliate links. See my disclosure for more information.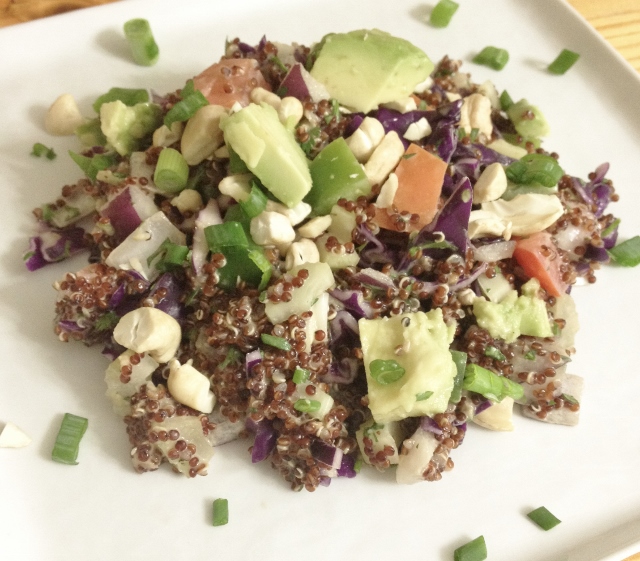 I recently snagged a two pound bag of red quinoa for two bucks. What a steal, a restaurant sized packed of red quinoa for a song. What's a girl to do with all of that quinoa? Well, for starters, I made Cashew Crunch Quinoa Salad.
Not to sound like a stereotypical vegetarian, but I eat a lot of salad. I stopped buying dressings for salads awhile back, focusing more on using the skills I obtained in culinary school for making my own dressings. I've got to say, I'm eating a wider variety of dressings AND they are far more delicious. Plus I know exactly what's in them. And it's just easy! It really is just taking a few minutes to make dressings that are tailor-made to fit each salad. It's kinda fun!
That's exactly what I did with this salad. The dressing contains cashew butter, one of my favorite indulgences. The other ingredients are probably items you keep stocked in your kitchen. See, easy!
The crunch in this salad comes from more than the cashews. It's also loaded with fresh vegetables. I love the crunch of veggies in a salad, but especially like the crunch of red cabbage. I am excited for the weather to warm up so I have outdoor soirees to host and attend. This crunchy salad will be perfect!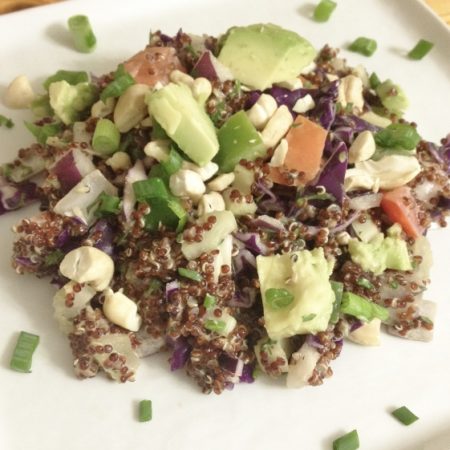 Cashew Crunch Quinoa Salad
Ingredients
For Salad:
2

cups

vegetable stock

1 1/2

cups

uncooked quinoa

(I used red, use the variety you like best)

1

cup

water

4

stalks celery

, finely diced

4

green onions

, finely sliced

2

Roma tomatoes

, chopped

2

cups

sliced red cabbage

1

green pepper

, diced

1

red onion

, diced

1

avocado

, diced

1/2

cup

rough chopped cashews
For Dressing:
1/4

cup

cashew butter

(may substitute nut butter of your choice)

2

Tablespoons

gluten-free soy sauce

, Tamari, Bragg's aminos or coconut aminos

2

Tablespoons

toasted sesame oil

2

Tablespoons

rice vinegar

1

Tablespoon

grated ginger root

dash of hot sauce or sriracha

(optional)
Instructions
Rinse quinoa in a fine sieve or cheesecloth lined colander until water runs clear. Move to a medium stockpot on the stove. Add water and vegetable stock to the pot. Bring to a boil. Cover and reduce heat to medium low. Simmer until liquid is absorbed, about 15 to 20 minutes. Remove from heat for 5 minutes. Remove the lid and fluff with a fork.

While quinoa is cooking, mix together all dressing ingredients. You may find it easier to incorporate the cashew butter if you heat it for 30 seconds or so in the microwave or by submerging the jar in a pan of hot water for a few minutes.

After the quinoa has been fluffed, move to large salad bowl. Toss the quinoa and the dressing together in the bowl.

Add all remaining ingredients except green onions, avocado and cashews. Those are used for garnish. Toss all of the vegetables with the quinoa and dressing.

Refrigerate until ready to serve. When ready to serve, top with green onions, avocado and cashews.

Leftovers keep well. In fact, the salad may taste even better the next day. Enjoy!