This post contains affiliate links. See my disclosure for more information.


The restaurants I most often feature in my "I Ate Here" series are one-of-a-kind, locally owned originals. I don't visit many chain restaurants as I'm looking for a unique dining experience with delicious, chef-created dishes. While in Orlando, I made an exception and visited Rocco's Tacos, which is part of a small chain of six locations. My friend Laura who lives in Orlando suggested we go there for dinner…and a good suggestion it was!
Prior to my visit, I perused the online menu and noticed that tacos are served in flour tortillas but crunchy corn or handmade soft corn tortillas are available. Then I dropped an email to the manager asking which menu items would work for me. Within a day, he replied with an extensive listing of their menu, showing which items work for a multitude of allergies and dietary restrictions.
My friend Mary and I met up with Laura, who had arrived a few minutes early and snagged a lovely table on the backside of the restaurant, which is completely open to the deck and Little Sand Lake. The sun was just setting, tiki torches were lit. It was a really lovely view.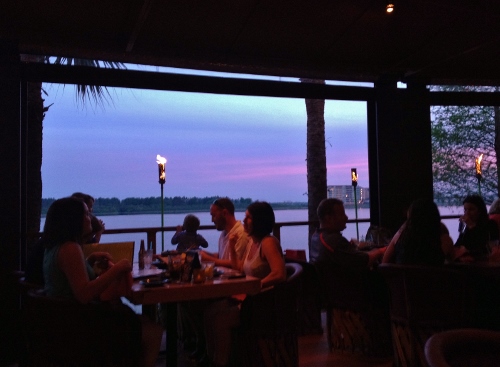 I started dinner off with a Blood Orange Margarita. If you are a tequila aficionado, you'll enjoy the tequila list. It's four pages long and has a few bottles priced over a thousand dollars. My margarita was considerably less, $13. One was sufficient for the evening, two would have required a taxi even after lingering over dinner.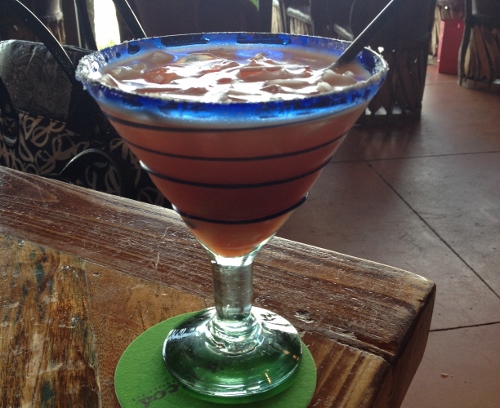 For dinner I have the Hongos Tacos on handmade corn tortillas. Whole mushrooms, Manchego (sheep milk) cheese, crema and and garlic made for the perfect taco combination. I eat Hongos tacos are my two favorite taco places in KC, however both usually slice the mushrooms. Having whole button mushrooms was a twist on this dish I had not eaten before. I would have these tacos again!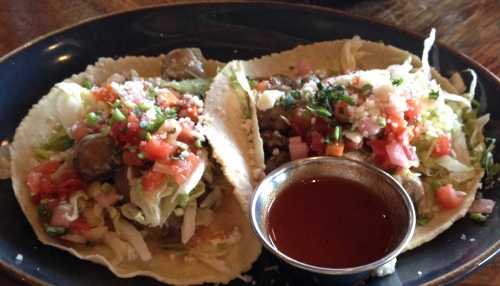 My friend Laura mentioned that some folks say it can get loud at Rocco's Tacos. I could see that if we were seated in the interior of the restaurant. As the night set in, the patrons were getting a bit louder. That said, it remained pleasant seated near the outdoor deck.
Rocco's Tacos was beautiful inside, however too dark for me to snap many photos. Clusters of lanterns adorned the ceilings, dark moody colors were painted on the walls. The lanterns even extended outdoors into the palm trees in the parking area.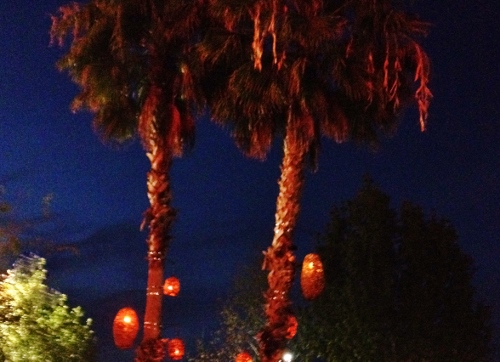 The Orlando location of Rocco's Tacos is located not far from the Universal Studios area in a strip mall that has a multitude of restaurants. In the evening, almost all of the parking is blocked off which makes using valet parking nearly unavoidable. While I had a good experience dining here, the valet did make me nervous when I handed over the keys, started to walk off and saw him point out my luggage in the back seat to another valet. It was done so in a way that made me uncomfortable, so my luggage came in to the restaurant with me. Keeping it classy, dragging my bag into a restaurant…but at least I knew I'd have my things when I finished dining. I do think the valet is associated with the entire shopping area, not directly with the restaurant, so I won't let this lessen my recommendation of the restaurant, but instead remind you to never leave valuables visible when you valet park.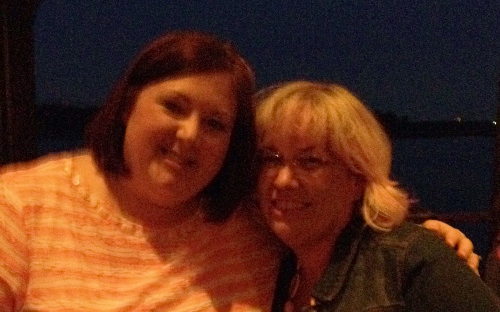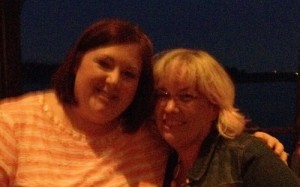 A BIG thanks to Laura for suggesting we meet here. I had a wonderful evening with friends in a town that hasn't always provided me with good dining experiences. It was a fun and tasty evening!
Eat With: Moderate Caution. Contact the restaurant before your visit to have them email the menu to you outlining which items are gluten free. Because the volume level can be high inside the restaurant, make certain your server hears you clearly and confirms your dietary needs when placing the order and again when delivering your order.
Rocco's Tacos Orlando is located at 7468 West Sandlake Road, Orlando, Florida, 32819. 407.226.0550.

Johnna's I Ate Here series is not intended as a restaurant review, rather a summary of Johnna's experience dining out. You may or may not have a similar experience. Menu prices, items and ingredients featured were current at the time of writing. Please read the menu carefully and ask your server for assistance in ordering if you have dietary restrictions. It's a good idea to call ahead and let the restaurant know of your food needs. If you are eating gluten-free or specific allergen-free, Johnna suggests informing the restaurant staff of this, so they know this isn't a food choice, but a necessity, and consumption will result in illness.