This post contains affiliate links. See my disclosure for more information.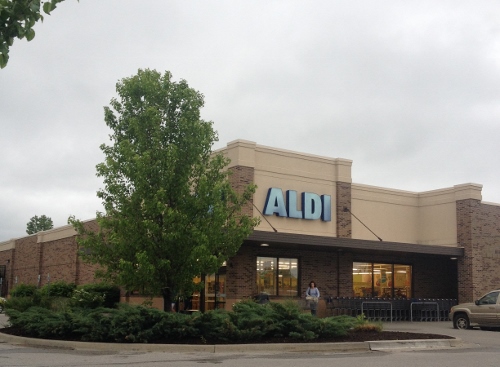 Update 06/18/14: Please see bottom of post for an update on availability of the LiveGfree line at ALDI.
Update 3/3/16: Please see bottom of post for an update on accepted payment methods.
One of the first concerns I hear from someone who is trying to incorporate more healthy food and more gluten-free food into their lives is the cost of the food. When I share in response to this concern that I do a lot of shopping at ALDI, I'm often met with a look of shock. If you aren't shopping at ALDI, you are missing out on great buys!
Growing up, I didn't know a lot of folks who shopped at ALDI. The closest one was 25 miles away, but our senior citizen neighbors made a trek there a couple times a month to stock up on canned goods. I didn't recognize the brands on any of the labels, but the neighbors assured me the food was just as good as what we were paying twice as much for at the "regular" grocery store. As a college student, I relied on ALDI for many pantry staples, but when I shared this with others, I was often questioned about the quality of the food. There was a stigma attached to shopping at ALDI, as though the food was low quality and only those scrimping to get by shop there. Not true! I'm impressed with the quality of food and the list of options for healthy eaters to buy at ALDI just keeps getting longer! If I can save a dollar while still buying high quality food, I'm going to do it!
If you are new to ALDI, there are a couple of things I should share with you. First, you'll need a quarter to get a shopping cart. Don't worry, you'll get it back when you are done shopping. Instead of having cart corrals in the parking lot, which require an employee to retrieve carts, you bring your own cart back. Keeping costs low so you can buy food for a lower price! The bonus: no runaway carts in the parking lots to dent your car!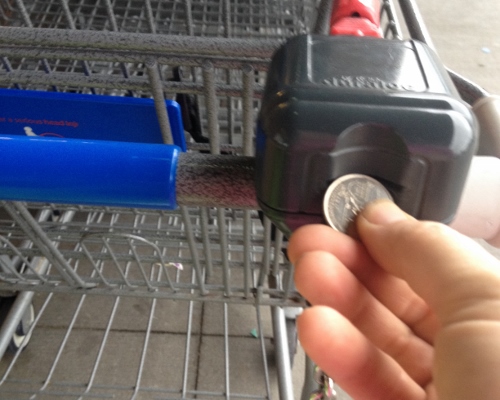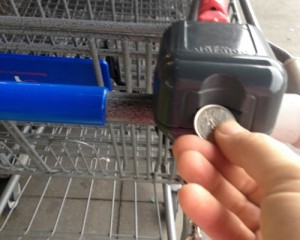 Second, bring your own bags. As long as I can remember, ALDI has charged for grocery bags. You might be able to snag an empty box from the shelves, but in today's age of reusable bags galore, surely you've got a few in your trunk anyway.
ALDI has recently introduced an organic line of food, both canned/packaged goods and fresh produce. I buy canned tomatoes, jars of salsa, bottles of olive oil and fresh produce for a fraction of what I spend at mainstream grocers.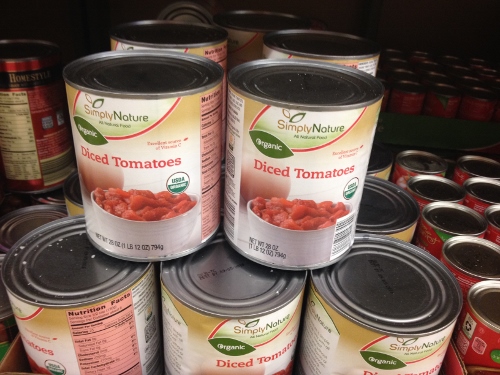 I recently discovered organic coffee cups for the Keurig at ALDI. $5.49 is a bargain! I've been drinking the decaffeinated breakfast blend while I write this post and it's terrific coffee.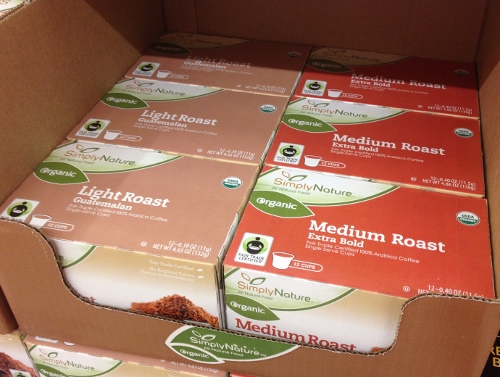 Let's talk a bit more about fresh produce, I buy a lot of produce at ALDI, both conventional and organic. I refer to the Clean Fifteen/Dirty Dozen list. Items on the Dirty Dozen list are best bought organic, items on the Clean Fifteen list are okay to buy conventional. If an item is on the Clean Fifteen list, like avocados, I buy it at ALDI. Sometimes I score avocados for as little as 25 cents each. Last week they were 59 cents. They do tend to be small avocados, but I can get three for the price of one at the regular grocery store.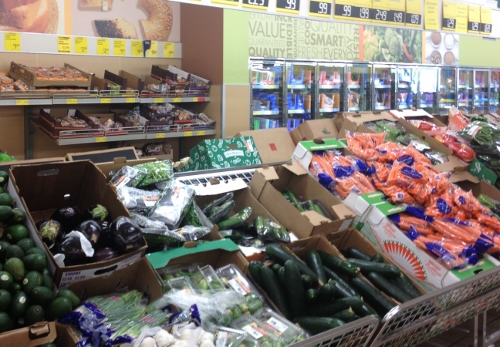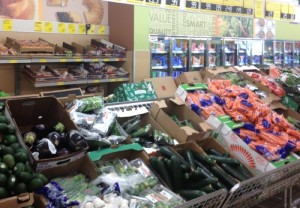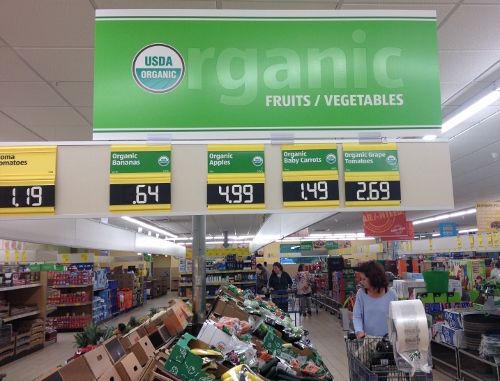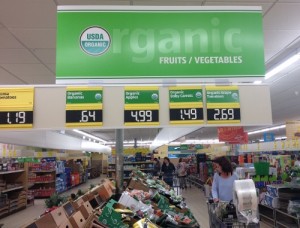 Let's talk chocolate for a minute. I buy lots of high quality, European chocolate at ALDI. All of their products are labeled to let you know if they contain gluten OR if they were processed in the same facility. This is my favorite chocolate bar. I often chop it up for use in baking: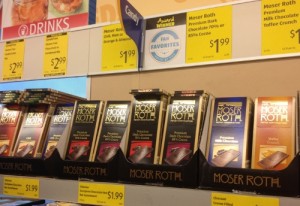 Another great find at ALDI for baking is their vanilla extract. Two bucks for a bottle and it's the real deal. I'm picky about vanilla but happily use this.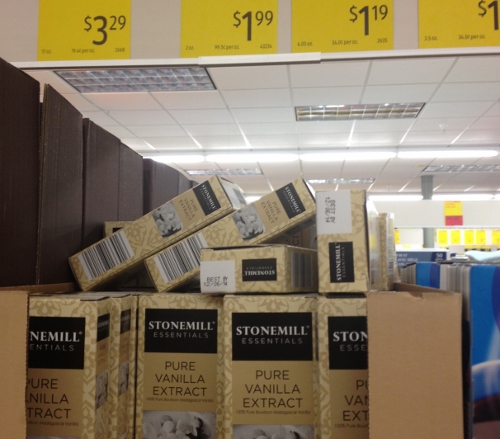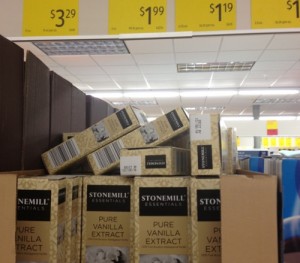 During the holidays, I stock up on all sorts of German chocolates, including chocolate Christmas tree ornaments. I also buy Glühwein, mulled wine, from ALDI, when I don't want to make my own recipe. I pay twice as much at a liquor store to get a very similar bottle of Glühwein.
I should tell you more about the wine, huh? Many ALDI stores have a lovely wine selection. From chardonnay to chianti, they've got it and for a terrific price. (I am not soley responsible for the empty shelf this time. 😉 )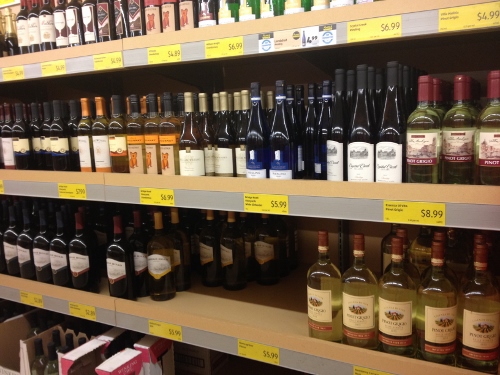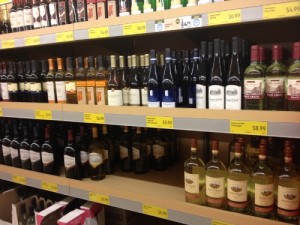 Debuting in May of 2014, ALDI introduced a line of gluten-free convenience products. While this has been advertised as a promotion for the month of May, if demand is high, they may continue carrying these products. Last week's ad had a full page of products including crackers, stuffed sandwiches (like Hot Pockets), frozen pizza, pancakes, lasagna and ravioli, mac 'n cheese, spaghetti, fusili, penne, several favorite of cookies and bars, cake, brownie and cookie mixes, cornbread mix, pizza crust mix, two varieties of granola and chicken nuggets. I purchased a sampling of the products to share with you…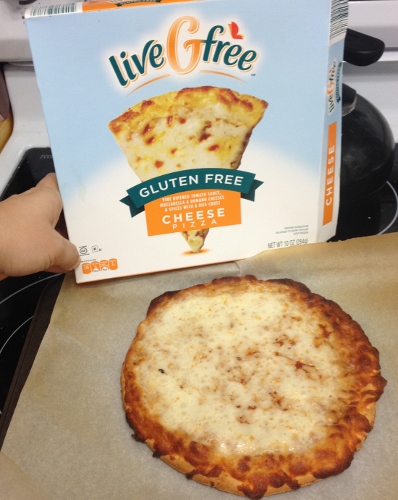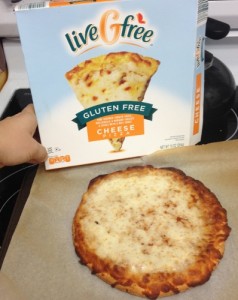 First up, the frozen pizza. It's $4.99 and comes in cheese or pepperoni. I love, love, love the crust on this pizza. It was my dairy indulgence for the week and was certainly worth it. It's a small-ish pizza, loaded with cheese.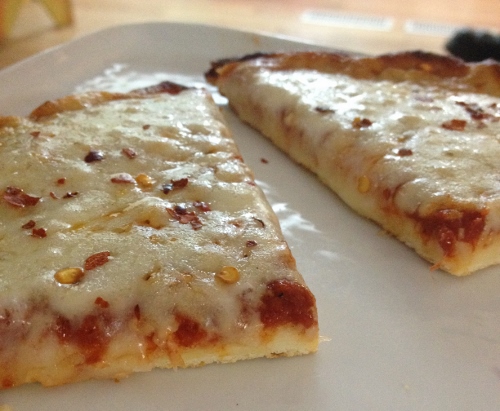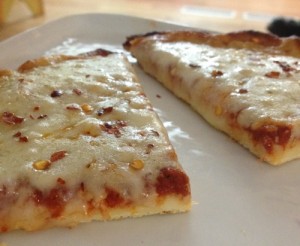 Next, I tried the Double Chocolate Brownie cookies. So soft, the right amount of chocolate, twelve to a package. These are $2.49 a box, compared to about $4.50 a box for the comparable Enjoy Life cookies at the regular grocery store. And the ingredients are remarkably similar to the Enjoy Life cookies, down to the unexpected rosemary extract. 😉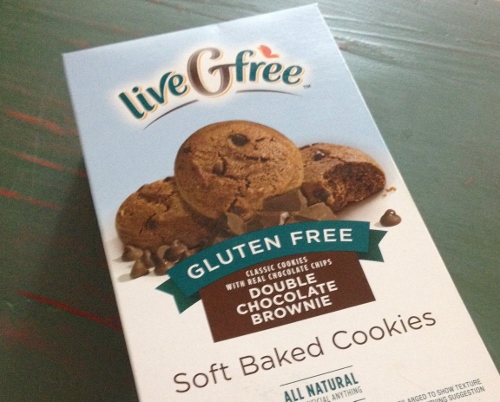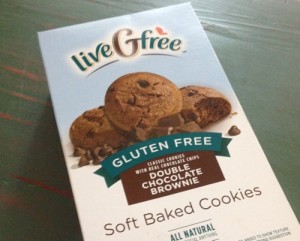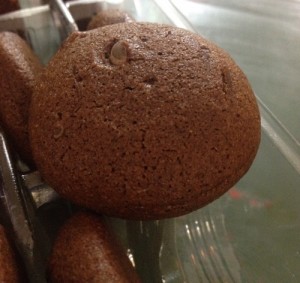 My favorite fella tried the Stuffed Sandwiches. He said they were so much better than Hot Pockets. I'm not sure what kind of endorsement that is, because I remember Hot Pockets being kinda gross. He did add them to my shopping list this week, so I'm guessing they are pretty darned good for a convenience product.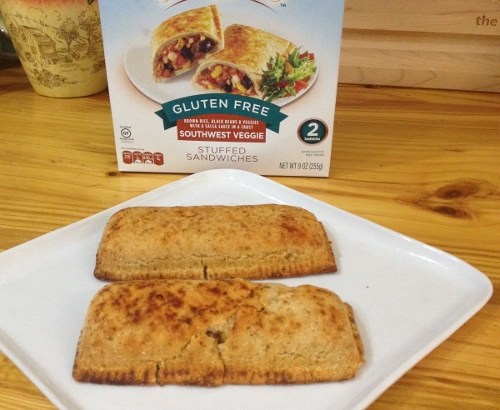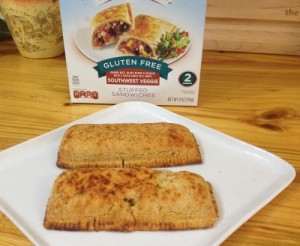 The granola, the bars and the cookies are gluten-free, dairy-free, nut-free, egg-free. Much like the chocolate cookies I shared above, they remind me a whole lot of Enjoy Life products, except for about half the price. While I didn't have time to thoroughly exam each product label, it appears that at least some of the offerings may be free of the top 8 allergens. Many of the products in this line are also certified gluten-free.
I was unable to snag any of the pasta except the brown rice spaghetti. For under $2, it's terrific and as good as any of the gluten-free pasta that I buy on a regular basis. I used it with my chunky tomato basil sauce for an inexpensive meal. I also purchased nearly all of the fresh produce and the canned tomatoes for my sauce at ALDI. While the meal was rich with flavor and packed full of fresh vegetables, it was also incredibly inexpensive. THIS is why I shop at ALDI!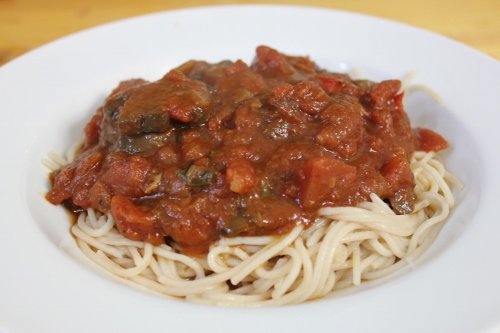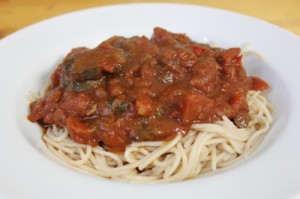 While this isn't food related, I do find other bargains at ALDI. It's really a treasure hunt there, you just never know what you'll find. We had a comforter for many years that caught my eye while grocery shopping. Last week I saw folks buying backyard fire pits and garden accessories. While I go to shop for food, it's always fun to see what other goodies they have at terrific prices.
A few other tidbits you should know about ALDI: for payment, cash and debit cards are accepted, as are EBT and Link cards (As of March 2016, Credit Cards are also accepte). At the time this post was written, ALDI did not accept checks, credit cards or WIC. Most products in ALDI stores are private-label, so they won't be brands you recognize. I am seeing more national brands in the store, but it is still a tiny portion of the offerings. Here are a few more tidbits from the ALDI website.
I'm sure I haven't covered every product that folks like us buy at ALDI. I would love to hear from you. Leave a comment below, share with us your favorite ALDI's finds!
UPDATE 06/18/14: My sweet friend Patricia contacted ALDI to ask about the continued availability of the LiveGFree line. Here is the response–
"Thank you for contacting us regarding the availability of our LiveGfree products.
Select test stores in the Chicago, Minneapolis, Pittsburgh, Baltimore and New York areas will continue to carry a varitey of the LiveGfree products for the remainder of the year. A companywide roll out of the most popular items is scheduled for later this year."
UPDATE 03/03/16: ALDI has announced they will now be accepting credit cards for payment.
This post is linked up to Gluten-Free Wednesdays. Click over for many more wonderful gluten-free resources!