This post contains affiliate links. See my disclosure for more information.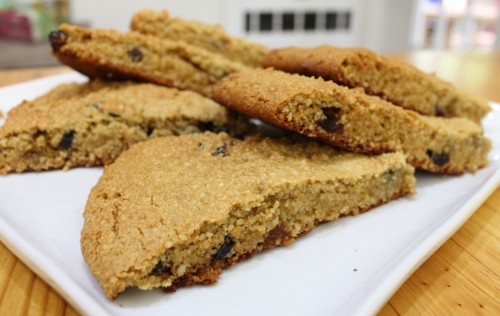 I asked recently on Facebook what kind of scones y'all like best. The overwhelming winner: Cranberry Orange Scones! Off to the kitchen I went to make this happen…
My kitchen stayed busy last week, working and re-working the recipe to get it just right. After much work, I came up with a gluten-free, grain-free, dairy-free scone that I proudly shared with friends. I took a few to a friend. I had another friend over for tea and scones. And now, I'm so excited to share these scones with you. Pull up a chair, I'll pour you a spot of tea and we'll have scones…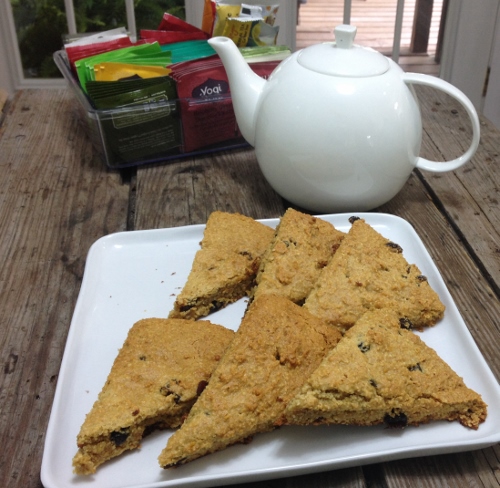 In the next couple of weeks, you might notice I'm sharing a few more grain-free recipes. This is for two reasons: y'all have asked for more grain-free recipes and I'm eating less grain this time of year. Not that I have walked away from grain, I'm just eating less right now. For me, it feels right. No big agenda on my end, no permanent switch to my diet, just switching things up to include what feels good to me in the moment. Maybe it's related to Spring finally arriving, even though Mother Nature has wrapped Spring in a box that feels more like Summer! Whatever it is, it's been fun experimenting with ingredients that don't always take center stage in my baking.
A few more words on ingredients: I use Gluten Free Almond Flour from Honeyville. Once you compare their price to the price of what's in your local supermarket, I'm guessing you will, too. I can buy five pounds for less than what three pounds costs locally. Plus it's certified gluten-free. The dried cranberries I used in these scones are from Eden Foods. Unlike Craisins, which are sweetened with refined sugar, these are sweetened with apple juice. Perhaps it's a little switch, but I think it's a step toward better food. I've also used Vanilla Bean Paste as opposed to vanilla extract. It has a richer, deeper vanilla flavor, along with pretty little specks of vanilla bean. That said, extract works just fine, too.
Ok, on to the recipe… Enjoy!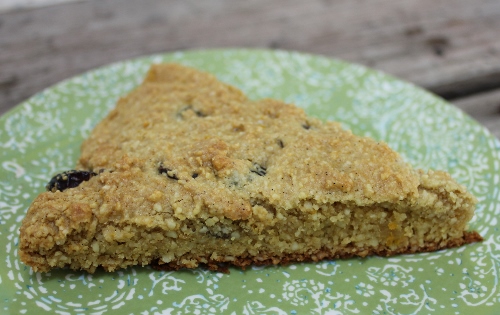 Cranberry Orange Scones, gluten-free, grain-free, dairy-free
Ingredients
2 1/4

cups

Almond Flour

1/3

cup

arrowroot

1

teaspoon

baking soda

1/2

teaspoon

sea salt

1

large egg from a happy hen

1/4

cup

raw local honey

1

Tablespoon

fresh squeezed orange juice

1

Tablespoon

Vanilla Bean Paste or vanilla extract

1/2

cup

Dried Cranberries

1

Tablespoon

orange zest
Instructions
Preheat oven to 350 degrees. Line a baking sheet with parchment paper. (Best to use parchment and not a Silpat, as you will be cutting on the sheet.)

In a large mixing bowl, combine almond flour, arrowroot, baking soda, and sea salt. Stir to combine.

Add egg, honey, orange juice and vanilla. Mix just to combine, no need to overmix.

Last, fold in dried cranberries and orange zest.

Turn out dough onto parchment lined baking sheet. Gently pat into a circle about 3/4" thick.

Slice into eight pieces, just like slicing for pizza.

Bake at 350 for 12 to 14 minutes, until just lightly browned. Remove from oven and allow to cool a bit before making the final slices. The original pre-bake slice lines will still be visible and make slicing these into wedges very easy.

Serve warm or at room temperature. Store well in an airtight container and can even be frozen!