This post contains affiliate links. See my disclosure for more information.


Finally, we are done with the kitchen remodel! Today, I'm sharing a glimpse of what it looks like In Johnna's Kitchen…the real one, not the virtual one you're visiting here.
Way back in the Winter, I shared with you a bit about our kitchen remodel. We started with this: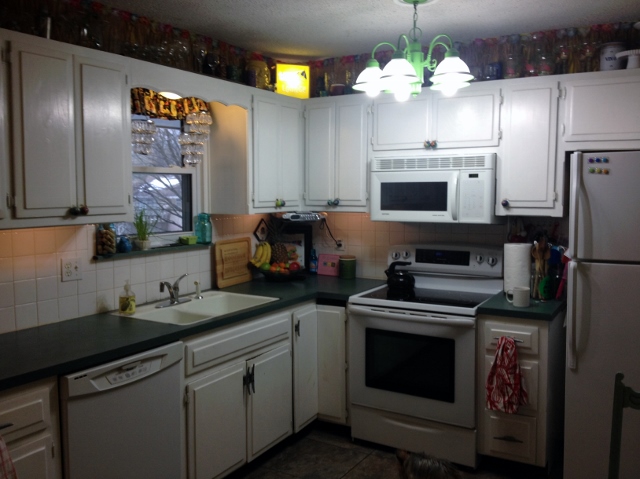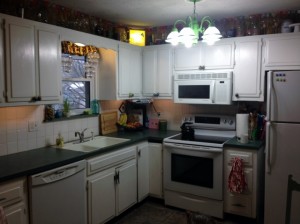 We had spent a couple of years browsing every time we were near an IKEA. You see, we don't have an IKEA in KC…yet. We will by fall. So we would browse IKEA, take photos, come home and plot what would work best. We used the online IKEA kitchen planner until we knew it inside and out. With a break in our schedule, we took off for Minnesota during a blizzard warning. Because that's what super smart folks do. It was a nerve wracking drive (5 hours turned into 7 1/2) but an easy task to buy the cabinets and get them home.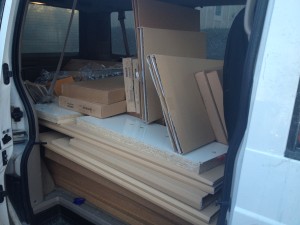 After buying the cabinets, my favorite fella spent two days building them in the garage. 172 flat packed cartons of cabinet parts and pieces assembled into shiny, white cabinets. The recycling guy still shudders when he drives up to our house after all that cardboard we put out from unpacking the cabinets.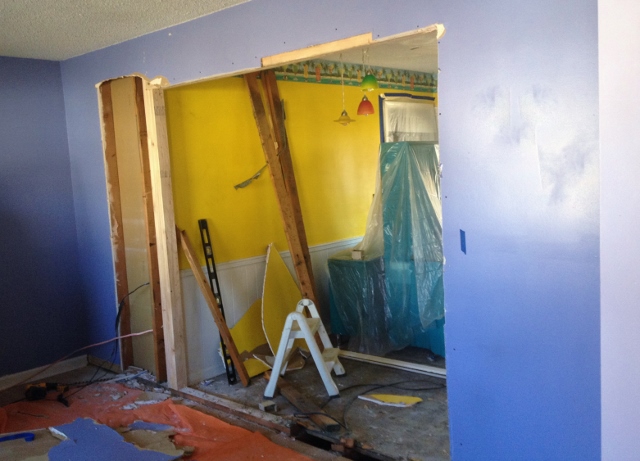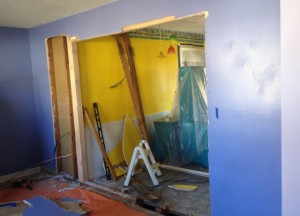 And then came lots of messy demolition. Our favorite contractor removed a big chunk of a load-bearing wall, opening our living room up into the kitchen. The contractor sent over a fella to make the 1970's popcorn ceilings into the perfectly smooth ceiling I had envisioned. I can only describe the ceiling fella as an artist–his work is meticulous. Most of what happened after was boring details, like painting walls (custom color matched to IKEA's white cabinetry), selecting light fixtures, knobs and pulls, putting in flooring, agonizing over the faucet finish. Oh, and making a countertop.
So about that countertop…My friend Sarah was also in the process of remodeling–not a house but a yoga studio and healing arts center. She scored several thousand square feet of tongue-and-groove planks from the old Folgers Factory in Kansas City. In other vintage materials, it's what I refer to as New Old Stock, something in the package that is old, but has never been used. That was this wood. It had been sitting, waiting to be used, in the Folgers Factory for over 50 years. Sarah didn't need all of it, so we purchased enough to make a countertop.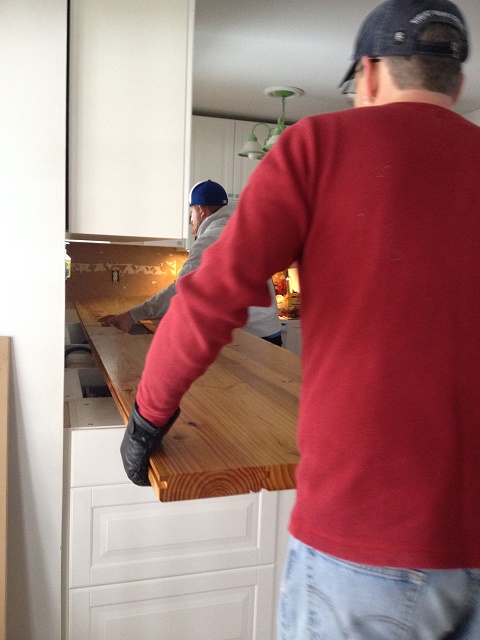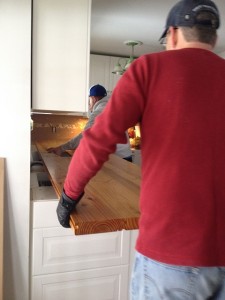 The countertop became a time-consuming task. John and friends Ed and Ethan spent days cutting, sanding and then finishing the countertop. It took three strong guys to maneuver it into place once it was done. While wood countertops had never been on my wish list, I am so very pleased with how it turned out and I love the history of the wood. (And no, it doesn't smell like coffee.) I'm now a big fan of wood countertops. Ours is finished with a low-VOC, non-polluting marine grade sealer. If it's good enough to keep water out of a boat, it should work great in a kitchen.
Water sealer aside, I did choose the kitchen sink based on the countertop. Instead of going with a farmhouse or apron front sink, I chose to go with an enameled cast iron drop-in sink so there would be less wood surface exposed to water. The sink I chose is deep and has a 70/30 split. The side with the disposal is pretty narrow, leaving the other side for lots and lots of dishes.
Speaking of dishes, mid-remodel our old dishwasher let us know it was time to buy a new one. Puddles on the floor, an increasingly loud motor that made it hard to hear in any room of the house, dishes that came out dirtier than they went in. Just when we thought we were right on budget with the remodel! We bought a Bosch 800 Series. It has a third rack at the top, perfect for all of my cooking utensils and gizmos or cutlery that don't fit well anywhere else in a dishwasher. The second rack is height-adjustable (and removable for that matter) so it's easy to get big cookware pieces washed. And it is SO quiet that is has a light that shines down on the floor to tell us when it is on. While we had hoped to not replace appliances since most of ours were new within the last 2 years, I am over the moon about this dishwasher! (Is that silly? To be excited about a dishwasher? Oh well…)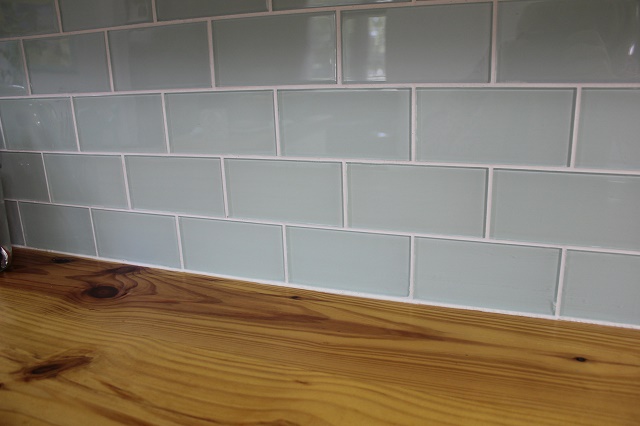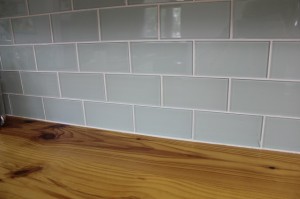 One of the last major tasks was tiling the backsplash. Our super-skilled friends Bill and Christina installed our backsplash, which is arctic glass subway tile from MS International. They had it done in an afternoon, we grouted the next day. I love how it turned out and am so grateful we had friends who are tile masters–they made it look easy when I know for certain it is not.
So here it is…our kitchen remodel, finally finished.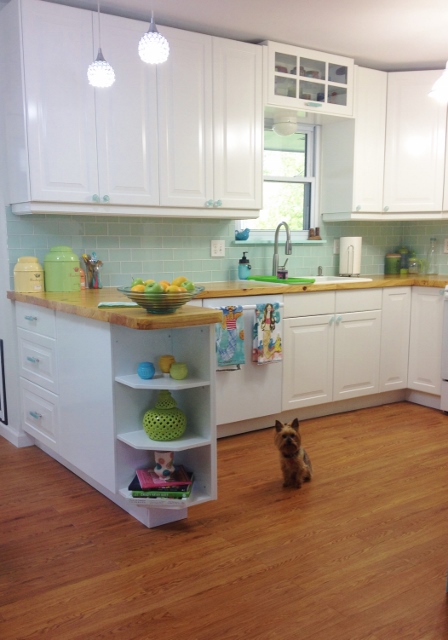 We've added a peninsula, which provided three deep drawers, a shallow drawer and two shelves of storage we didn't have before. It also gives me more counterspace, which isn't something I thought I needed but I've been enjoying it. Perhaps it's isn't possible to have too much counterspace.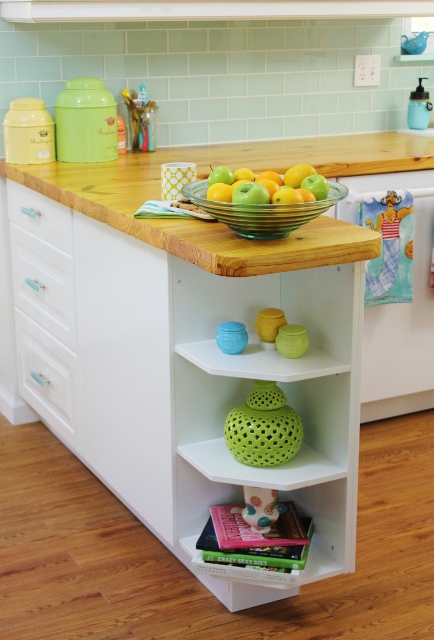 I'll share a list of resources below, but wanted to share a couple photos of the knobs and pulls we chose. Initially, we planned to keep it simple and go with something very inexpensive. But while browsing World Market for a gift, I noticed their display of knobs. I thought these handblown knobs would be perfect and they are! The only trick is that because they are handblown, they are not consistent in size. We were able to closely match the sizes in spots where knobs are directly adjacent to others, but not before exhausting the stock of both World Market stores nearby. PLEASE NOTE: These knobs have been recalled by the Consumer Product Safety Commission. I was injured by one of these knobs and required stitches. Please read the recall if you have purchased these. (Updated 03/10/16)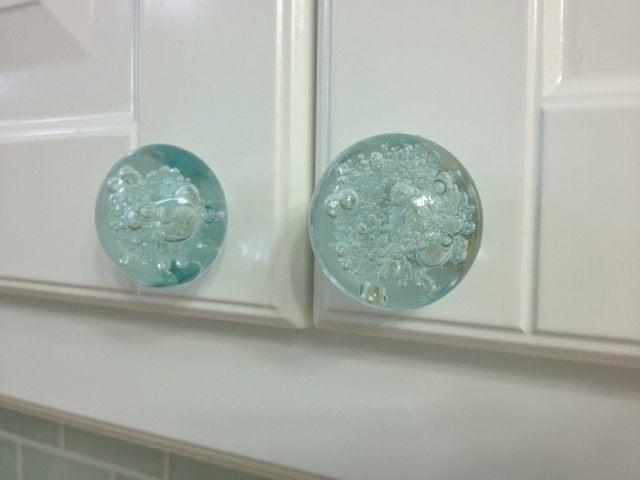 For drawer pulls, we ordered from Sietto in Chicago. Our pulls are their Skinny Glacier style in light aqua. We ordered a test pull, which arrived super quick and then after confirming it matched out tile and knobs, ordered the remainder. Even though these are handmade and made to order, we received them very quickly. The folks are Sietto were so nice to work with and quick to answer my questions. I wish I had more places to use their hardware!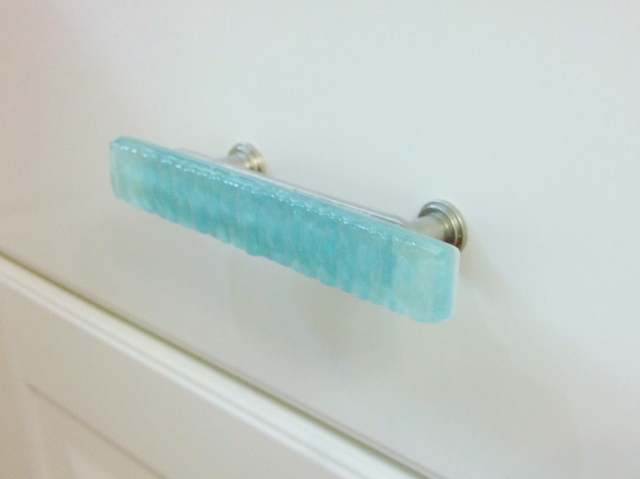 Below is a resource list of the items we selected for our kitchen. While not exhaustive, I hope I covered most of the important items.
Cabinets: IKEA (cabinets made in Georgia, USA, doors made in Portgual), white Akurum cabinets with Lidingo doors
Tile: 6″ x 3″ Glass Subway Tile in Arctic from MS International, purchased at Tile & Stone Warehouse in Merriam, KS.
Sink: Kohler's Wheatland Offset Double Basin (If you are going to buy a sink from Amazon, it's worth it to be a Prime member. Our sink weighed 130 pounds and was delivered by a freight carrier in 3 days.) I chose a Kohler because our previous sink was a Kohler and was in relatively good condition to be 40 years old. I also like that ours is made of 93% recycled goods.
Dishwasher: Bosch 800 series in white
Knobs: handblown glass purchased at World Market PLEASE NOTE: These knobs have been recalled by the Consumer Products Safety Commission. I was injured by one of these knobs and had no idea there was a recall. If you have purchased these knobs, please see the recall here. (Updated 03/10/16)
Pulls: handmade custom order from Sietto
Light Fixtures: Habitat for Humanity ReStore (kitchen fixture), Lowes for peninsula pendants, over table fixture.
Table: Hello Sailor
General Contractor: Terry Hubbard (If you are in the KC area and need a contractor who is not only great at what he does but also easy to work with, drop me a message and I'll share contact information.)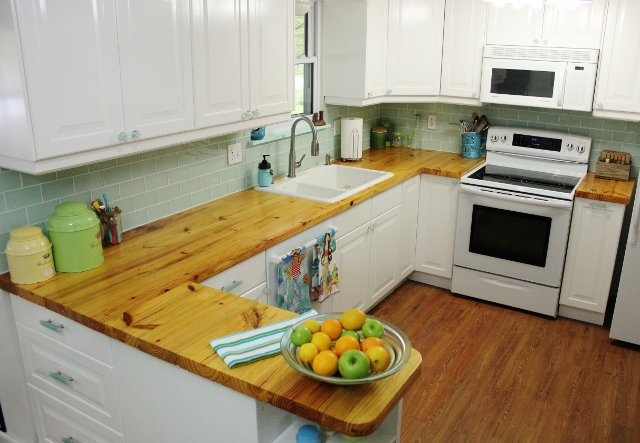 I hope you've enjoyed a peek into where I create the recipes I share here. I hope one day you'll join me around the table!
This post contains affiliate links. Should you make a purchase from one of the links, I may make a small commission. Affiliate links allow me to continue providing high quality, original recipes tested in my kitchen at no charge to you. I appreciate your support!