This post contains affiliate links. See my disclosure for more information.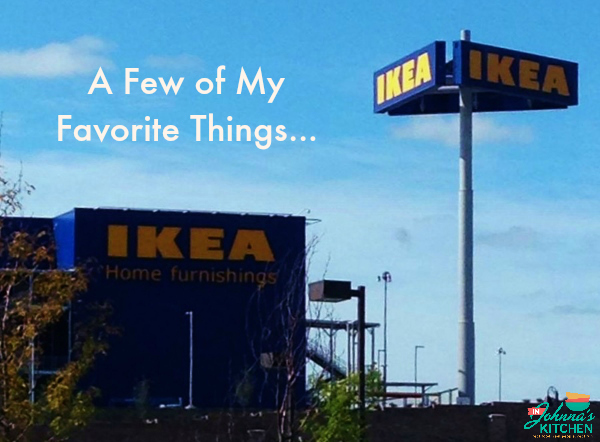 It's just two days until an IKEA opens near where I live. I'm so excited to have IKEA's 40th U.S. store just across the city from me in Merriam, Kansas. Instead of explaining why I didn't wait until IKEA opened a store near me to install our new kitchen, I thought today I would share with you a list of goodies beyond kitchen cabinets that I enjoy buying. I present to you IKEA: A Few of My Favorite Things.
Over the weekend I did a little sneak preview shopping at IKEA and snapped a few pics of items I've purchased in the past along with a few new finds. I'm also including a few photos of how I put these to use.
First up on my list, the Vurm wine rack. I know at least one of you sweet readers said to yourself, "She's never had a bottle of wine last long enough in the house to need a storage rack." Not true! But…I don't use this wine rack for wine. I use it for towels! Here's what it looks like in the store: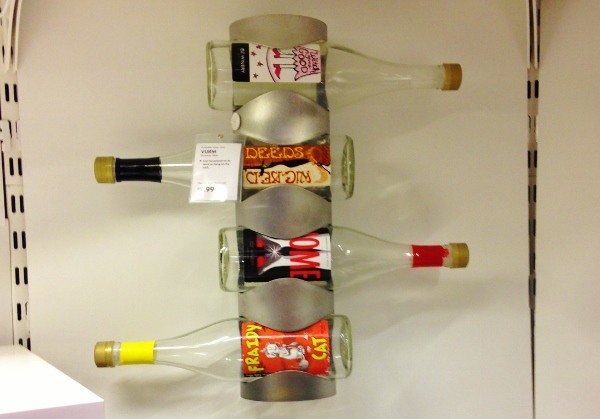 And here's what it looks like on the back of my bathroom door: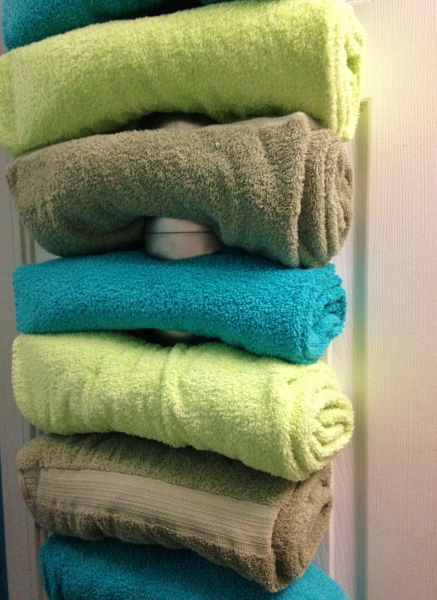 This is two wine racks, stacked one atop the other. So a total of eight large bath towels stowed neatly on $20 of wine racks. Towels get folded in half here and then loosely rolled. Roll them too tight and they don't smoosh into the wine holder. This is a great solution for a bathroom with limited storage!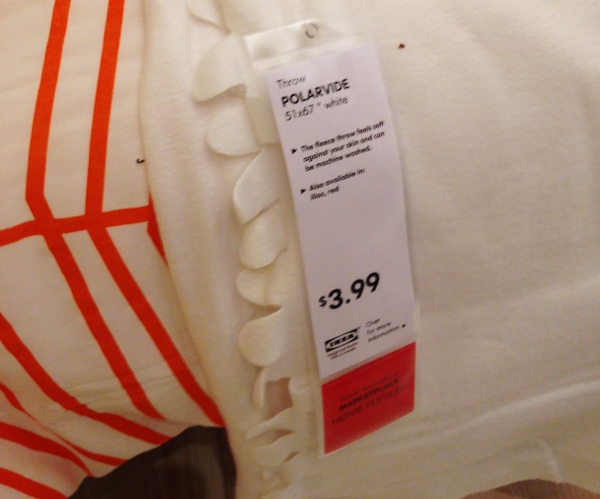 Second on my list, the Polarvide blanket/throw. It's fleece, it'll cost you just four bucks and it comes in a variety of colors. Over the weekend I spotted it in white, red and eggplant purple. I have had it in lime green, orange, light blue and probably several colors I've forgotten, as I've passed a few of these along to others.* This $4 blanket is often with me on an airplane. See how it comes rolled up at the store?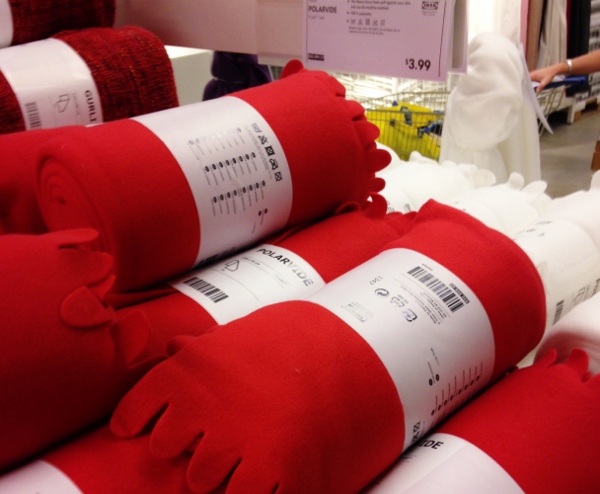 That roll-up fits perfectly into a loop on the exterior of my backpack. No more being cold on an airplane. Or if I'm not cold, I can roll it up for a pillow. I've also used this for a travel dog bed in a pinch and keep one stashed in just about every room of our house to keep the chilly drafts at bay. These machine wash well and just get softer and softer. Nothing fancy about it, not a stitch on the blanket. Perhaps those cute scalloped edges are laser cut. I don't know. What I do know is that it's worth $4. Go buy a bunch! *For $4, if I see someone who is having a tougher go of it than me, I can leave the blanket with them. I've also bought these to donate to winter blanket drives. Not a heavy blanket, but warm.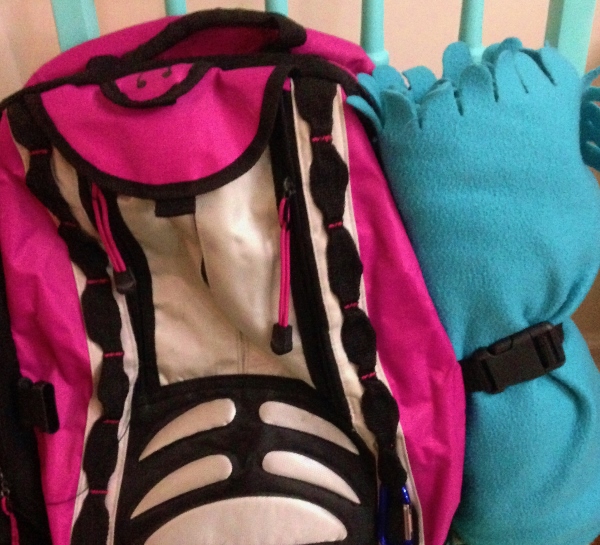 Next on my list, the Fargrik coffee cup. It's a dollar and comes in a bunch of colors. I think I counted six colors in the store. I like the little handle on this mug and I like that they are nesting mugs, which saves space in my cabinets. My fella is not a fan of smaller coffee cups (these are just 8 ounces), but I find that's about all the coffee I drink before it's cold anyway. I've also been known to use these for cute little flower arrangements at each place setting (doubling as a party favor) and as storage containers for small items.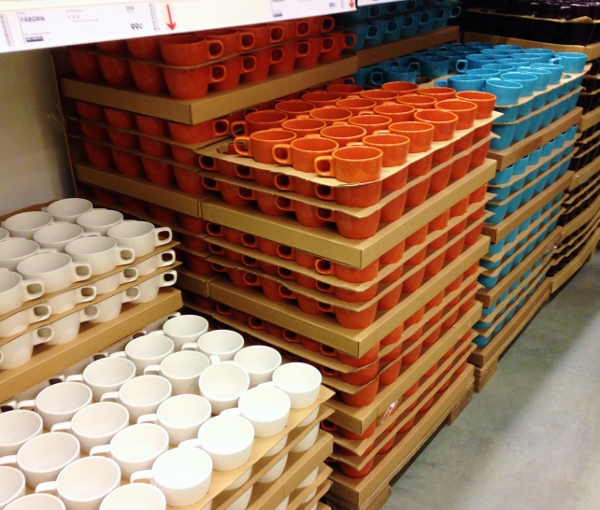 There's one on my kitchen counter full of mismatched spoons I've collected to use for tasting while cooking.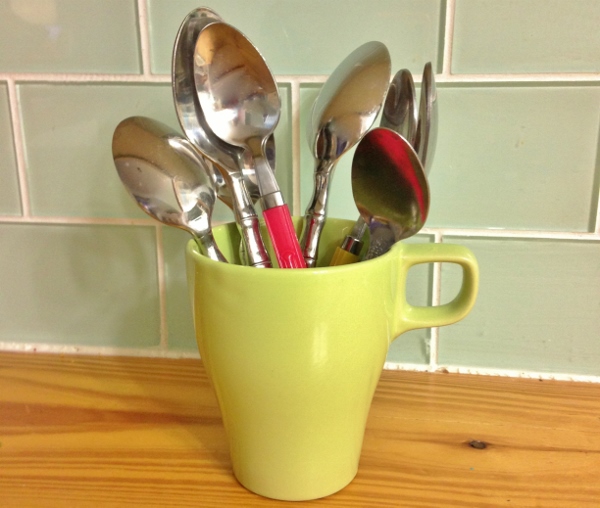 My last item is something new I spotted. It's a thermal travel mug, not so different than the ones you see lots of places. The key difference was this was around $5 and easily as nice as those I've paid over $10 for in other stores. I also liked the color assortment: red, blue, purple and lime. I couldn't find it on the website, but think it is called Hallbart. Here's why I'm sharing a thermal travel mug find with you: these make terrific gifts.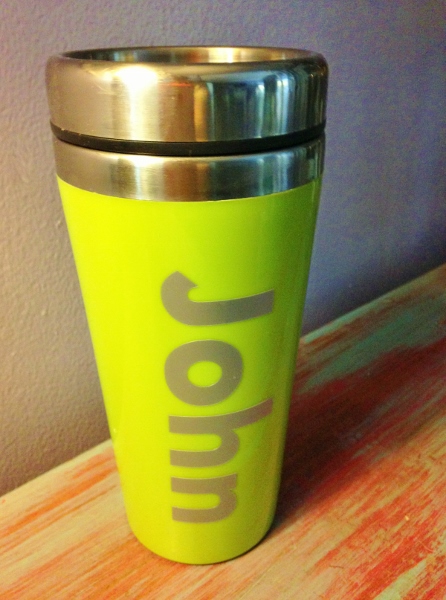 If you have a vinyl cutter, like a Silhouette, you can personalize this style of mug with a name, logo, fun design of your choice. Then you can stuff the inside full of the person's favorite goodies or a small packet of locally roasted coffee. I made these for the folks I'm working with this week. (Shhh! Don't tell them, it's supposed to be a surprise!)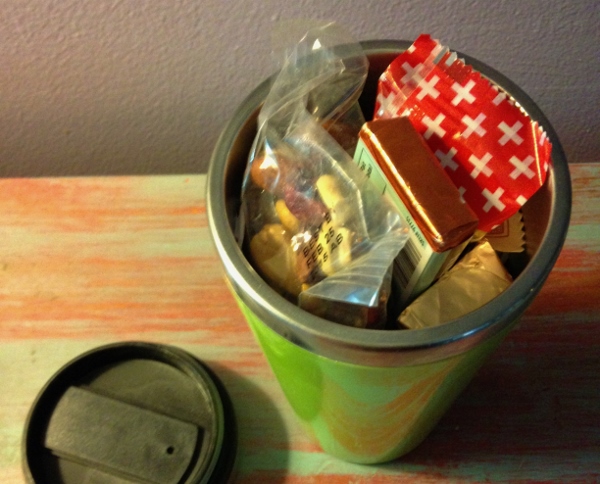 Alright, now it's your turn! I want to hear in the comments below what your favorite things are at IKEA. And….GO!