This post contains affiliate links. See my disclosure for more information.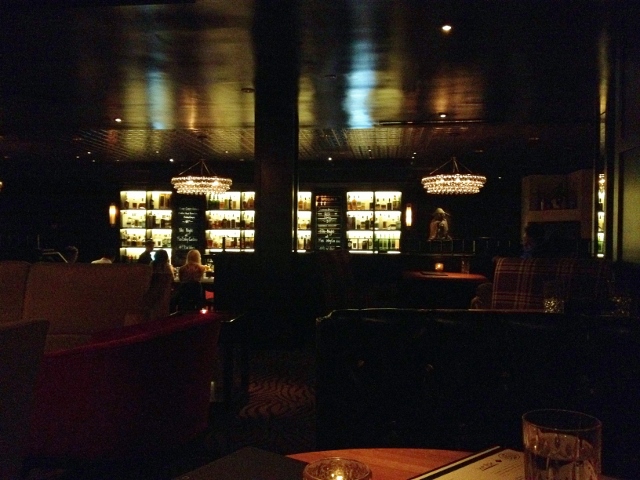 I did some serious food traveling around Boston! So far I've shared with you a meal at the historic Parker House, cupcakes from Sweet, amazing juices and salads at CocoBeet. I'm down to my last two great places to share with you. This one was our "nice dinner out" choice while in Boston. Wink and Nod was a terrific spot for a delicious, quiet dinner for two.
But first, I need to be honest and tell you the reason why we chose Wink and Nod: we had heard through the coconut telegraph that they have an interesting collection of tiki glasses behind the bar. We have a collection of vintage tiki barware so this moved Wink and Nod to the top of our list. The menu (which, in keeping with their speakeasy theme, is not on their website, but is available on OpenTable) also looked appealing, even if my tweet asking about gluten-free options went unanswered.
Wink and Nod is located in Boston's South End. We stayed in the Financial District, but considering how walkable Boston is, it was a lovely walk from our hotel through the theatre district to the restaurant. Greeted by a gentleman in shirt and tie, we were escorted into the door and down the wide, plushly carpeted steps. Located in the basement level of the building, Wink and Nod is dimly lit, absolutely reminiscent of a prohibition-era, underground bar. This speakeasy has touches of opulence throughout, intermingled with historic allure. The tin ceiling is faintly illuminated by a variety of chandeliers.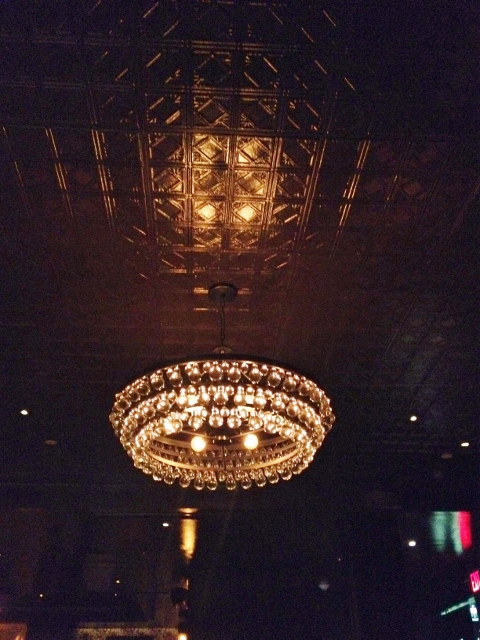 We started our meal off at the bar. There was no shortage of open tables, as we were dining out relatively early on a weeknight, so we weren't concerned about getting a table after having a few drinks. We did want a peek into the tiki glass collection, after all!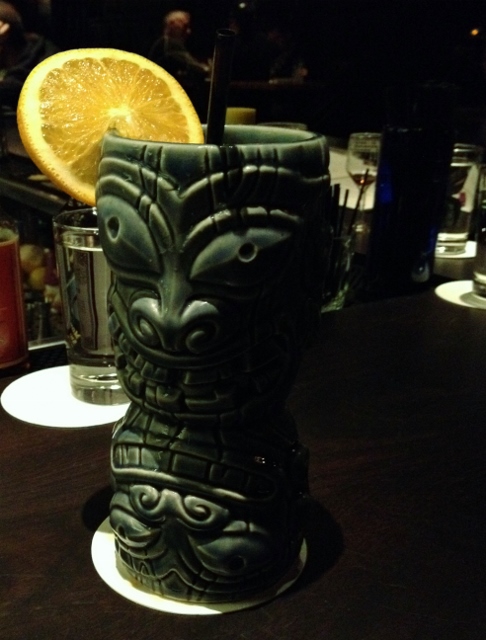 My drink was served up in a traditional tiki glass. The bartender told me that not only does their collection rotate frequently, but all of the glasses are for sale.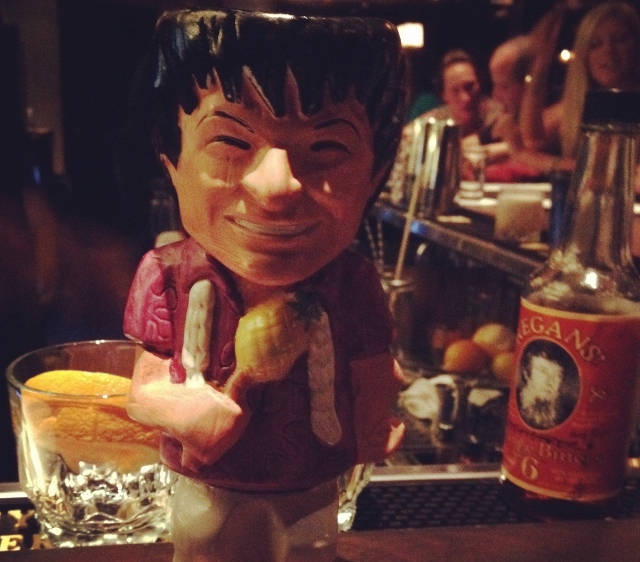 My fella had a couple of drinks, both served up in fun tiki glasses. The first was Don Ho. The second, on first glance, looked like Elvis to me. But it wasn't, it was McGarrett, known for saying, "Book 'em Danno," on the original Hawaii Five-O series. Those of you who collect tiki may recognize these glasses from the Tiki Farm. So much fun to see tikiware being used at a bar!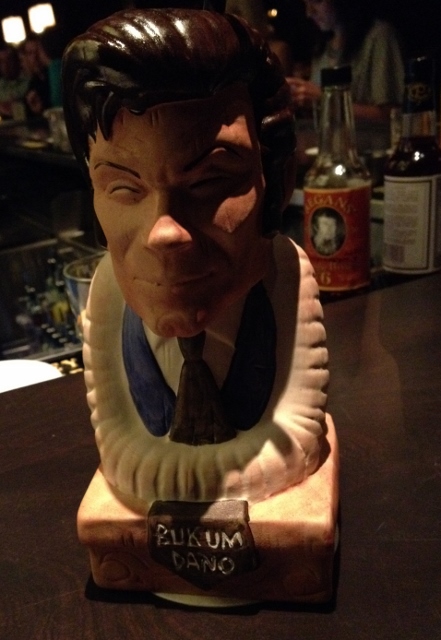 I have to tell you, our visit at the bar almost turned into a post of its own. We were seated beside a woman who loudly declared herself a food blogger. I introduced myself, since she had nudged her seat close enough to my fella that her conversation was interfering with ours. She told me she used to write exclusively about food, but is now focused on cocktails. I asked if that had been a challenging transition, if she had any audience woes (because y'all know I've been there…from donuts to gluten-free and healthy). Um, wow. She responded rather snippily, but quickly recovered by putting her hand around my fella's wrist and inquiring about his watch. So um, forward. I tried to maintain a polite conversation, asking if there were many cocktail bloggers in the Boston area. I don't know of any where I live and find it intriguing. The reply, "Well, this isn't the Midwest!" Ouch. That was followed by name dropping to us and the bartender of distillers and vintners she personally knows, lots of flash photography in the dimly-lit space with a bulky DSLR placed atop the bar and general neediness, including asking for samples of in-house spirits and mixers and even whole pieces of fresh fruit to stage her cocktail photos. It was obvious there wasn't room for anyone other than this gal at the bar so we wrapped things up and asked to be seated at a table. So if I ever decide to write a post on how to be an annoying food blogger, I've got a bit of fodder… (Not to say I don't have annoying traits of my own. 😉 )
Our table was in a cozy corner, perfect for the two of us. Seating nearby included small couches, overstuffed chairs, all in an array of coordinating upholstery, as well as a variety of table set ups. The entire space definitely has the speakeasy feel to it. The menu is heavy on snack-sized options, making it perfect for two of us to share a variety of small plates. We started with pickles, which were perfectly tangy with just a hint of heat. Our server, who was really fun and obviously enthusiastic about food, shared that the kitchen pickles just about anything they have just a bit of left. In our jar of pickles, I noticed a fiddlehead fern. It was in good company with carrots, radishes and yellow peppers.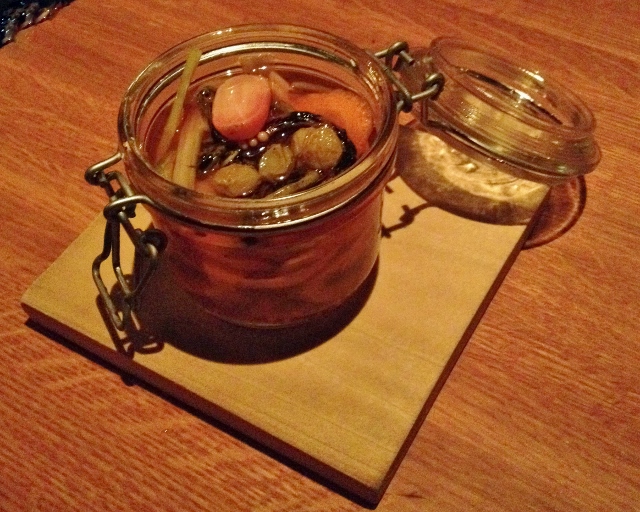 Next up we had the deviled eggs. This dish did cause me a bit of trepidation because it contains nuoc cham, which is typically made with fish sauce. It's not so much that I'm concerned with consuming a tiny bit of fish, but not all fish sauce is gluten-free. I asked the server to confirm that this contained no gluten and she did confirm with the kitchen that the dish would be fine for me. This would have been a great place for the general manager or chef to make an appearance at the table to reassure me about ingredients of this dish and others we could potentially order, but at least one of them was busy with aforementioned cocktail blogger posing for more flash photography at the bar. My fella joked at this point that the constant flash photograph might be an issue if one were seizure prone.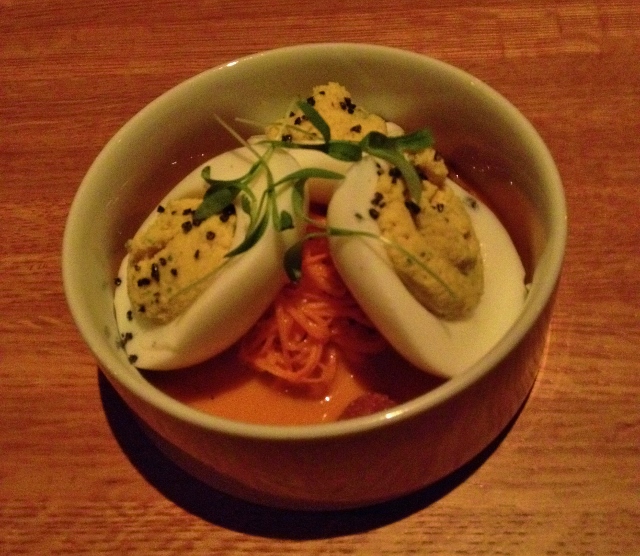 The eggs were wonderful, by the way. I don't often eat deviled eggs out, but I would order these again.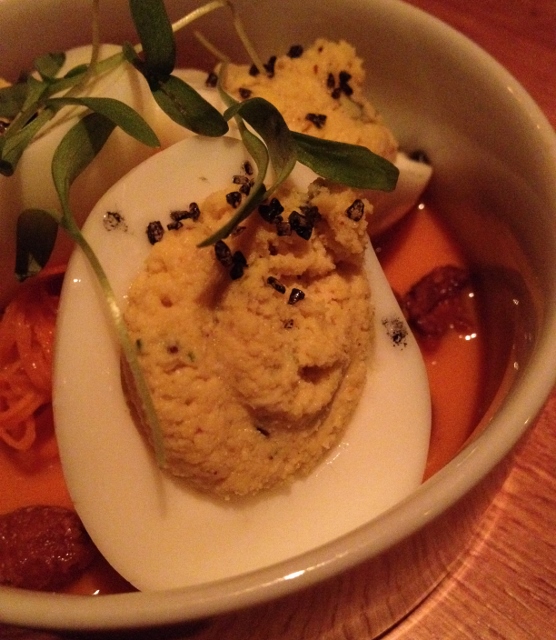 After the eggs, we shared a lovely kale salad. I like kale a bit more massaged, but still really enjoyed this salad. Lightly dressed, a generous serving with a bit of pan fried, crispy kale on top instead of a crouton.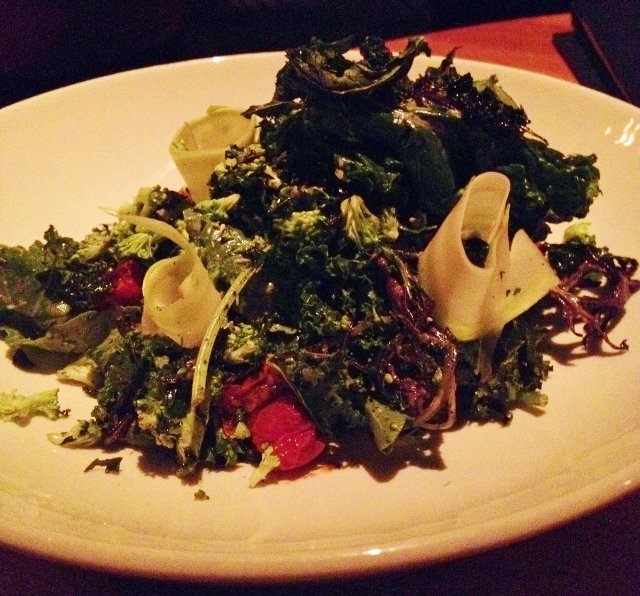 Next up was the dish that has me sold on Wink and Nod, charred cauliflower with coriander yogurt, golden raisins, capers and a bit of romesco. When I asked my favorite fella what his favorite edible was while visiting Boston, he didn't make any mention of the cannoli, the Bostom cream pie, the amazing deli sandwich we shared near Harvard…nope, he said it was this cauliflower! I've never ordered a second serving in a restaurant, but we debated doing just that with this dish. It was beautifully dished with a nice sauce and mustard seeds artfully dolloped onto the plate. I have never tasted such buttery cauliflower.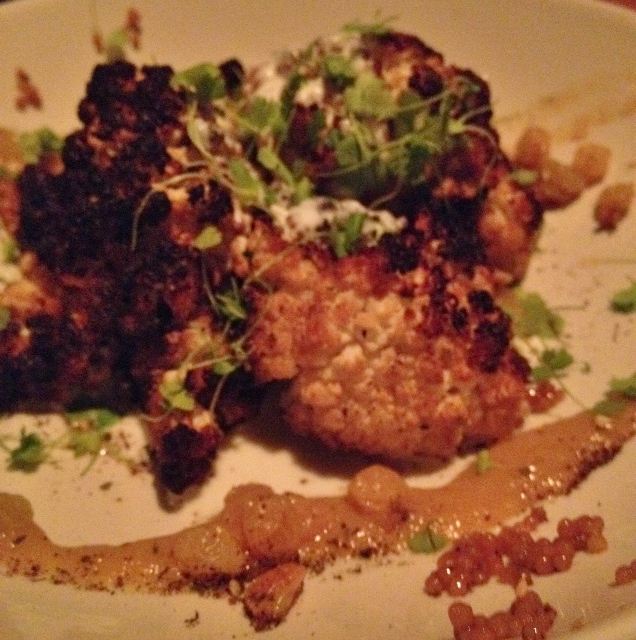 Instead of ordering a second dish, we decided we would have dessert. My fella ordered the housemade twinkie (which is not gluten-free) because it includes hazelnut cream. He is a fan of hazelnut anything, so this was alluring to him. I ordered the panna cotta.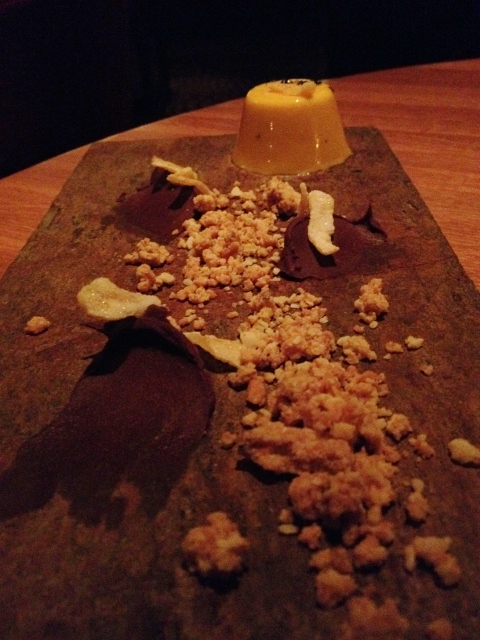 When my panna cotta arrived, our server told us the kitchen had trouble with the twinkie. It simply had not turned out that evening in a manner they were comfortable serving. We were offered the panna cotta at no charge. It was beautifully dressed with schmears of melted chocolate and crumbles of white chocolate that remind me of lightly seized chocolate, when that slight caramelization occurs. Strips of crystallized ginger completed the presentation. Delicious. It turned out to be more than enough for us to share and we left with full bellies and pleased palettes.
EAT WITH: moderate caution. The menu is not labeled for gluten-free or vegetarian diners. While our server was so terrific about confirming, I would have felt better if someone from the kitchen or management would have stepped in to help her out. She was really having to hustle to answer my questions, lots of back and forth, which could have been eliminated by someone in the know. Just be sure to ask lots of questions of your server. In hindsight, I should have been a bit more forward and asked to speak to a manager or the chef. There's nothing worse than being sick away from home so I was a wee bit worried. (That did not happen, I did not get sick and had a safe meal here, just would have benefited from a bit more reassurance.)
Wink and Nod is located at 3 Appleton Street, Boston, Massachusetts, 02116. 617.482.0117.

Johnna's I Ate Here series is not intended as a restaurant review, rather a summary of Johnna's experience dining out. You may or may not have a similar experience. Menu prices, items and ingredients featured were current at the time of writing. Please read the menu carefully and ask your server for assistance in ordering if you have dietary restrictions. It's a good idea to contact and let the restaurant know of your food needs. If you are eating gluten-free or specific allergen-free, Johnna suggests informing the restaurant staff of this, so they know this isn't a food choice, but a necessity, and consumption will result in illness.