This post contains affiliate links. See my disclosure for more information.


Here's another recipe from my "this is simple and we eat it often" category: Avocado Kale Salad.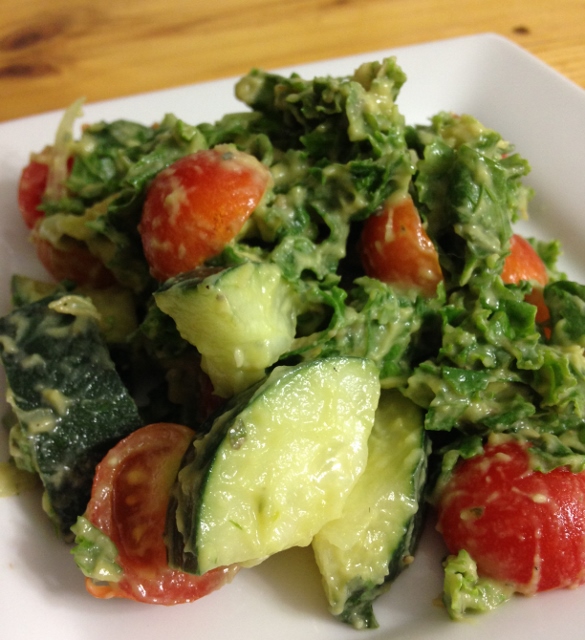 There are actually a few more ingredients than just avocados and kale. Tomatoes, Onion, Cucumber, Basil…If you are like me with a backyard garden in the Midwest, you may have those ingredients right outside your door. Talk about easy to shop for dinner!
An interesting tidbit about this salad: there is no added oil to make the dressing. The avocados soften with the lemon juice and rice wine vinegar to make the dressing. How easy is that? Oh, and healthy. 😉
This salad makes 3 or 4 generous servings. It's our go-to dinner when we need something quick and easy…plus cool. Last week the heat index here was close to 100 degrees so this hit the spot. I can't believe so early into the summer and I'm already seeking dinner recipes that don't require the oven to be used. I'm hoping it was just a fluke and the rest of our summer will be temperate with low humidity. Wouldn't that be nice?!?
Enjoy!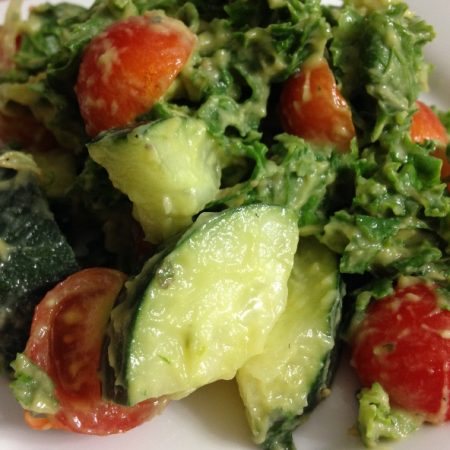 Avocado Kale Salad, Quick & Easy for Summer!
Ingredients
3

avocados

, cubed

2

cups

halved cherry tomatoes

1

small yellow onion

, thinly sliced

1

bunch kale

, removed from stems and finely chopped

1

cucumber

, sliced in half lengthwise and then into thin slices (half moons)

2

Tablespoons

finely chopped fresh basil

1/4

cup

fresh lemon juice

2

Tablespoons

rice wine vinegar

pepper and sea salt to taste
Instructions
Combine all ingredients except lemon juice and rice wine vinegar in a large salad serving bowl.

In a small bowl, whisk together lemon juice and vinegar. Pour over the salad ingredients.

Stir to combine. The avocado will soften a bit, becoming creamy in the salad. Do not stir so much that the avocado completely dissolves into the salad, stir so that chunks are still in the salad.

Add pepper and salt to taste. I find rice wine vinegar to have a salty flavor to it, so rarely add salt to this salad but do generously add pepper.

Refrigerate for a few minutes before serving. Please take notice that the creamy avocado dressing will harden a bit when refrigerated, but will soften again upon serving. Enjoy!