This post contains affiliate links. See my disclosure for more information.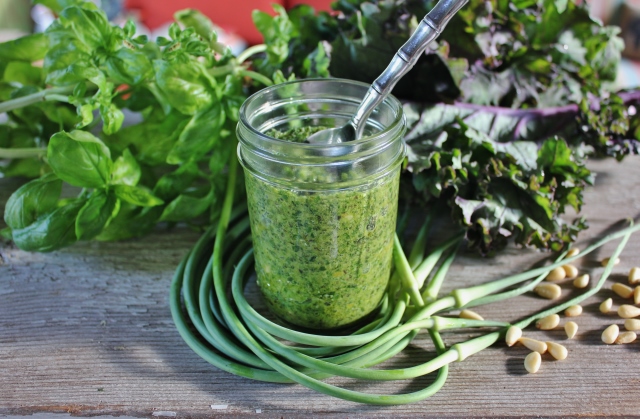 Can y'all keep a secret? I'm surprising my cooking class students with this pesto on pizza tonight. It's perfect atop my mini socca pizza crusts with a sprinkle of goat cheese, a bit of sundried tomato and caramelized onions. Perhaps Garlic Scape Pesto with Kale and Basil is too long a name for this goodness, but just calling it pesto is a disservice. The garlic is a more subtle flavor than what comes from garlic cloves, a bit less pungent. The kale blends right in with the basil, packing even more nutrients into a super healthy dish without a noticeable difference in flavor from an all-basil pesto.
Here's the scoop on this pesto: I made it with basil and kale that are homegrown. I harvested part of this goodness right in my own backyard. But not the garlic scapes, they came from my friend Renee. She planted garlic last fall and it's doing what it should on her farm, growing and sending out the wild, twisty garlic scapes that make this pesto so unique.
If you aren't familiar with garlic scapes, they are a shoot that would ultimately become something similar to a flower on a longhorn garlic plant if allowed to remain and grow. But because the plant would put energy into making the flower instead of making a large bulb of garlic, most farmers remove them. Get yourself some from your favorite garlic farmer…or you might be able to round some up at Whole Foods. I saw ten stems today for $3. That's enough two make about a couple batches of this pesto.
Whether you put this atop pizza, with pasta or eat it from a spoon, I'm confident you're going to enjoy it. Garlic scapes, they belong in your kitchen!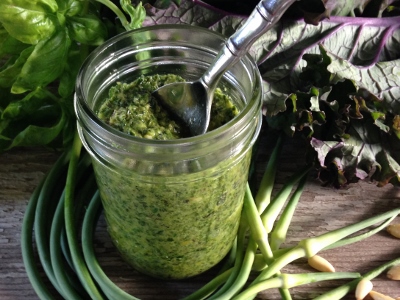 Garlic Scape Pesto with Kale and Basil
Ingredients
1 1/2

cup

rough chopped kale

2/3

cup

raw pine nuts

1/3

cup

chopped garlic scapes

1/3

cup

basil leaves

1

teaspoon

sea salt

1/2

teaspoon

fresh ground black pepper

zest and juice of 1 lemon

2/3

cup

olive oil
Instructions
In bowl of food processor fitted with "S" blade, combine all ingredients except olive oil.

Pulse until a slightly chunky puree is achieved.

While processor is running, add olive oil. Process until just combined.

Store in a glass container in the refrigerator for up to one week. Makes approximately 1/2 pint.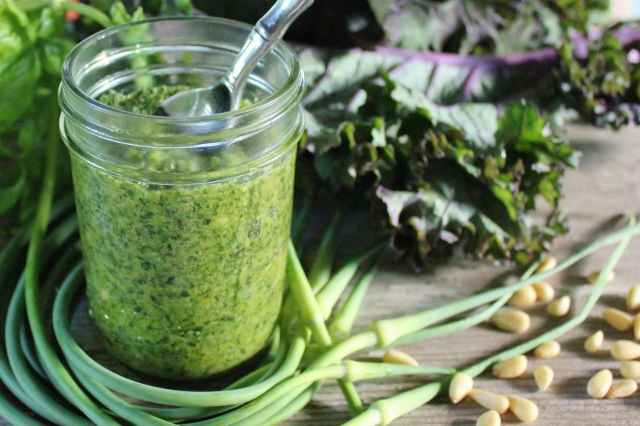 This post is linked up with Gluten-Free Wednesdays. Click through to see many wonderful recipes, all free of gluten!