This post contains affiliate links. See my disclosure for more information.


Awhile back, I shared my recipe for Socca pizza crust. We eat pizza often around here and I wanted to find a way to share it at holiday gatherings. A slice of pizza is messy, I was looking for something that was truly finger food.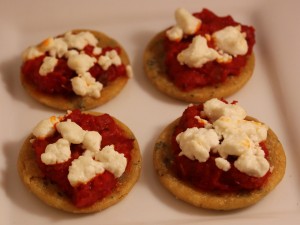 So here it is, Mini Socca Pizzas. These are a nice two-bite appetizer and can be topped any way you would like. Think beyond pizza sauce and cheese here, think about tapenades and bruschettas, mix up the herbs in the batter and use them for a sweet bite instead. Add a little cinnamon, nutmeg and ginger then top with pumpkin butter and chopped pecans. These can be a blank canvas for a variety of appetizers!
I've shown two options here, one with pizza sauce, pepperjack Daiya cheese and walnut taco meat. The other is a red pepper and eggplant spread from Trader Joe's topped with goat cheese.
This makes 24 little crusts. If you don't need all of them, they freeze well. Thaw before topping and follow the recipes instructions from there. Super easy and perfect the holidays when we often need a quick bite to take to share at a holiday gathering!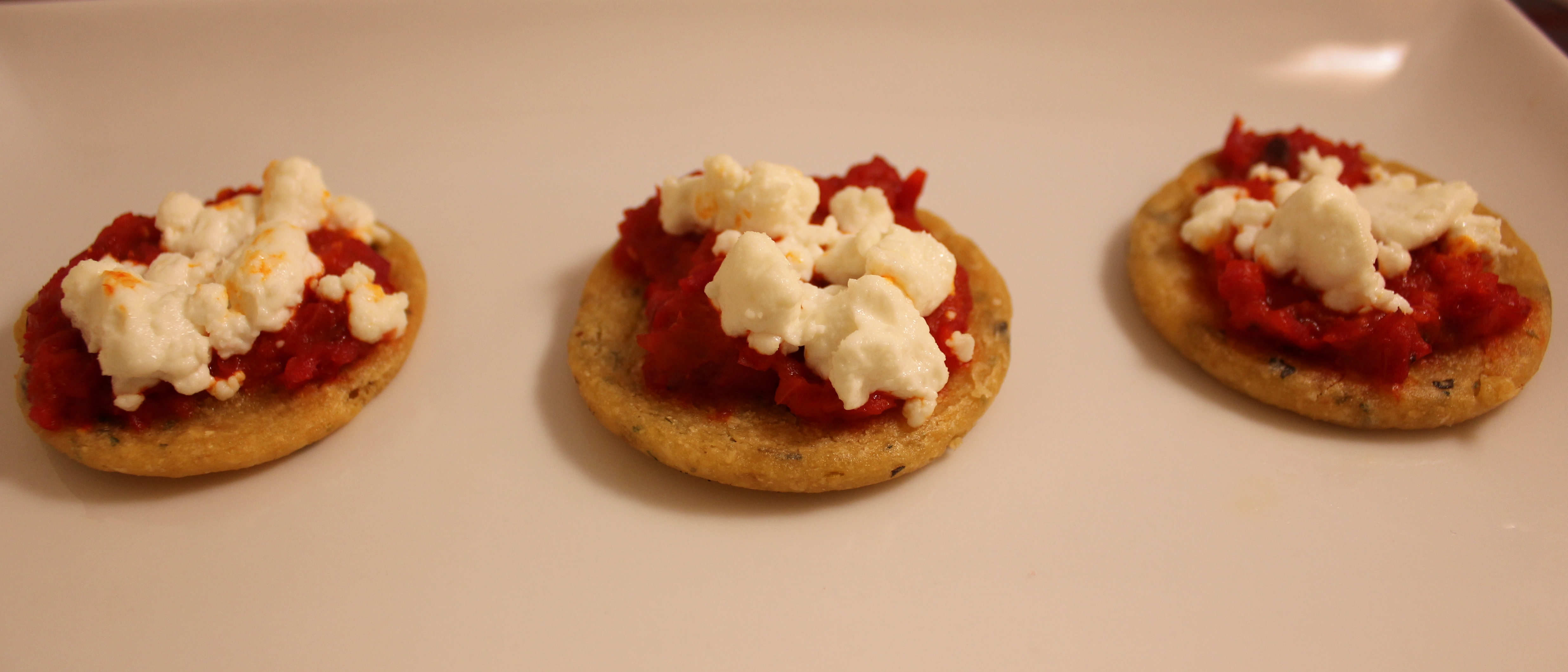 Mini Socca Pizzas, a two-bite appetizer
Ingredients
Makes 24 mini crusts

1 1/4

cups

garbanzo bean flour

1 1/4

cups

water

1/2

t

. sea salt

1/2

t

. dried oregano

1/2

t

. dried basil

1/2

t

. parsley flakes

2

T

. olive oil

, don't measure out though, read thru instructions first

Variety of toppings
Instructions
Preheat oven to 350 degrees.

Prepare two muffins tins with 12 cavities each by pouring 1/4 t. of olive oil into each cavity. It's not much oil but the perfect amount for this recipe!

In a medium mixing bowl, mix garbanzo bean flour, water, salt, oregano, basil and parsley. Mix until well combined, set aside.

Place the muffin tins in the oven with nothing but the olive oil in them. Heat for 3 minutes.

Carefully remove from the oven. Fill each cavity with 1 Tablespoon of Socca batter. Return to the oven and bake for 8 to 9 minutes. You will see the batter starting to pull away from the sides of the pan just a little.

While these are still warm (but not so hot you will burn yourself), gently run a small knife around and slightly under each crust, popping them loose. Remove from the pan and cool on a rack.

At this point, turn the oven temperature up to 400 degrees.

Once cool enough to handle, move to a Silpat or parchment lined baking sheet. Top with your favorite toppings and place in oven. Bake until toppings are heated thru, if topped with cheese remove once -has melted. Most toppings take only 5-6 minutes.
Gather ingredients: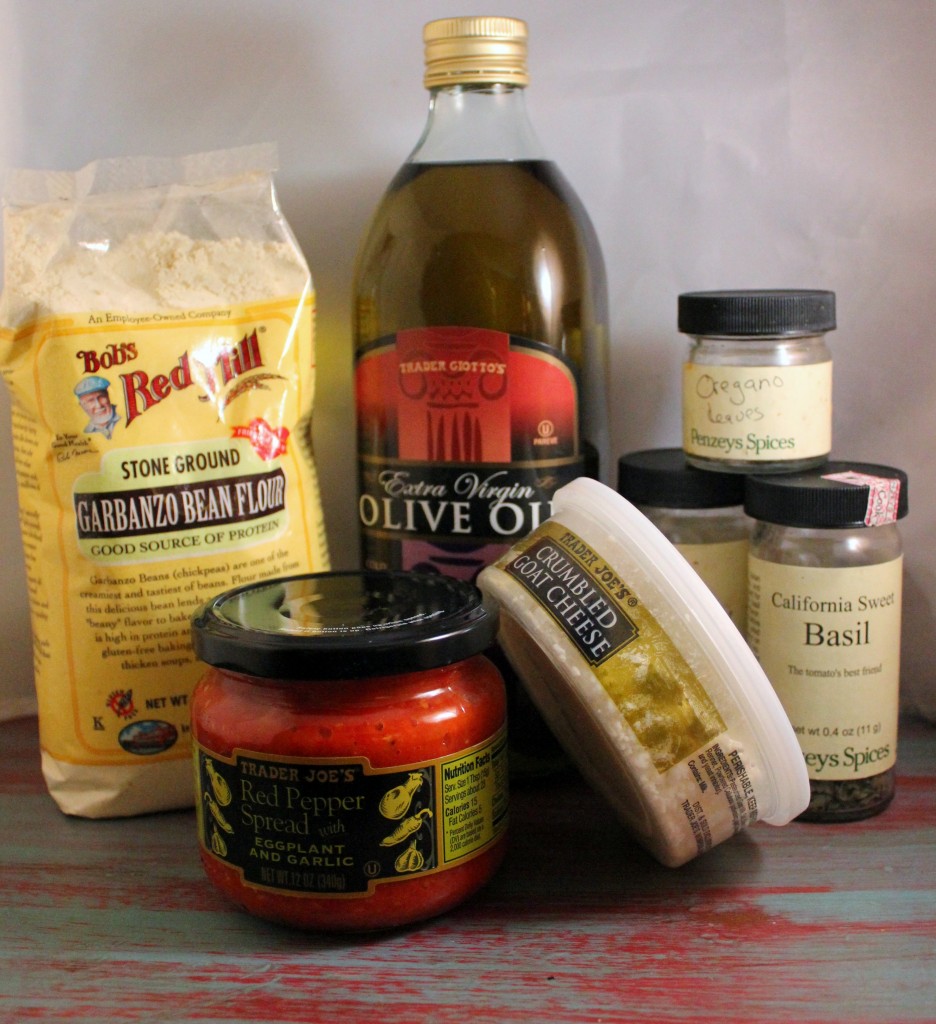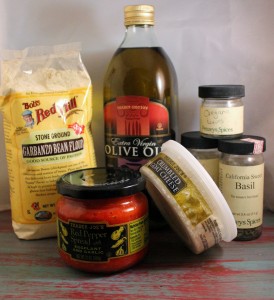 Oil in the muffin tins: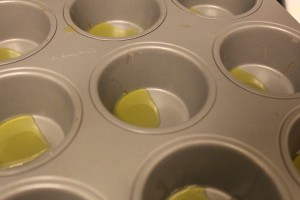 Heat in oven for 3 minutes. Then pour 1 T. batter into the hot oil in each cavity: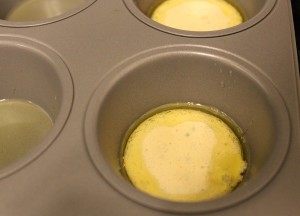 Bake at 350 for 8 to 9 minutes. Here's how they look hot out of the oven: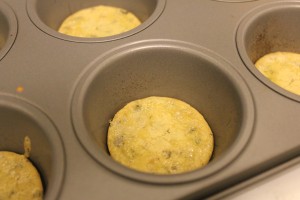 Remove and cool on a rack: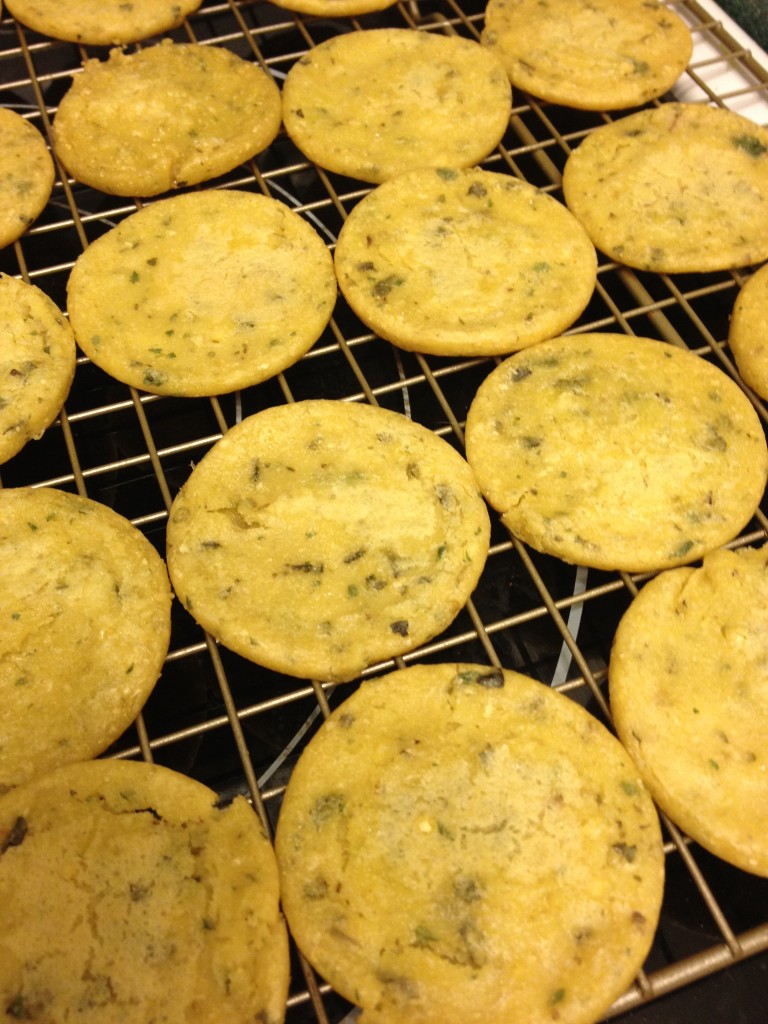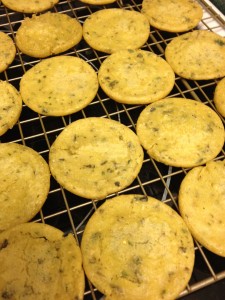 Place on a Silpat or parchment lined baking sheet. Turn oven temperature up to 400 degrees. Top any way you would like: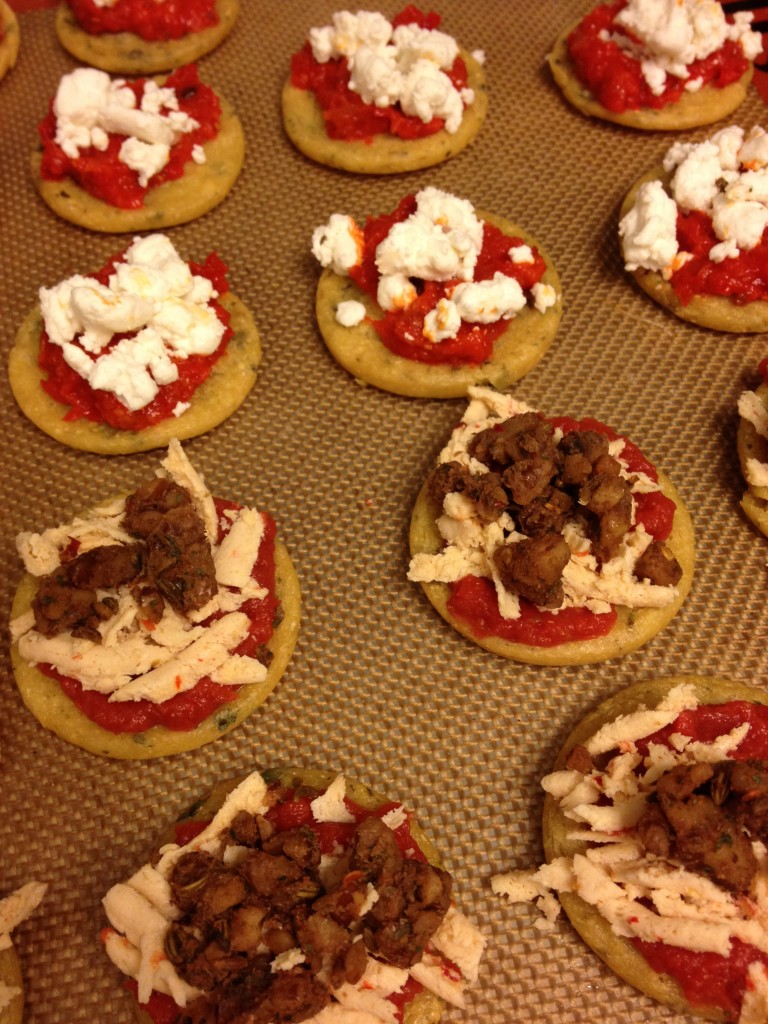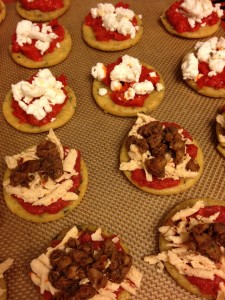 Bake for 5 to 6 minutes. Remove from oven and serve. Enjoy!