This post contains affiliate links. See my disclosure for more information.


In 2012, instead of a 52 project, I did a 40+12 project, 40 Days of 40 Favorite Things for my 40th birthday plus 12 Adventures. This post is one such adventure. While it does not include a gluten-free or healthy recipe, it is part of my healthy approach to life lived well. I hope you'll read along when I write about my adventures, they are an important part of the journey to health!
I really enjoy kayaking. Just me and my kayak floating along in the ocean. Me and a kayak, no passengers, no co-captain of my tiny little ship.
That's where the adventure comes in here. See, when I'm in a kayak by myself, I have some false illusion of being in control. It's up to me to stay upright in the boat and I can paddle wherever I'd like to.
That's where the adventure comes in. I'm not a fan of tandem anything. I've got issues, y'all! My favorite fella, love him, kayaks with me in the ocean in his own kayak but has had a few awkward and unplanned exits from his watercraft. He's not quite as comfortable with the kayak as he is with a mountain bike. We balance each other that way, as I'd rather be in a kayak.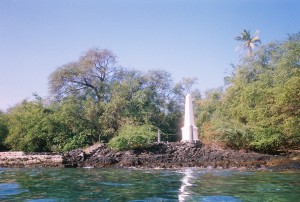 But I really wanted to see the Captain Cook Monument on Hawaii's Big Island. It's only accessible by water and requires a government-issued landing permit if you intend to get out of the water to see the monument, which is technically on British soil. We need an outfitter with a permit and found a great one, except they only had tandem kayaks.
While there is definitely a learning curve, it wasn't bad at all. The kayak loading area was one of the scariest I've seen, huge waves crashing against a concrete boat launch with a 4 foot drop down so we literally jumped into our boats while local kiddos held the lines in exchange for a couple bucks. We saw less adventurous sorts taking large boats out to the area later in the day and realized they had missed all of that fun.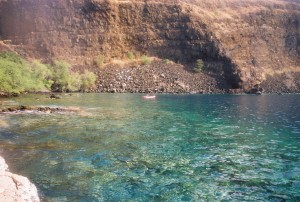 On the paddle out, we saw spinner dolphins. They put on quite a show. Once at the monument, we snorkled for a few hours, had a light lunch and paddled back. I'm not usually an early morning person, but was glad we had gone early, as the large boats of tourists arrived later and it became a little less tranquil.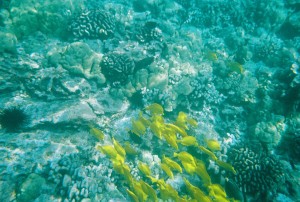 If getting into the boats had been slightly scary, paddling back into the boat launch area was WAY scary. The waves were intense and pulled us back out as quickly as we could paddle in. After 3 attempts, we managed to get close enough to toss a line up to one of those cute kids who yanked us in and held the boat steady long enough for us to toss our gear bag up and climb up the concrete wall. Pegs of re-bar sticking out provided a few places to grab on but I think adrenaline may have been the critical tool in getting back on land.
Would I tandem kayak again? If it is all that is available. I still prefer being solo but I did it and it was fun. Actually, more than fun. It was a great adventure!