This post contains affiliate links. See my disclosure for more information.


Last week's Sunday newspaper included this ad from Target: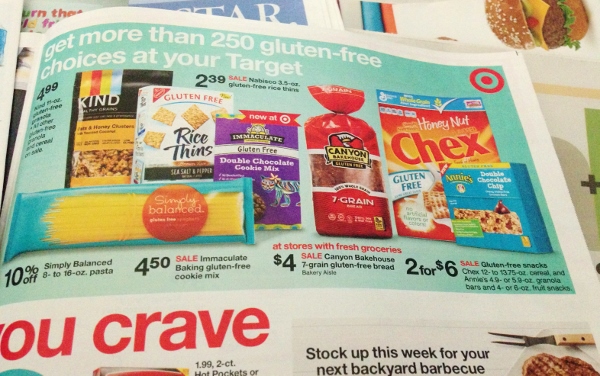 So of course, I'm happy they are offering more gluten-free products in addition to the many naturally gluten-free products they have always had. I shop at Target and was excited recently to see they had added crackers I can eat.
But I have to tell you a little story about this. While shopping at Target this week, I saw an older lady (perhaps Grandma?) with a little guy who was 4 or 5. The lady was asking a store clerk where the new gluten-free section is, the one featured in their ad that week. The store clerk told her that their store doesn't have a dedicated gluten-free section yet. She muttered to the little boy that they didn't have food yet that he can eat and headed out the store.
I considered interjecting, but for whatever reason left it alone that time. (That doesn't mean I always do, I spend lots of time making new friends at the grocery store. 🙂 ) I texted a friend and said I felt bad, I could have helped that lady find food in the store. Then I realized the best I could do at that point was use my voice here.
Here's the deal: while Target may be advertising that they have over 250 gluten-free choices, not all are going to be found in a dedicated gluten-free section of the store. Typically when you find such a section in a store, it's full of processed, gluten-free junk food. There's always been a whole bunch of stuff in the grocery store, nearly ANY grocery store, that is gluten-free. That would be the food I refer to as naturally gluten-free.
Want some examples?
I got all of 20 feet into the door at Target before I saw this BIG display of berries. GLUTEN-FREE!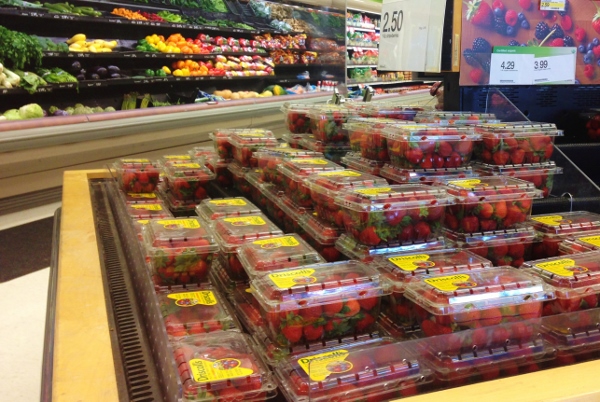 And take a look at this–all of this delicious, colorful food, it's GLUTEN-FREE!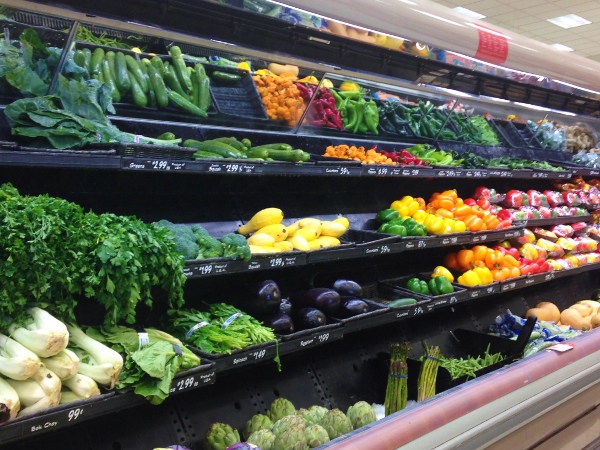 How about this section over here with all of this cheese? Nearly all GLUTEN-FREE! I spent 15 minutes in this department reading labels, searching for even one thing with gluten. Couldn't find it.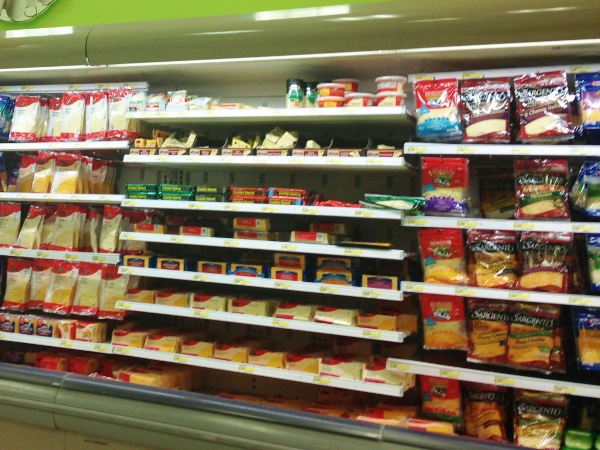 What about the meat department for you carnivores? Again, almost entirely GLUTEN-FREE! Certainly you need to check labels on lunch meats and such, but there are plenty of items there that are safe for you to eat.
My point in this–you are not limited to eating just foods with a big ol' gluten-free label on them. There is so much available to you at the store, including those foods that don't have an ingredient label: fresh fruits and vegetables!
Yes, I will continue sharing posts here about the gluten-free products available at stores. I eat some of those, too. But today I just really wanted to remind you that you are not limited to eating only food in the gluten-free section at the store.