This post contains affiliate links. See my disclosure for more information.


I live 4 hours across the state from St. Louis, but lately it has seemed like I am there more than at home. I've been in St. Louis three times in the last couple of months. Every trip provides great meals, whether I count on reliable favorites like Pi Pizza or try something new, like Rooster.
Before so many trips through St. Louis, I asked local friends for suggestions on where to eat breakfast or brunch. Rooster was mentioned multiple times so we decided to give it a go. The menu has many options for gluten-free diners, even a crepe. After a late night out at a Jack White concert and a too short sleep at a downtown hotel, we ventured into Rooster for a mid-morning breakfast.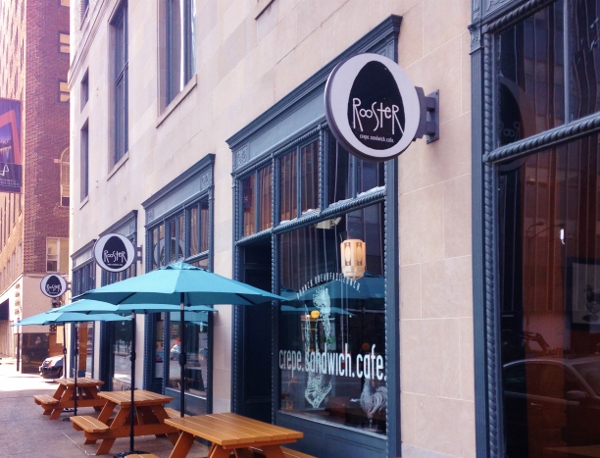 We were seated quickly amidst the collection of small rooms that make up Rooster. In fact, we had the entire room where we were seated to ourselves for awhile. It was nice to enjoy an oft-refilled cup of fair-trade, organic, Kaldi's coffee in relative quiet. We were soon joined by a group having a business breakfast and a family on vacation.
Even with the temptation of a gluten-free crepe, I chose a breakfast scramble with Heartland Creamery goat cheese, spinach, red onion and tomato jam. Remember when I mentioned my obsession with pickled grapes after a trip to Milwaukee? Yeah, well, this trip started an obsession with tomato jam. I won't even confess to how many batches of tomato jam I have canned since eating this delectable breakfast scramble at Rooster.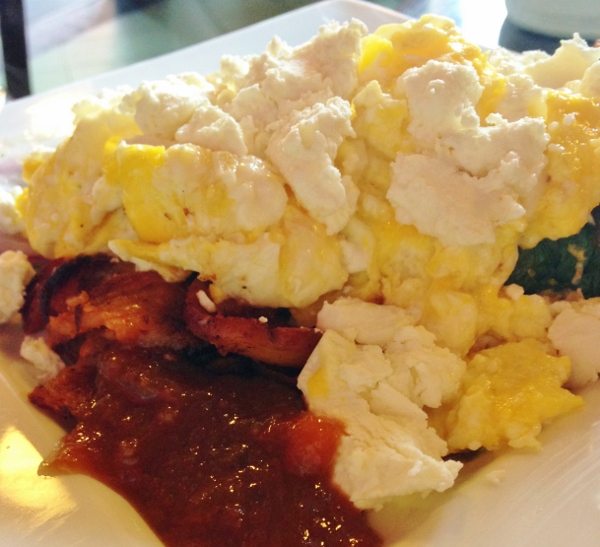 My favorite fella indulged in gluten (he can, I cannot) and had vegetarian biscuits and gravy. He's been on a roll this Summer, finding veggie B&G in St. Louis, Memphis and who knows where else. In all my years of being vegetarian, it has been a rarity to find this dish but lately it seems more commonplace. I hope that continues! But I'm not sharing photos of that kind of goodness until I can locate it in a gluten-free version. Fingers crossed!
I will, however, share a photo of this beautiful red onion that came with my breakfast scramble. Sometimes when dining out, breakfast seems to be the meal that doesn't get much attention paid to making the plate look pretty. I appreciated this. Plus it was scrumptious.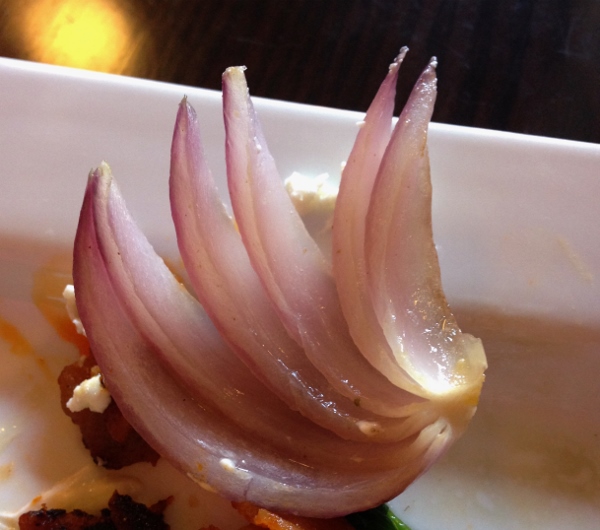 Our service was quick and attentive, our server knowledgeable about gluten-free menu items and quick to make suggestions. I really appreciate that, especially on a sleepy morning. Next time, I promise to try a gluten-free crepe…but only if it can come with a side of tomato jam. 🙂
EAT WITH: Minimal caution. Our server was well-informed and answered questions easily. I felt comfortable having breakfast here.
Rooster is located at 1104 Locust Street, St. Louis, MO. 314.241.8118. We parked in a metered spot on the street on a weekday with no problem at all.

Johnna's I Ate Here series is not intended as a restaurant review, rather a summary of Johnna's experience dining out. You may or may not have a similar experience. Menu prices, items and ingredients featured were current at the time of writing. Please read the menu carefully and ask your server for assistance in ordering if you have dietary restrictions. It's a good idea to call ahead and let the restaurant know of your food needs. If you are eating gluten-free or specific allergen-free, Johnna suggests informing the restaurant staff of this, so they know this isn't a food choice, but a necessity, and consumption will result in illness.