This post contains affiliate links. See my disclosure for more information.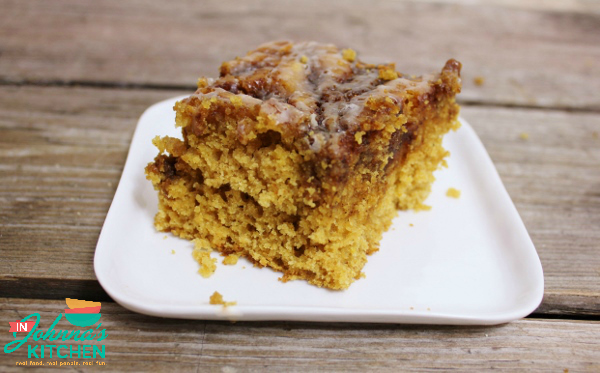 It's officially all-the-things-with-pumpkin season! I must confess, I did not make it all the way to Labor Day before baking with pumpkin. I just couldn't do it. On a day that got as warm as 94 degrees, I fired up the oven and baked Pumpkin Cinnamon Roll Cake. You're gonna love this one. It's all things comfort food, pumpkin and cinnamon rolls colliding, yet it's pretty quick to make. No waiting on dough to rise overnight, quick enough to whip up in the morning.
I've created this recipe in an 8×8 size, as many of you have told me baking larger sweet dishes is too much of a temptation or you have a small household and just don't need a huge dish of something like this. I had the best of intentions even with an 8×8 of this cake to share with the neighbors. Yeah…it never made it there. The two of us made embarrassingly quick work of this cake, which required me to make another "test" batch. You know, just to be sure I had the recipe down, to ensure it worked well for you when you open that first can of pumpkin for the season. 😉
This recipe is gluten-free, dairy-free and has less refined sugar. I've used coconut sugar but chose to use a bit of powdered sugar for the glaze. I've tried alternatives in the past and just prefer powdered sugar in a glaze in a cinnamon roll-type application. You're welcome to try a substitute if powdered sugar doesn't work for you. I have not attempted this recipe without eggs. If you do, please let us all know in the comments. Other readers would certainly benefit from your experiments.
A couple other quick notes on ingredients: the aforementioned coconut sugar is available at most grocers now. I've spotted a store brand at Hy-Vee stores in the midwest, Trader Joe's carries an organic variety for a terrific price, the Madhava brand is available at many other stores. Don't let the word "coconut" confuse you. It is not made from the fruit of the coconut tree and has no coconut flavor. It is made from the flower blossoms of the coconut tree and has a rich, caramel flavor.
You may also notice I have recommended Vanilla Bean Paste (VBP) in the recipe. I much prefer VBP to vanilla extract. It's thick and gel-like with an intense vanilla flavor and pretty little vanilla bean flecks. It's a bit more pricey than a good vanilla extract, but once you bake with it, you'll be hooked. I'm not even sure I have regular extract at the moment, VBP is definitely my preference.
Alright, here we go. Let's get the pumpkin madness kicked off!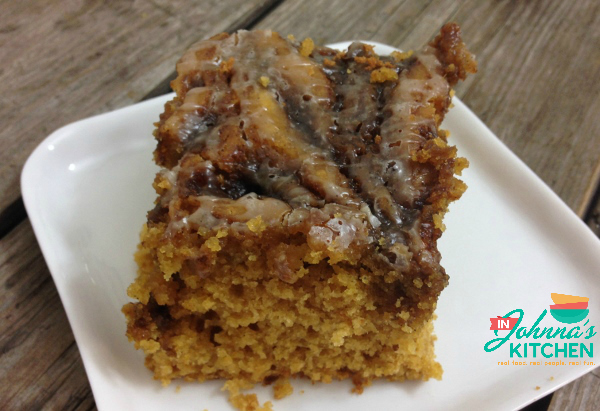 Pumpkin Cinnamon Roll Cake
Ingredients
For the Batter:
1 1/2

cups

Johnna's Favorite Gluten-Free Flour Blend

1/2

cup

coconut sugar

2

teaspoons

baking powder

dash of sea salt

3/4

cup

non-dairy milk

(I use unsweetened almond)

1

egg from a Happy Hen

1/4

cup

pumpkin puree

(canned, not pie filling)

1

teaspoon

vanilla bean paste or vanilla extract
For the Topping:
1/2

cup

coconut sugar

1/4

cup

Earth Balance vegan buttery sticks or coconut oil

, softened

1/4

cup

pumpkin puree

(canned, not pie filling)

1

teaspoon

cinnamon

1/2

teaspoon

ground nutmeg

1/2

teaspoon

ground ginger

1/4

teaspoon

ground allspice

(Alternatively, you can use 2 1/4 teaspoons pumpkin pie spice)
For the Glaze:
1/2

cup

powdered sugar

1

Tablespoon

non-dairy milk

(I use unsweetened almond milk)

1/2

teaspoon

vanilla bean paste or vanilla extract
Instructions
Lightly oil an 8 x 8 baking dish. Preheat oven to 350 degrees.

In a large mixing bowl, combine flour, coconut sugar, baking powder and salt. Stir well to combine.

Make a well in the dry ingredients, then add egg, pumpkin, milk and vanilla. Stir well to combine.

Pour into baking dish.

In a small mixing bowl, combine all topping ingredients, stirring until well combined.

Drop dollops of topping onto the batter.

Pull a knife through in vertical stripes, then in horizontal stripes to marble the topping into the batter.

Place in over for 35-37 minutes. The cake is done when a toothpick or cake tester inserted into the center comes out clean.

While cake is baking, mix the glaze ingredients together in a small bowl.

Drizzle over the top of the cake while it is still warm.

Allow cake to cool for 10-15 minutes (if you can wait that long--it's challenging!) and slice into pieces to serve. Best enjoyed while still a bit warm.