This post contains affiliate links. See my disclosure for more information.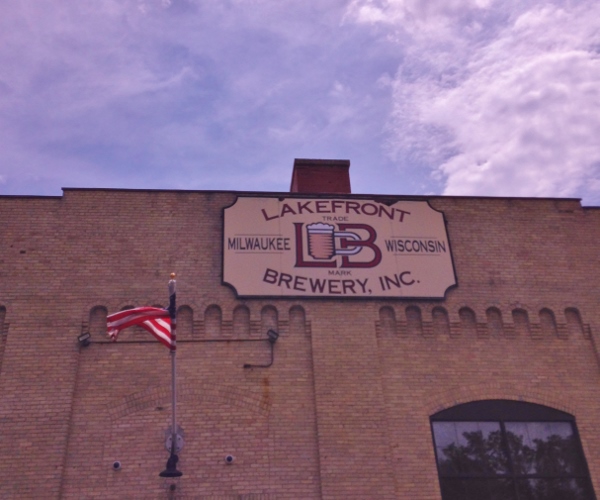 On our recent trip to Milwaukee, Wisconsin, we had both local beer and cheese on our must-try lists. We were able to knock out both in one stop at Lakefront Brewery.
Lakefront Brewery, makers of many varieties of gluten-full beer, also happens to be the brewer of New Grist, the first gluten-free beer to be granted label approval by the U.S. Government. Not a gluten-removed beer (which I don't drink because I'm super sensitive to gluten and am not willing to risk it), New Grist is made with sorghum, rice, hops, water and yeast. While I would take a hard cider over beer any day, I was not going to miss the chance to visit a brewery where I could actually have a beer. Lakefront Brewery is also the nation's first organic beer brewer. Lots going for this place!
Situated in the Riverwest district of Milwaukee, Lakefront Brewery's early 1900's building served as a coal-fired power plant for many years. The building was later sold to the City of Milwaukee and used by the Forestry department. It's hard to tell that now, as it looks like a classic beer hall. Exposed brick walls, high ceilings, large windows with a view out across the river. Rows of tables line the hall, which is a bit noisy, but festive. Tour guides for brewery tours are constantly making boisterous announcements to gather the next tour group while servers run food out from the kitchen. Best to keep your eyes open for your food because it's common for one table to have multiple parties waiting on food and numbers are easily overlooked. Beer is ordered from one counter, food from another. We waited a good amount of time for food, but beer was served promptly so the waiting was certainly tolerable. We were also there on a holiday weekend, so that surely contributed to the crowd and wait time.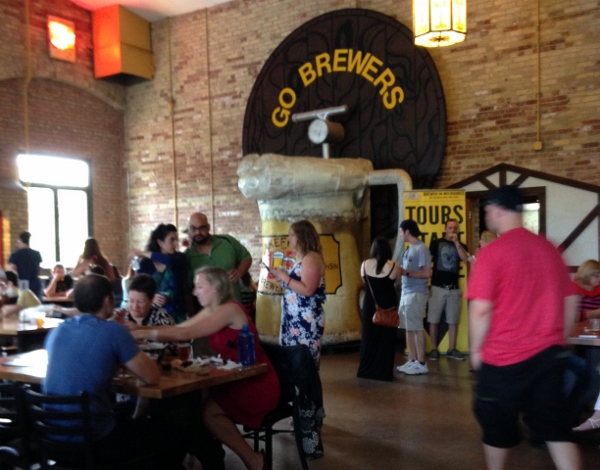 So here it is, a New Grist on tap, served up where it is brewed: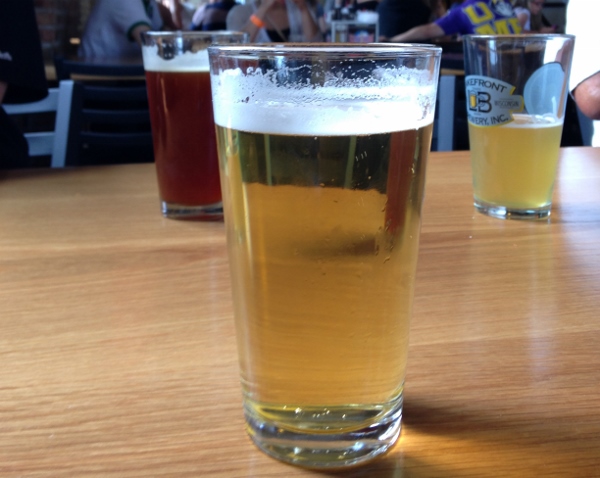 And cheese! I had an amazing assortment of local cheeses. I had a goat bleu, SarVecchio parmesan, dill Havarti, Gruyere and a five year cheddar. If you are gluten-eater, this can come with artisan bread. It also includes dried cranberrries, a cherry-bacon jam (passed down the table to our carnivorous friends) and pickled grapes. I had never had pickled grapes before, but immediately started experimenting when we got home. Pickled grapes may be my favorite food find from our Wisconsin trip!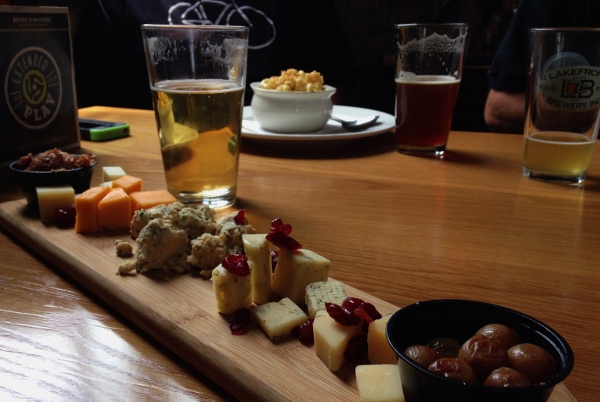 Looking over the menu beyond the cheeses, I did spot a few other gluten-free choices. Two salads(which would also work well for vegetarians), a Polish sausage and a Frankfurter. The staff were knowledgeable about gluten-free options but were also very rushed, so please make certain you state your needs clearly and perhaps reiterate when finalizing your order. In our group of more than 10, we had one person get something other than what they ordered because of confusion while ordering that they thought had been rectified. (This is me saying to you use the same amount of caution you should always use…and then turn it up a bit. Hectic spots always give me a bit of pause.)
If you are looking for a more substantial gluten-free meal in the same neighborhood, there is a Bel Air Cantina not far from here. I didn't dine at that particular location, but had two incredible meals at their Wauwatosa location. Extensive gluten-free menu offered and kind staff.
Eat With: Moderate caution. It is busy, loud and hectic here. It's a beer hall, after all. Make sure your order is properly noted to reflect your dietary and allergen needs.
Lakefront Brewery is located at 1827 N. Commerce Street, Milwaukee, WI, 53212. 414.372.8800. We parked on the street near the brewery with minimal trouble even on a busy day.


Johnna's I Ate Here series is not intended as a restaurant review, rather a summary of Johnna's experience dining out. You may or may not have a similar experience. Menu prices, items and ingredients featured were current at the time of writing. Please read the menu carefully and ask your server for assistance in ordering if you have dietary restrictions. It's a good idea to call ahead and let the restaurant know of your food needs. If you are eating gluten-free or specific allergen-free, Johnna suggests informing the restaurant staff of this, so they know this isn't a food choice, but a necessity, and consumption will result in illness.
I'm linking this post up to Gluten-Free Wednesdays. Click over for many great recipes, dining recommendations and gluten-free living tips!