This post contains affiliate links. See my disclosure for more information.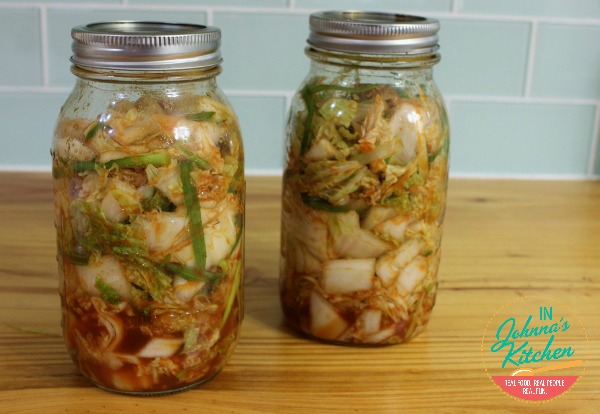 Kimchi in many variations hits our dinner plates here nearly everyday. Fermented vegetables are not just good for me, but I truly crave the flavor. Because I like my food a bit spicy, Kimchi is my favorite way to incorporate both fermented veggies and spice. Over a year ago, during an evening cocktail-infused stroll in Louisville with Debi, the crazy idea of using bourbon in Kimchi fell out of my mouth. I joked that I could call it Kenchi, a play on words since bourbon comes from Kentucky. Ken, Kentucky? Get it? Maybe a little to obscure in my reference? Well, ok…but work with me on this one. Bourbon, it turns out, is a delicious addition to Kimchi, adding an oaky smokiness to the spice. While my results aren't exactly scientific, it also appears to me that my vegetables are fermenting quicker with bourbon than without!
Should I back up a minute and tell you about Kimchi, the traditional style? Kimchi is a Korean side dish of fermented vegetables. I have never seen it without cabbage, but that is about the only consistent ingredient. There are so many variations and likewise, varying levels of heat. I've seen shrimp added to kimchi and just about any vegetable that is lurking in the crisper drawer. Sometimes fish sauce is used, occasionally I've seen jeot (a Korean pickling sauce) made with anchovies or shrimp used. Vegetables range from scallions to broccoli, onions to carrots and beyond. Truly, anything seems to go with Kimchi. So why not a little bourbon? 😉
I've made this version an easy one, with ingredients you are probably familiar with. No fancy red pepper paste (kochukaru) needed, no jeot, no salted shrimp. But you're gonna need a good bourbon. Currently, Woodford Reserve and Blanton's are on top of my list. If you really like the smoky flavor, a High Rye bourbon like Basil Hayden's works well. You only need a bit, so you could look for the airplane bottles at your favorite liquor store and get a good one.
Oh–you wanna know what I eat kimchi and Kenchi with, right? At breakfast, I like it atop scrambled eggs or in an omelet. At lunch, I add a bit to salad. At dinner, I eat it with Korean Jackfruit BBQ, I add it to veggie stews for a kick, I have it on top of chili. And sometimes I eat it straight from the jar. You will, too, I just know it!
Kenchi: Kimchi with a Bourbon Twist
Ingredients
1

head Napa cabbage

, shredded or cut into small squares

1/4

cup

kosher salt

4

green onions

, thinly sliced

4

cloves

garlic

, rough chopped

1

" piece ginger root

, thinly sliced

1/3

cup

rice wine vinegar

2

Tablespoons

high quality Bourbon

2

Tablespoons

Sriracha

1

Tablespoon

tamari

, gluten-free soy sauce or coconut aminos

1

Tablespoon

coconut sugar
Instructions
https://injohnnaskitchen.com/wp-content/uploads/2014/09/003-johnnakenchi-300x200.jpg

Cut, shred or chop the Napa cabbage.

Add to large bowl with 1/4 cup kosher salt. Add enough cold water to just cover. Toss well to incorporate the salt. Allow to sit, covered, at least overnight or up to 24 hours. (This does two things: softens the cabbage and the salt removes bacteria.)

After you have allowed the cabbage to sit, drain well and rinse. Gently squeeze out any remaining water. Return to the large bowl.

Add the green onions, garlic and ginger root to the bowl with the cabbage.

In high speed blender, combine all remaining ingredients. Blend until well combined.

Pour liquid mixture over the vegetables, tossing well to combine. It's best to use utensils to do this, not your hands. The sriracha can burn.

Once well combined, pack tightly into glass jars. I usually get approximately two quarts from this recipe and split it into two quart jars.

Tightly seal jar and let sit in a dark, cool spot in your home for 24 hours. Open the jar to release the pressure that has built up. (This is your mixture starting to ferment!) Tightly seal the jar again and place in the refrigerator for at least two days before eating. This is best if you wait at least a week. This will keep for up to a month in the refrigerator, but will continue to ferment and become more pickled and spicier over time.
I'm linking this post up with Gluten-Free Wednesdays. Click through for more great recipes, dining tips and gluten-free goodness!