This post contains affiliate links. See my disclosure for more information.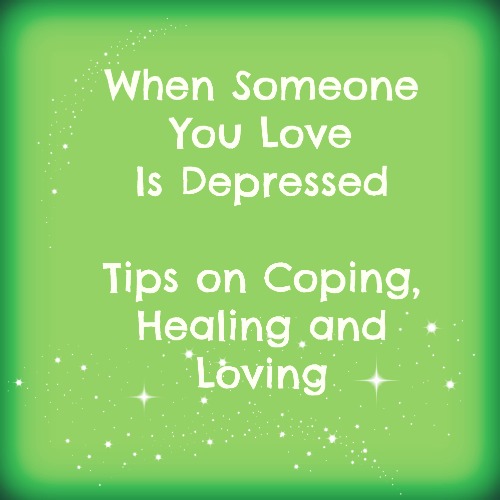 This week's post is raw and from my heart. I'm not an expert in this area. I'm just a girl who loves a fella who battles depression. It's with his help and blessing that I write this. I'm also grateful for our friends who also struggle to kick depression to the curb or love someone who does. Their input was beneficial in writing this.

Earlier this month, Robin Williams' passing rattled so many of us to the core. The man who brought so much joy into our lives gone, depression claiming him far too soon. Like many of you, I heard/read the news via social media. My fella was at work, bringing his own variety of joy into people's lives, making them smile. I sent him a text message that said, "Robin Williams died." He didn't immediately phone me after work, which I took to mean he was processing this news. It's a slippery slope, telling someone you love who battles depression that one of their idols has lost his fight with this ugly disease.
When my fella came home, he was sad. As we sat down for dinner, he quietly said, "He shared so much of his joy that he didn't have any left for himself when he needed it most." I know this isn't how depression works, that we are not born with a finite quantity of joy within our bodies. But far too often I see this in my circle of friends, some entertainers, artists and others who could be. Their days are spent causing others to laugh until it hurts, to smile, only to be filled with despair when not in the spotlight.
In all of our conversations about Robin Williams and about depression in the last few weeks, I realized I needed to use my voice here. (Thanks to those of you in my support circle who encouraged me.) I need to speak out and share my experience about loving someone who is depressed. How to take care of you, how to best love and support them, how to battle depression without getting sucked into the vortex yourself. With the help of my fella and friends intimately acquainted with depression, I've put together this post for folks like me who love someone living with depression. It would be great if one little tidbit from this post helped someone just a tiny bit. Together, my fella and I decided it was worth making ourselves raw and open in hopes that might happen.
STIGMA Here's the rub about depression: lots of folks will say stupid things like, "Buck up! Snap out of it! Hey, it's a sunny day. What's your problem, you grump?" Depression isn't just being in a minor funk and it's not a choice. We all have to realize depression is the real deal, just as legit as having a high cholesterol, diabetes, any of a long list of chronic illnesses. And just like other chronic illnesses, it can be either easily and quickly remedied or it can give you a run for your money for years. It can be minor or so hugely major, every corner and alley of your life will feel it. Would you ever hesitate to say to a dear friend, "I really need support right now, my husband was diagnosed with diabetes."? Probably not, yet few of us are comfortable saying, "The love of my life is battling depression and I just don't know what to do." We have to stop this. If you reach out, asking a friend or family member for support when someone you love is depressed and they are less than supportive, MOVE ON. Keep asking until you find someone who will be supportive. I'm not playing here. This is not the time to try to change someone's mind about whether or not depression is a "real thing." We have to stop whispering about depression. There is no shame in it. None. You are going to need support and time with someone who isn't depressed and is understanding.
UNDERSTANDING When someone you love is depressed, it's essential that you learn everything you can about depression. Read up on it, talk to friends who have been there. (And someone you know has been there, perhaps about 25% of them. Just ask.) Gain an understanding on how hard it is to be depressed. To know that maybe things like exercise will help, yet the depressed brain is busy creating fatigue and achiness, making exercise seem like the least appealing and possible thing ever. To know that spending time doing an enjoyable activity might help with depression, yet also recognize that depression makes very few things seem enjoyable. One friend who has been there calls depression the "upside down disease." It's true, the activities that might be most beneficial in combating depression are also made difficult by the very nature of the disease. Another friend eloquently said, "When the imbalance takes over, nothing is rational." This is just a tiny glimpse into depression, just a couple examples. When someone you love is depressed, make it your business to learn about the illness.
TREATMENT Whoa, Nelly, this is a tough one. So here's the deal: there is no one-size-fits-all fix for depression. Yes, I know, you've seen a commercial on TV for a miracle pill that fixes depression. Well, it might for someone…but that someone might not be your loved one. So what happens when they go to the doctor, get the prescription and it doesn't help? Maybe the doctor will prescribe more medication or another medication or start trying to find the perfect cocktail of multiple medications. And maybe, just maybe, that will be the fix, either temporary or long-term.
Or maybe that doctor is zoned out, asks the same five questions from a form at every visit. Wants your loved one who is paralyzed by depression to tell them on a scale from 1-10 how bad this sucks and how well the medication is working. Never stops to ask just how friggin' hard it is just to get out of bed to get to the appointment. Maybe the doctor has your loved one on so many medications that you don't recognize them anymore but you don't know if it's the medicine or the disease. Maybe the doctor tells you, loved one, advocate and supporter, that it's best if family members don't come to appointments since you ask too many questions. Maybe the doctor says your loved one is medication-resistant and can't be helped. Maybe your loved one struggles to get words out to describe to the doctor how very sad they are…but the doctor cuts them short because they have another appointment waiting.
Please, please, don't settle for any of this. It's my belief that in part because of the stigma attached to mental health, there are some pretty crappy practitioners. They get away with things other medical doctors would lose their licenses for. If your loved one isn't getting better, find another doctor. If your loved one seems to be slipping further and further away, find another doctor. If the doctor keeps piling on medication upon medication and your loved one becomes a person you don't recognize. Find.Another.Doctor. I don't want to be super shouty about this, but it's unlikely the first doctor is going to be the one that finds the perfect remedy. Don't be afraid to move on to another doctor who will help with necessary medication changes, recommend other courses of therapy, help your loved one feel better. Need help finding a doctor? See above. Banish the stigma, ask your friends because at least one of them has been there. They may have a recommendation. Your family doctor, your gynecologist, your yoga teacher, just ask. Someone knows someone who can help and you have to keep asking until you find the best fit for your loved one.
I know all of this asking and advocating and learning about depression is tiring, I really do. I also know it can be the difference between life and death.
TAKING CARE OF YOU By you, I mean YOU, the person who loves someone who is depressed. You are not to blame for your loved one's depression and you cannot single-handedly fix it. It's easy to lose track of yourself. Don't let this happen. Step away, go get a pedicure, take a walk in the neighborhood park. Hang out with someone who is not depressed for an afternoon. By all means, ask your friends for support, but also spend time doing something enjoyable where depression isn't the only focus. It's easy to feel frustrated when supporting someone battling depression. This requires effort on your part to take care of your needs, too.
A few other tidbits that were helpful to me: recognizing that depression did not define my fella. He was not depression, depression was an illness he was battling. Recognizing that sometimes he would use depression as an excuse and I would have to hold him accountable, be encouraging of doing things that would be helpful but didn't seem possible or even remotely appealing. At the same time, I had to let him find his own path as best as I could while not letting him slip away entirely. This is a delicate balance and is different for everyone. I've seen folks online blame Robin Williams' wife for not doing enough to keep him from slipping away…and I've seen others who get sucked into their loved one's depression and lose themselves. The balance is delicate and the key is reaching out for help.
RESOURCES As I mentioned above, there's no one-size-fits-all remedy for depression. I'm sharing a few resources that were helpful to me and my fella. And please, if there is something you have found helpful, share it in the comments. Your voice is important to help others!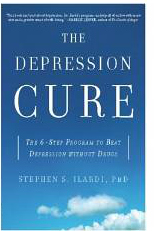 The Depression Cure by Dr. Ilardi. This book was the first step toward beneficial help for my fella. The big step was joining Dr. Ilardi's TLC Lab research group at the University of Kansas. If you are in the Kansas City area, you may find a group using this protocol with the guidance of therapists. (There is also a list of practitioners in other areas of the country and world.) And here is a TedTalk from Dr. Ilardi. I encourage you to watch it!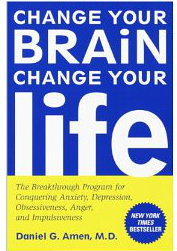 Change Your Brain, Change Your Life by Dr. Amen. Dr. Amen has a terrific science-guided approach. Reading his books also gave me insight into how the brain works, why depression is a "real thing" and not just having a bad day.
One additional resource: If you or your loved one feel suicidal, reach out for help. Know that depression pushes us to make irrational decisions. There is help, your pain can be eased without taking your life. You are valuable! The National Suicide Prevention Lifeline offers online chats with folks who truly care about you, anytime day or night. Or you can phone them at 800.273.8255.
Thanks for reading along…and now I turn the floor over to you, dear readers. Please share in the comments below what has helped you, your loved ones, your friends in the battle with depression.