This post contains affiliate links. See my disclosure for more information.


It's no secret I'm a BIG fan of Jackfruit. It's my favorite ingredient to use as a veg alternative to meat.
When gluten and I had to part ways, I was in a tizzy trying to find replacements for the meat substitutes I had used in the past. Most were full of gluten.
And then I discovered eating copious amounts of soy didn't jive with me. (I'm only speaking for me. You decide what works best for you, ok?) I needed to balance the amount of tofu and tempeh I was eating nearly every day. Jackfruit to the rescue!
This recipe, like the many others on my site, uses canned young green jackfruit. That is to say, it is not the ripe, sweet jackfruit that works great in desserts and smells like Juicy Fruit gum. Young green jackfruit has little to no flavor and takes very well to the seasonings it is cooked in. It also shreds like pulled pork. You can find it in most Asian markets frozen or canned. I prefer the canned in water as opposed to brine.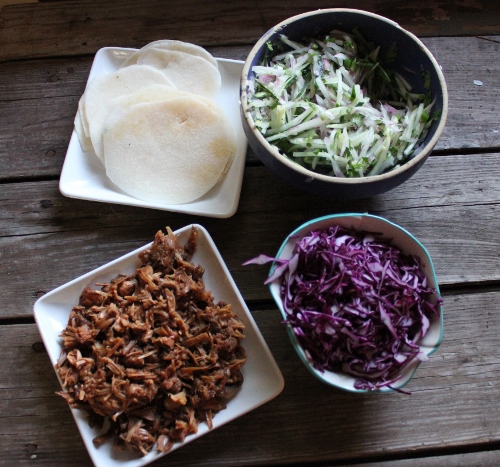 I used very thinly sliced jicama to make the taco shells. You could use jicama, lettuce wraps or a traditional taco shell. In addition to the jicama shells and the slaw recipe below, I use shredded red cabbage on these tacos. So good!
Want more jackfruit recipes? Check out the links to my other jackfruit recipes at the bottom of this post…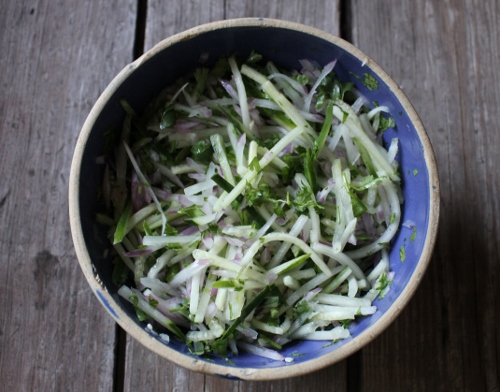 Korean BBQ Taco Slaw
Ingredients
1

cucumber

, julienned

1/2

red onion

, halved and thinly sliced

1/4

cup

rice vinegar

1/4

cup

cilantro chopped

1/2

jalapeno

, very finely diced
Instructions
Combine all ingredients in a bowl and toss.

Refrigerate for at least an hour before serving.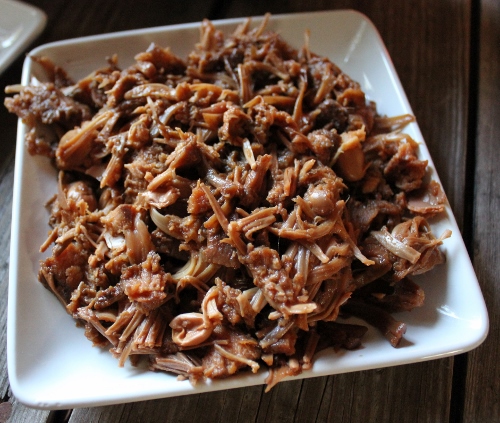 Korean BBQ Tacos with Jackfruit!
Ingredients
1

can young green jackfruit in water

, drained & rinsed (most cans will say 20 oz., 10 oz. drained)

1/2

cup

water

1/4

cup

tamari

, gluten-free soy sauce, Braggs aminos or coconut aminos

2

T

. coconut sugar

2

cloves

minced garlic

1

T

. grated ginger root

1

T

. sriracha

2

t

. sesame oil

2

t

. olive oil
Instructions
Combine all ingredients in a small crockpot. Cook on low for 4-6 hours.

Jackfruit will easily shred with a fork.

Serve hot with taco shells, korean bbq taco slaw and shredded red cabbage.