This post contains affiliate links. See my disclosure for more information.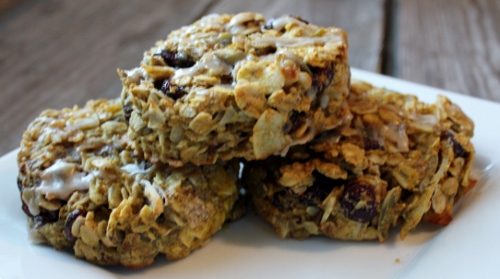 This is the time of year when I start having trouble getting out of bed in the morning. It's cool in the house, toasty under the covers and daylight arrives late.
But the lure of these breakfast cookies is enough to pull me out of bed. Is that bad to admit that food entices me to get up and get moving? One of these, warmed a bit, with a hot cup of coffee is the perfect way to start a crisp, autumn day. Well, okay…two cups of coffee.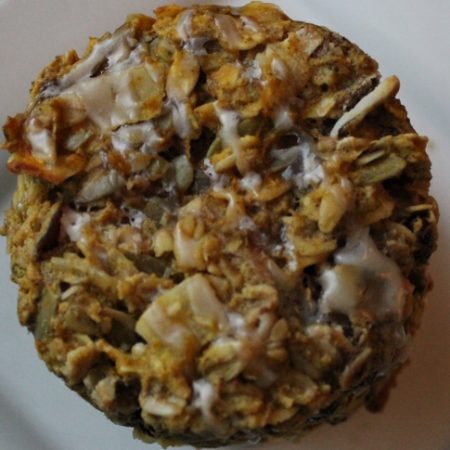 Autumn Harvest Breakfast Cookies with Maple Drizzle
Ingredients
1 ½

cups

gluten-free rolled oats, purity protocol

1

cup

unsweetened coconut flakes

(the large ones work better than shreds)

1

cup

dried cranberries

(I prefer Eden Organics, sweetened with fruit juice)

½

cup

chopped pumpkin seeds

¼

cup

buckwheat flour

1

teaspoon

cinnamon

½

teaspoon

finely ground sea salt

½

teaspoon

allspice

½

teaspoon

ginger

¼

teaspoon

nutmeg

2/3

cup

pumpkin puree

3

large eggs from happy hens

¼

cup

coconut oil

1

teaspoon

vanilla extract or vanilla bean paste
For the Drizzle: (optional)
1

T

. maple syrup

3

T

. powdered sugar
Instructions
Preheat oven to 350 degrees. Line ba aking sheet with parchment or Silpat baking mat.

In a large mixing bowl, combine all of the dry ingredients. Break up any clumps in the dried cranberries.

In a second mixing bowl, combine the pumpkin, eggs, coconut oil and vanilla. Combine well. Add to dry ingredients in large mixing bowl. Mix well to combine.

Using a 3" round biscuit/donut/cookie cutter, press spoonfuls of batter into it. Or you may like to use a 1 ½" cutter to make smaller cookies. Turn out onto a parchment or silpat lined baking sheet. Bake at 350 for 20 minutes, until lightly browned around the edges. For smaller cookies, check in on them at 15 minutes. They are usually done around 18 minutes depending on your oven. Allow to cool before adding the drizzle, which is optional.)
For the drizzle:
In a small bowl, combine maple syrup and powdered sugar. Drizzle over the top of cooled cookies. Allow to set a few minutes before eating.

These may be eaten warm or at room temperature. They will keep well for 2-3 days in an airtight container or up to a week in the refrigerator. They also freeze well!