This post contains affiliate links. See my disclosure for more information.


My childhood friend Jim recently shared a recipe with me for a roasted beet spread he has been making for his family. I'm a huge fan of roasted beets and have been known to convert more than a few formerly beet-averse folks into beet lovers with my roasted beet salad. I decided to have a closer look at the shared recipe and see if I could modify it to work for me…and maybe for you. Because I want you to love beets!
The shared recipe contained a slice of wheat bread (tossed that!), some walnuts (shared with a nut-intolerant friend so tossed those, too) but was otherwise pretty terrific just as it was. Instead of using walnuts, I used pumpkin seeds, or pepitas, and pine nuts. If you aren't a fan of pine nuts, just double the quantity of pepitas. It will be slightly less creamy but still incredible on a sandwich, served with crackers or in a salad with goat cheese.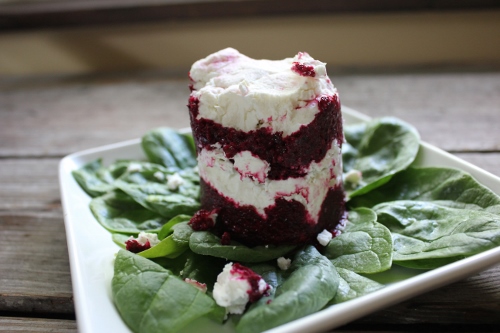 To make the salad shown in the photos, I used a food ring and layered beet tapenade and goat cheese, pressing down between each layer to compact it. It works best if you chill it for a few minutes before removing the food ring. When serving this on a bed of greens, I found it unnecessary to add any additional salad dressing. Good stuff!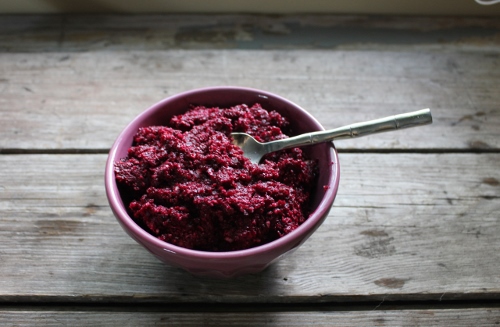 Roasted Beet and Pepita Tapenade
Ingredients
3

large roasted beets

(about 12-16 oz.)

1/4

cup

pepitas

1/4

cup

pine nuts

2

Tablespoons

balsamic vinegar

2

Tablespoons

olive oil

1-2

cloves

garlic

, adjust based on your taste

dash of sea salt
Instructions
To roast beets:
Preheat oven to 400 degrees.

Wash beets and trim off the greens. It is not necessary to peel the beets.

Toss with just a tiny bit of olive oil and place in a baking dish.

Roast for 35-40 minutes or until fork-tender.
To make tapenade:
Combine all ingredients in bowl of food processor fitted with "S" blade. Process until all ingredients are finely chopped and come together into a tapenade.

Refrigerate until ready to serve.