This post contains affiliate links. See my disclosure for more information.


Well, hello there, fans of Soften Saturday! It's been awhile. I took a break from writing Soften Saturday posts every Saturday because, well, I was Overworked and Overwhelmed.
In addition to writing here, I also manage the social media for my site and my other business, teach cooking classes, coach folks new to dietary restrictions or those seeking healthy eating assistance, am a partner in a busy balloon artistry business, maintain a home, tend backyard chickens and a garden, care for three fur-kids, am a wife, try to keep in touch with family and friends, travel for work and occasionally pleasure, volunteer in my community, develop new recipes, try to finish a culinary education program I started too long ago and probably ten other things I'm currently forgetting.
Yep, overworked and overwhelmed.
Can you relate? I'm going to guess you can. Nearly everyone I have asked this week has told me they feel overwhelmed often. Among those I've asked, many have felt overworked and ALL of those I asked who are self-employed felt over-worked.
So what are we going to do about this?
Well, for me, the process started earlier this year when a health crisis forced me to let go of some things, cut back on others, take a look at what was important for my life, my marriage, my career, and most importantly for my health. I had to get out of chronic fight or flight. I had to address cortisol, adrenal and thyroid health. The latest addition to my campaign to end feeling this way is to read Scott Eblin's new book. Overworked and Overwhelmed: The Mindfulness Alternative.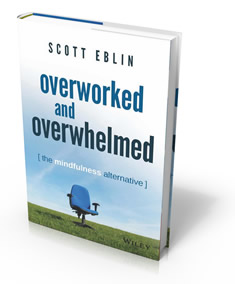 I haven't read the entire book yet, but have to tell you it's hard to put down! I want to keep reading, want to keep learning more about how I can be more present, how I can easily define what needs to be done (and what needs to be let go) and how I can stay on top of knowing where I am on my own personal scale of feeling overwhelmed. This book is full of good stuff AND it's information I can put to work right now quite easily!
Now that I've told you about the book, here 's the scoop: it's available in both hardcover and Kindle versions. You can buy it through the links I've provided here or at your local bookseller.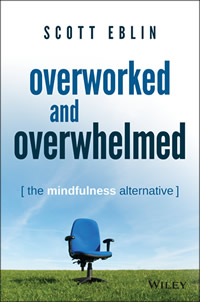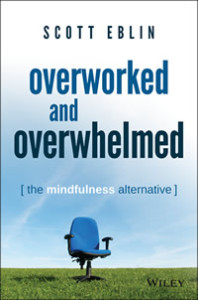 I'm looking forward to returning to a more frequent Soften Saturday schedule now that I have a plan for feeling less overworked, less overwhelmed. This book has become an essential tool in my toolbox of creating all that I desire in both work and life outside of work. Join me, read this book!
A bit of disclosure from me: I was provided a complimentary review copy of this book by the author's wife, Diane Eblin. I am lucky to count Diane amongst my friends. She is the personification of what I've learned so far in this book, making choices to mindfully live the life she has defined for herself. The links shared in this post are affiliate links and I may make a small commission if you make a purchase via the links. I appreciate your support!