This post contains affiliate links. See my disclosure for more information.


While teaching a cooking class recently, a concerned mom asked me how she was going to cook Thanksgiving while including her adult daughter who was recently diagnosed with gluten intolerance. I made a few suggestions: keep it simple, cook naturally gluten-free food, start working on a game plan now. Little did I know, my sweet friend Bree of Baked Bree fame, had been busy creating a perfectly-timed e-book titled The Thanksgiving Game Plan. It is the ideal starting point for planning Thanksgiving.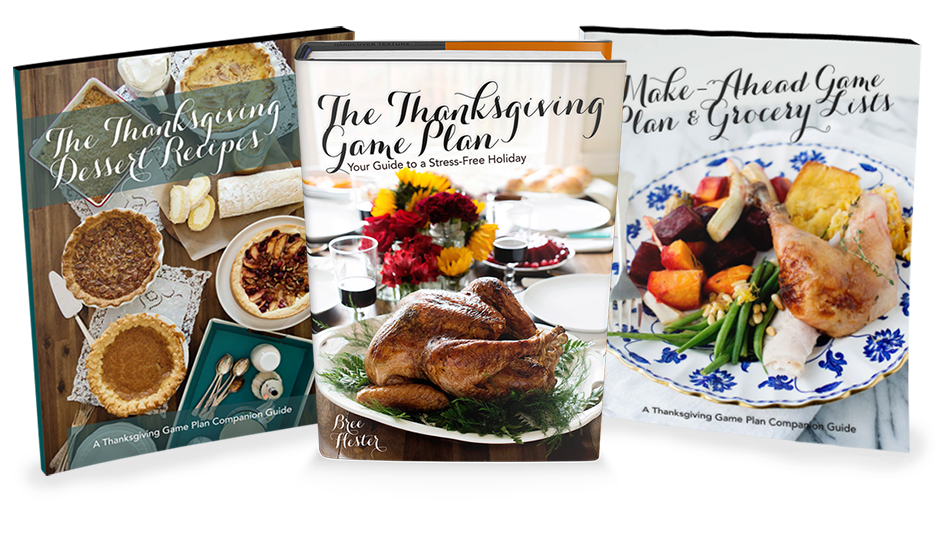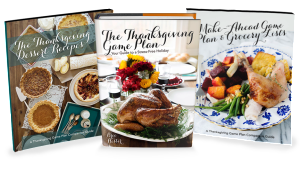 I spent a cold, rainy afternoon last week perusing Bree's beautiful book. Bree has incredible photography skills, making this book a treat to browse. I could almost smell pie baking by the time I reached the desserts section. But beyond her photography skills, Bree is an amazing cook and a true home entertainment aficionado. It takes a lot to get me off of the sofa on damp, dreary days, but I left the house in rain gear to buy groceries to make two of the dishes in Bree's book. No way could I wait until Thanksgiving! Bree's use of basic ingredients and clear, easy-to-follow instructions made cooking dinner on a rain-soaked weeknight a breeze. Imagine being able to do that on a holiday!
And here is where you might find yourself asking, "But is this book gluten-free?" It is and it isn't. Many of the dishes are naturally gluten-free. In fact, the majority are. No modifications needed for plenty of the recipes. If you are cooking a gluten-free Thanksgiving, that is where I suggest you start: choose dishes that don't require any modification. You'll find many recipes that fit this description in Bree's e-book. "But what about the stuffing?" That would be my first question, because stuffing is my favorite dish at Thanksgiving. By easily substituting a loaf of gluten-free bread from the store, Bree's recipe is ready to go for you. And the same with the pies–make a gluten-free pie crust using my recipe and you'll be set.
Included in the e-book are 4 complete Thanksgiving meal plans, including one for vegetarians. Each plan comes with a complete shopping list, step-by-step planner and all of the recipes. I can't tell you how absolutely simple this is going to make our Not-Turkey Day this year. I know exactly what to do a week out and every day until the big day to make this simple, delicious AND enjoyable for me. No stress on Thanksgiving, I'm going to enjoy the meal!
Through October 18th, Bree is offering pre-sale pricing. The complete package, which includes the Thanksgiving Desserts Recipe Book, is just $10.99. The price increases to an affordable $13.99 after the 18th, which is a great price for this full plan to a successful holiday meal. Also offered is a Mini Package, which doesn't include the delectable desserts, but does include all four of the complete menus, recipes and planner for only $5.99 ($7.99 after October 18th).
If you get stressed just thinking about Thanksgiving, I highly recommend The Thanksgiving Game Plan. For once, I'm really excited about Thanksgiving and not stressed at all. This year I've got a great plan, a shopping list and recipes ready to roll. Thanks, Bree, for making Thanksgiving so easy!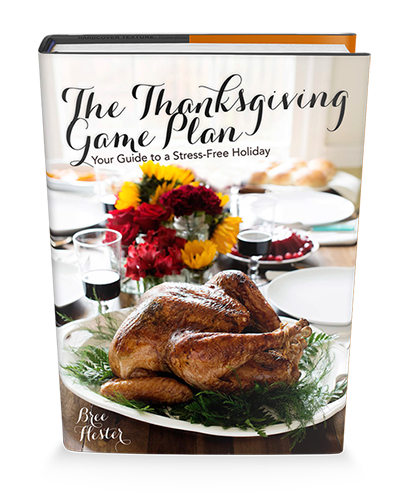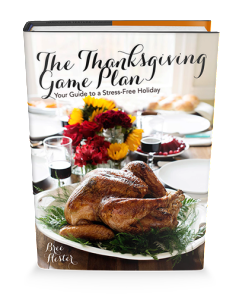 Full Disclosure: Bree shared a complimentary copy of her book with me. Should you purchase a copy of her book via a link in this post, I will make a small commission. I would recommend this book even if I did not make a commission from the sales. No soulless schilling here, just my honest opinion. Bree is one of the most skilled cooks I've had the pleasure to meet and I believe whole-heartedly in her and her book.