This post contains affiliate links. See my disclosure for more information.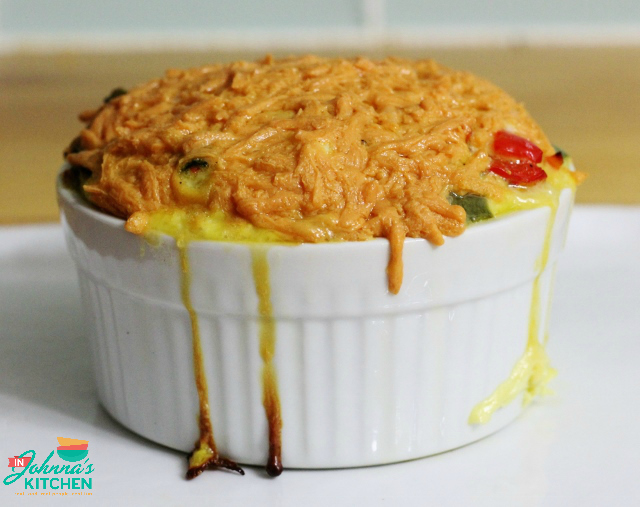 It's cold and rainy here…again. The last week has been full of cooler weather, gray days and lots of rain. The leaves, while colorful, are being pummeled to the ground by wind that sometimes has the rain blowing sideways. This is the beginning of comfort food season for me! One of my favorite morning comfort foods is strata, although we occasionally have strata for dinner as well. Today I'm sharing a Veggie Strata recipe with you.
Are you familiar with strata? I thought I would share a bit about it in case it's new to you. Strata is a layered casserole dish, almost always incorporating eggs. Often it is made with bread, but I've seen strata made with pasta, too. Some versions, like the one I am sharing today, use bread cubes instead of layers of bread. This could be compared to a savory bread pudding. I've seen versions that incorporate meat, but most often it is an egg and cheese dish. I often add vegetables for both flavor and color.
I use a 1-cup ramekin to make single serve strata. If you prefer to make yours in one casserole dish instead of multiple ramekins, a one quart or 1 1/2 quart baking dish works great. You will need to adjust the baking time if using one single dish instead of the 4 ramekins. Strata is done when the top has just a little jiggle to it, almost completely set but not quite.
While cracking open fresh eggs from our backyard hens to make this strata, I thought it would be fun to share a photo of our silly egg-layers with you. They were having none of that today, except for Lily who is always up for a little snuggling on the garden bench. Lily was a tiny little white chick, the smallest of Geni's babies, but has grown into this big hen who doesn't hide her prehistoric roots. She looks quite dinosaur-like to me!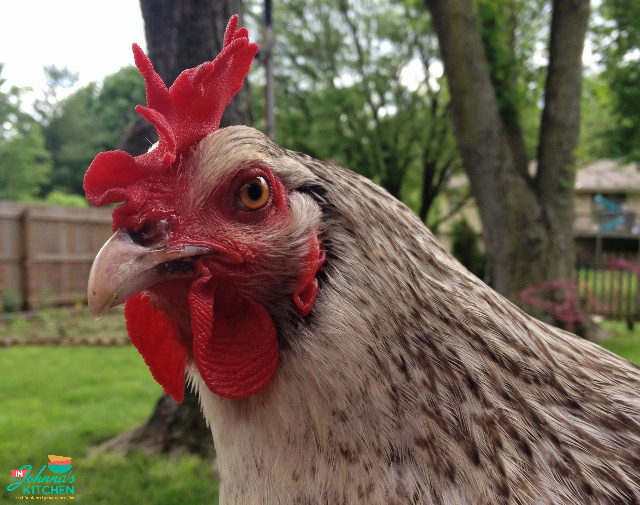 Ok, on to the recipe. Here you go, Veggie Strata. Enjoy!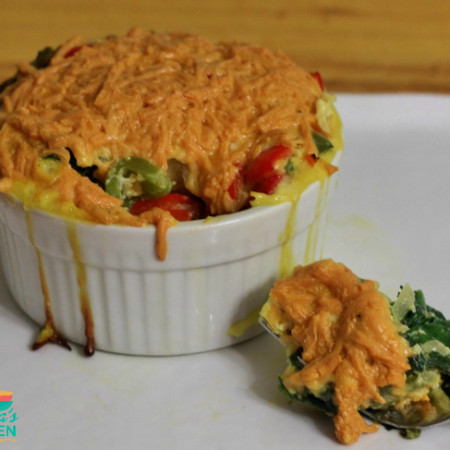 Veggie Strata, gluten-free & dairy-free
Ingredients
3

cups

gluten-free bread cubes

, dried overnight

1

teaspoon

olive oil

(or healthy oil of your choice)

1

small onion

, diced

1

small green pepper

, diced

1

small red pepper

, diced

1

clove

garlic

, minced

1/4

to 1 spicy pepper of your choice

, very finely diced (Scotch bonnet shown here)

2

cups

fresh baby spinach

6

large eggs from happy hens

1

cup

non dairy milk

(I use unsweetened almond milk)

1 1/4

cup

shredded cheese or Daiya shreds

, divided (Daiya used in photos)
Instructions
Cube gluten-free bread of your choice and place on a baking sheet overnight to dry out.

In the morning, preheat the oven to 400 degrees. Place four 1-cup ramekins on a silpat or parchment lined baking sheet. Set aside.

In a large skillet, heat oil over medium heat. Saute onion until transparent, add peppers and garlic and cook until just soft. Add in baby spinach and cook until spinach has wilted. Remove from heat.

In a large mixing bowl, combine eggs milk and 3/4 cup of shredded cheese.

Divide the bread cubes evenly between each of the ramekins. (#1 in photo.)

Top each ramekin with 1/4 of the vegetable mixture. (#2 in photo.)

Slowly ladle egg, milk and cheese mixture over the top. (#3 in photo.)

Top with remaining 1/2 cup of shredded cheese. (#4 in photo.)

Bake at 400 degrees for 20-25 minutes, until top is just set, with a little jiggle. Allow to set for 5 minutes before serving.
Disclosure: This post contains affiliate links. Should you be so kind as to buy something from one of the links, I may make a small commission. You get the same terrific price. I only link to items I own and use in my kitchen. The use of affiliate links allows me to offset the cost of maintaining this website and continue to provide original recipes and content to you at no charge. I appreciate your support.