This post contains affiliate links. See my disclosure for more information.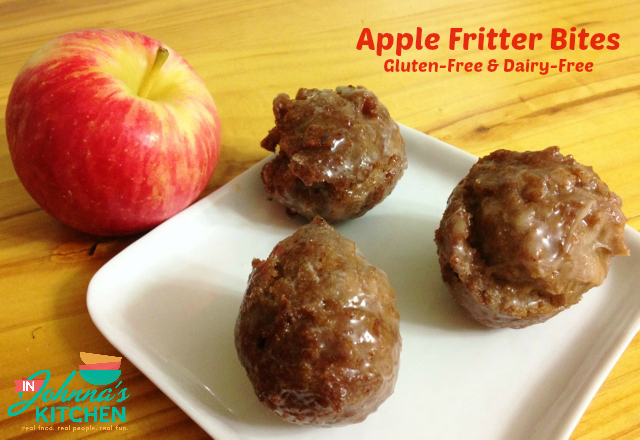 Rich with the flavors of fall and the comfort of a donut shop staple, today I'm sharing my recipe for apple fritter bites, gluten-free & dairy-free. But first, how this recipe came to be…
Recently I was shopping at Trader Joe's with my favorite fella. It was an early morning, very few folks in the store. I always browse the "What's New" display, which is located adjacent to the sample counter. With few customers in the store, the sample gal was quick to offer samples of the pumpkin kringle. My fella, who eats gluten away from home, gladly took the sample. I'm content to just hear his thoughts, but the sample girl wasn't going to let me leave without having a sample. She was insistent. I finally said, "I can't eat that. I have Celiac disease." To which she replied, "Oh my gosh, I'm so sorry. That's miserable. You miss out on so much."
So two things on this: I need to learn to say no and not explain myself AND no, it's not miserable. Life before was miserable. While it has taken awhile for me to feel optimal (and I still don't feel optimal every single day, who does?), I feel pretty darned good most days.
We finished shopping and loaded up the car. My fella said to me while we were driving away, "Doesn't that just piss you off when people say things like that? Do you ever feel like you are missing out on anything?" Rarely. I rarely feel like I'm missing out on anything, especially with so many restaurants taking the time to prepare meals that are safe for me, so many places now offering fresh fruit and other whole, healthy foods for travelers on the go, so many talented gluten-free food writers sharing quality recipes I can make at home.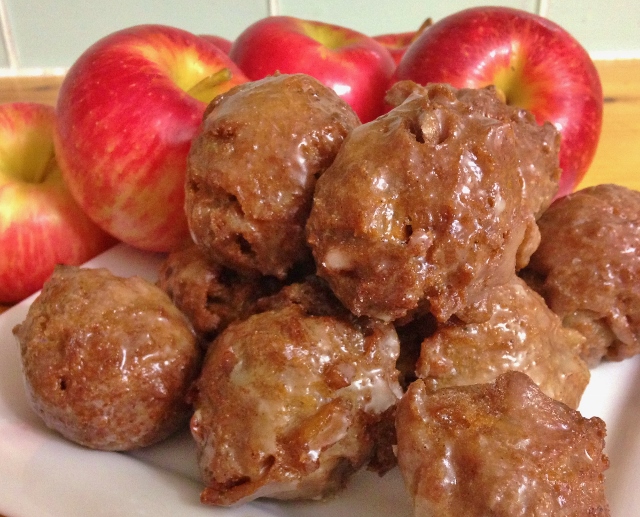 The one exception to this lately has been apple fritters. When I was writing about donuts, apple fritters weren't one of my absolute favorites but my favorite fella and a couple of dear friends really love them, so I see them often. And I've never indulged in a gluten-free version. In our recent travels, we've stopped at a few Tim Hortons. I've had coffee or iced tea, my fella has had copious amounts of donuts. One thing that caught my eye in Tim Hortons was apple fritter bites, little donut hole sized nuggets of apple fritter goodness. I kinda wished I could have one.
Here is what I do on the occasions when I do feel like I'm missing out on something: I come home and make a gluten-free counterpart in my own kitchen. Lots of testing, lots of tasting…and finally, a finished product I'm proud of AND one that soothes my yearning.
So in response to your comment, Trader Joe's sample counter gal, No, I'm not missing out on anything, not even apple fritters.
You don't have to miss out either. Below is my recipe for Apple Fritter Bites, gluten-free & dairy-free. Go pick some apples at the local orchard and make these today.
A couple of quick notes: This recipe was inspired by a gluten-full, dairy-full recipe I saw over at Spiced. I have modified this recipe and tested it, making it gluten-free, dairy-free, refined sugar-free with exception of the glaze. I've used slightly different ingredients and amounts in a few additional spots and made it into fritter bites. I want to make sure I always give credit to other bloggers who inspire the recipes I share here!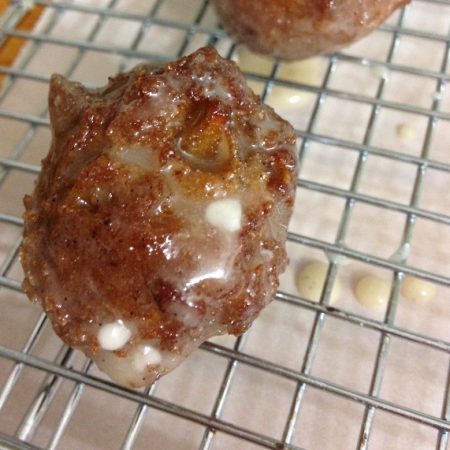 Apple Fritter Bites, gluten-free & dairy-free
Ingredients
For the dough:
1

teaspoon

active dry yeast

(make sure it is gluten-free, Red Star Platinum is not)

1 2/3

cups

Johnna's Favorite Gluten-Free Flour Blend

1/2

cup

coconut sugar

1/2

teaspoon

cinnamon

1/4

teaspoon

sea salt

1/4

cup

unsweetened almond milk

2

large eggs from happy hens

2

Tablespoons

coconut oil

, liquified or other oil of your choosing

1

teaspoon

vanilla bean paste or vanilla extract

4-5

cups

grapeseed oil or healthy oil of your choice to fry in
For the apple mixture:
1

cup

apples

, peeled, cored and diced (I prefer honey crisp apples)

2

Tablespoons

coconut oil

2

Tablespoons

coconut sugar

1/2

teaspoon

cinnamon

1/2

cup

hard cider

(regular apple cider may also be used)
For the glaze:
3/4

cup

powdered sugar

2

Tablespoons

unsweetened almond milk

1/2

teaspoon

vanilla bean paste or vanilla extract
Instructions
For the dough:
In a large mixing bowl, combine yeast, gluten-free flour blend, coconut sugar, cinnamon and salt. Mix to combine.

In a small mixing bowl, combine almond milk, 2 eggs, coconut oil and vanilla bean paste/extract. Whisk to combine.

Add wet ingredients to dry, mixing to combine. This will make a very sticky dough.

Transfer to a lightly oiled bowl. Set in a warm, draft-free area and cover. Allow to rise for 2 hours. (Being gluten-free, this will not rise enormously.)

While dough is rising, make apple mixture.
For the apple mixture:
In a large, deep skillet, melt the coconut oil. Add the apples, cinnamon and coconut sugar.

Stir to coat the apples well. Then add the hard cider.

Cook for 7-8 minutes, or until apple cider has reduced into a thick syrup.

Remove from heat and allow to cool while the dough is rising. You will want these to be room temperature when you work with them.
Return to dough:
After two hours, turn the dough out onto a well-floured piece of parchment paper. Pat into a 10" x 10" square.

Gently spread the cooled apple mixture evenly over the top of the dough.

Fold as you would fold a letter into third. The third on the left folds into the middle, the third on the right folds over the top.

Let dough rest for 30 minutes.

Heat oil while dough is resting to 375 degrees. I use this

dutch oven

for frying.

Using a 1.5 Tablespoon

cookie scoop

(this is also a #40 portioner/disher), scoop balls of the dough and place in the hot oil.

Cook on one side for 1-2 minutes, until lightly browned. Roll them over so they can brown evenly on both sides.

Remove from oil and allow to drain on a paper towel-lined baking sheet.

Do not fry more than 5 or 6 fritter bites at a time, as they could reduce the oil temperature.

Mix all glaze ingredients in a small bowl. You may prefer to sift the powdered sugar. In the batch I photographed, I did not sift and I see tiny clumps of powdered sugar. This has no effect on the flavor, as they disappeared quickly.

Roll one fritter bite at a time through the glaze. Place on a cooling rack with parchment beneath to catch any drips. Once glaze sets up, dig in!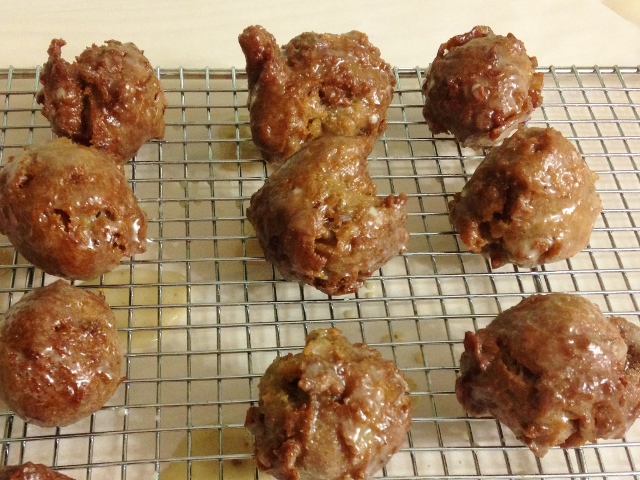 Full Disclosure: This post contains affiliate links. If you make a purchase by following a link from my post, you get the same terrific price AND I earn a small commission. I only link to products and ingredients I personally own and use. Affiliate links help me offset the cost of maintaining this website. One day I hope they will also help me to pay for the ingredients used in testing the original recipes I share with you at no charge. I appreciate your support!