This post contains affiliate links. See my disclosure for more information.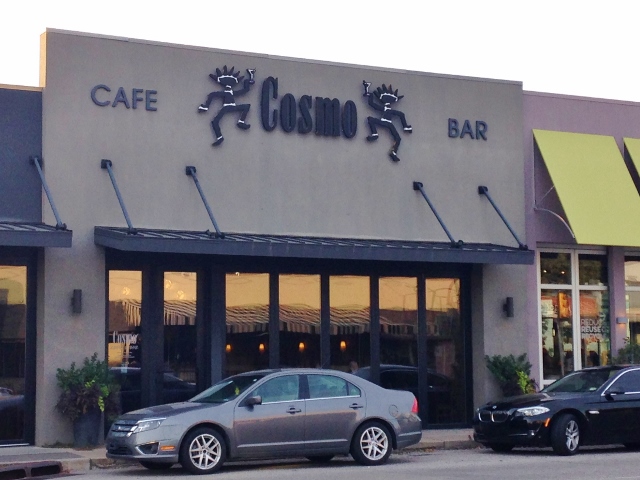 Recently we went to Tulsa, Oklahoma for a little day trip. After a 4 1/2 hour drive to get there, we were so hungry. How is it sitting in the car for hours creates a voracious appetite? First on our list of places to grab a meal, Cosmo Cafe.
Cosmo Cafe is located in Tulsa's Brookside neighborhood. In our past visits to Tulsa, we've discovered mostly locally owned shops and restaurants in the Brookside area. Many restaurants with outside seating, shops with large windows for browsing. While that seems to be changing a bit (LuluLemon has taken up residence and an Urban Outfitters is moving in), there is still an abundance of unique, local goodness to experience.
Because we were dining at an off-peak time, around 3 in the afternoon, we had our choice of seating in Cosmo Cafe. We tucked into a generously sized booth and spent a few minutes picking drinks and an appetizer.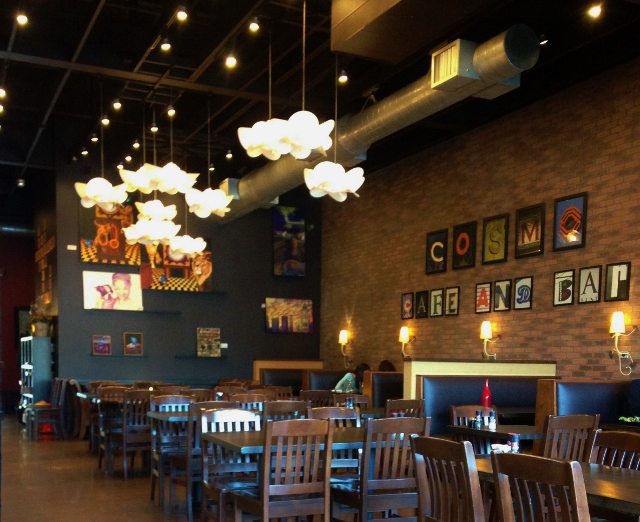 While the weather was reasonably warm, there was a chill in the air from extremely gusty wind. We both decided on a hot drink to cast off the chill from our walk to the restaurant. We both had the Spiced Mango cider with hot cider, mango syrup and Sailor Jerry rum. Turns out mango and apple are a nice pairing, especially with the spice of Sailor Jerry rum.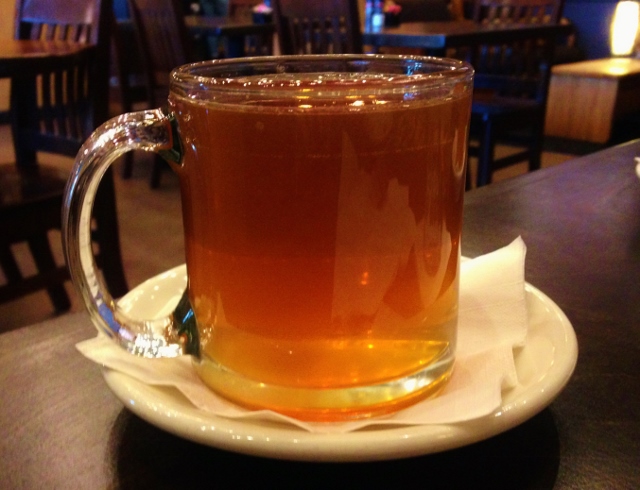 We shared hummus for our appetizer. Cosmo Cafe has a nice gluten-free menu, listing substitutions available from their regular menu. Instead of pita bread with the hummus, we had carrot sticks and Tostitos. Very smooth, creamy hummus with a smoky paprika kick.
Cosmo Cafe's tagline says they offer sophisticated sandwiches, so we knew we wanted to try one. Sandwiches are offered on a gluten-free bagel. We split the Vegetarian, loaded with avocado, garlic-dill cream cheese, mozzarella, cheddar, alfalfa sprouts, tomatoes, cucumbers and a creamy basil sauce. A terrific veggie sandwich, if a bit messy with all of that goodness stuffed onto a bagel. I enjoyed every bite of my half. Sandwiches come with a side. We couldn't decide on just one so we got potato salad and pickles. The potato salad was one of the best I've had out–a bit of heat from a spice I couldn't put my finger on. Very good, I would have it again.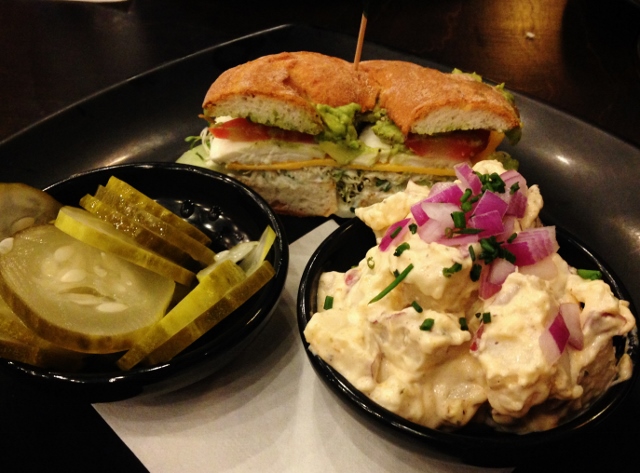 We also tried the Eberle Dhal, a dish made with butternut squash and four kinds of lentils. It is usually served with a toasted baguette. We had ours with Tostitos. Spicy, warm, seasoned with warming Indian spices.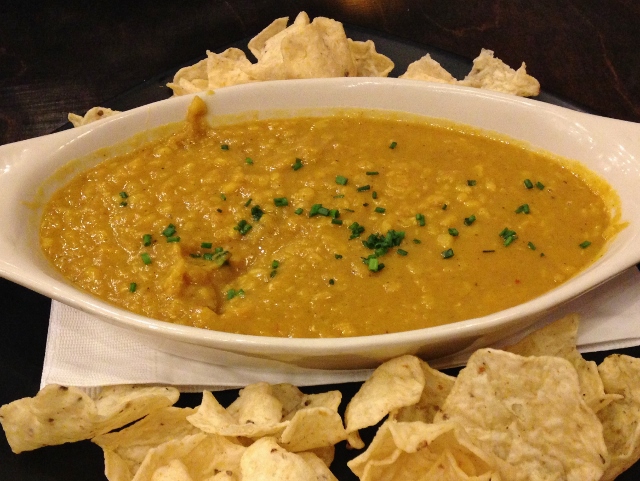 Too stuffed for dessert, we called it quits after these dishes. The dessert menu was tempting, with several gluten-free choices. Next time, I'll start with dessert first.
Eat With: Minimal Caution. Our server was very helpful and knowledgeable. The restaurant offers a separate gluten-free menu.
Cosmo Cafe is located at 3334 South Peoria Avenue in Tulsa, Oklahoma. 918.933.4848. Street parking is plentiful in off-peak times, with most areas allowing for two hours. During busy times, you might park a block or two away but enjoy the walk in the neighborhood!


Speaking of the neighborhood, make sure you stop next door at Ida Red for a bit of whimsical, quirky shopping. Overflowing with vintage candies and sodas, t-shirts, jewelry, the perfect gift to take home to your housesitter, this is a must-visit store! Where else are you going to get a Dress-Up Bigfoot Kit, complete with a laminated Bigfoot and a full wardrobe of vinyl clothing? Or a bottle of Faygo's Red Pop and candy your grandparents remember from the 50s. Super fun store! (If you really need that Dress-Up Bigfoot, Ida Red has an online store.)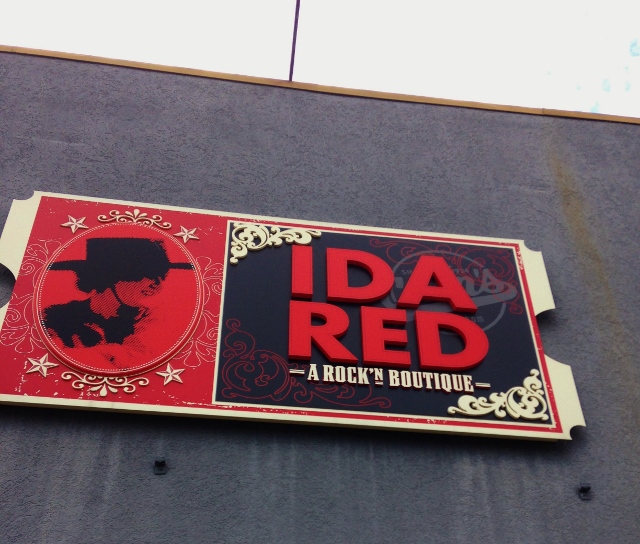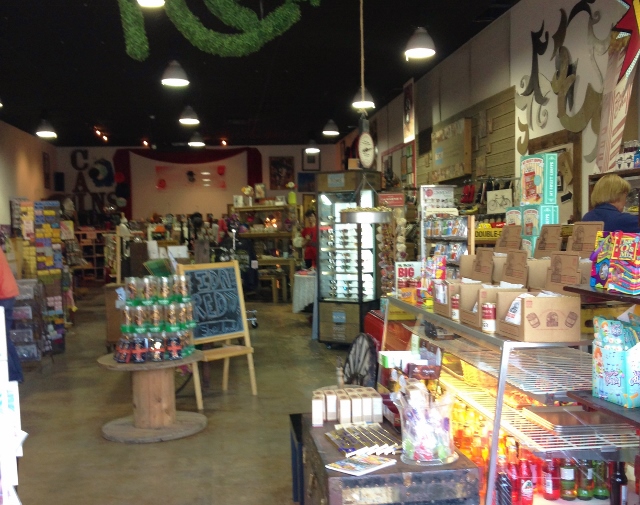 Johnna's I Ate Here series is not intended as a restaurant review, rather a summary of Johnna's experience dining out. You may or may not have a similar experience. Menu prices, items and ingredients featured were current at the time of writing. Please read the menu carefully and ask your server for assistance in ordering if you have dietary restrictions. It's a good idea to call ahead and let the restaurant know of your food needs.