This post contains affiliate links. See my disclosure for more information.


Do you have your Thanksgiving menu planned yet? I do not, but will soon. I've got my pies selected, but hear I should plan for more than just pies…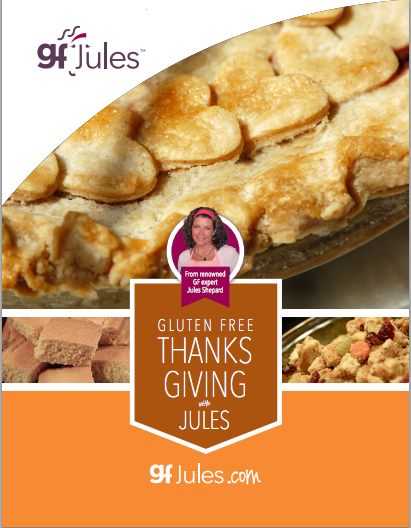 High on my list of gluten-free Thanksgiving resources is the newly updated Gluten-Free Thanksgiving e-book from GF Jules. While it is usually $12.95, I have a special coupon code to share with you lovely readers. You can download the book for free! But hurry, it's only good through November 13th!
To get your free book, just click here. After you put the eBook into your cart on the gfJules site, just copy the code and paste the special coupon code below into the box next to the orange "Apply Coupon" button in the gfJules cart. Then hit "Apply Coupon" and the $12.95 price will be deducted instantly, making the book available for immediate download.(No "purchase" is necessary, but this code will work if you decide to buy products, too.) On the order confirmation page after you have completed your order, you'll see a "download your book" link. Easy!

Here's your special coupon code: gfjules54601c422ce50
Big thanks to GF Jules for sharing her book with us. It's a great resource for making gluten-free Thanksgiving successful and delicious!