This post contains affiliate links. See my disclosure for more information.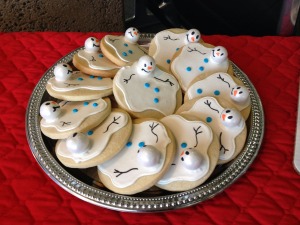 Earlier today I asked on Facebook about your greatest holiday baking challenge.
And in typical fashion with Facebook's fancy algorithm, the post was shown to 1.5% of you lovely folks who follow me over there.
That's not a typo. My post, asking you for your greatest holiday baking challenges, was shown to one and a half percent of you.
But I'm not just here to complain about Facebook, I'm here to offer my help.
So dish, sweet readers. Tell me below in the comments what stymies you about holiday baking. Unload your cookie exchange woes, your family fruitcake nightmares. I want to hear…and I want to help!
Here's how this works: you leave a comment below telling me what you need help with when it comes to holiday baking. I'll respond with a tip, a suggestion, a recipe from me or a trusted friend. It's like the Butterball Turkey Hotline, only with me answering the phone. And we can't talk turkey because I don't know how to cook a turkey. But baking, I've got that one down. 😉
Now it's your turn. Comments below please. I'm excited to read your challenges and help you with them!