This post contains affiliate links. See my disclosure for more information.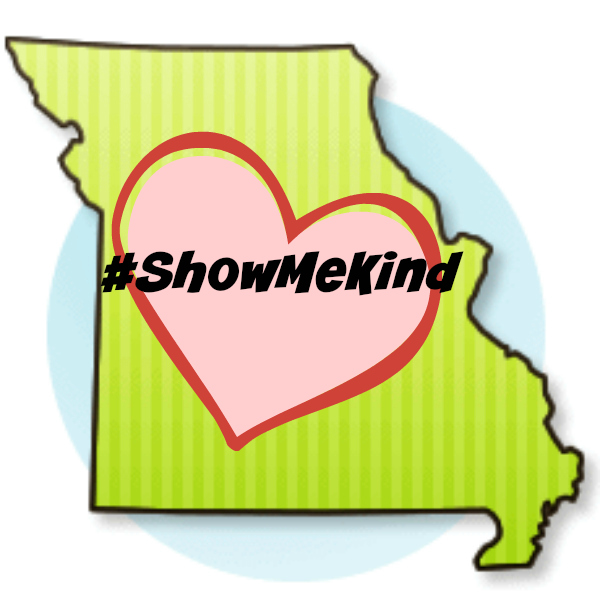 Today I'm sharing with you a fun project for the holidays, #ShowMeKind.
The day before Thanksgiving, my cousin Angie posted this on Facebook:
"Missourians, We need to start sharing our positive stories and news on Facebook. Anyone paying it forward this season? Giving to charities? Working to help those in need? Start sharing your stories! We need to spread the positivity and compassion! Many are too humble to share. Share anyway!"
From this, we started a discussion. How could we get our friends and family in Missouri to share the good stuff that is happening here? How could we encourage kindness? What if we "caught" folks in the act, doing something kind? How could we share this positivity? How could we show the rest of the nation that good things are happening here, that even in the dark times there is so much light?
From this came the #ShowMeKind Project. There are three ways you can participate. And you don't have to be in Missouri, you can show the kind wherever you live! You're also welcome to create a hashtag for your state!
1. Each day I will share a #ShowMeKind prompt on Facebook, Twitter and Instagram. A simple idea you can do that day or any day between now and December 25th. You can take a photo of your act of kindness and share it, tagging it #ShowMeKind so others can see what you are up to and join the kindness movement.
2. Catch someone in the act! Take a photo of someone doing something kind and share it. Call them out, let them know their kindness is appreciated and noticed.
3. Create your own act of kindness and share it! It doesn't have to be from the daily prompt. Any act of kindness of great. Get your friends and family to join in the fun!
To get things rolling, here is today's #ShowMeKind prompt:
Help Someone at the Store
This could be letting the person behind you go first at the checkout. It could be returning someone's cart for them. Or complimenting the mom with restless kiddos on how great a job she is doing. Helping carry a heavy purchase. Paying for someone's groceries. Let someone have the parking space.
Alright! Let's get started. I'm off to do my first #ShowMeKind activity. Come on, join me!