This post contains affiliate links. See my disclosure for more information.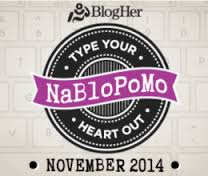 I committed to writing a blog post each day of this month as a participant in National Blog Posting Month, NaBloPoMo. Today marks the last day and I did it! I blogged each day for 30 days.
The first year I blogged, I wrote a total of 54 posts. In one month, I wrote more than 50% of the content I wrote in my entire first year of blogging.
So what did I learn?
Well, I learned you like sweet recipes better than savory. At least in November. If I did this in January, perhaps my odes to kale would be better received. 😉
I learned you prefer recipes to restaurant and travel recommendations…unless you are planning a quickly-approaching visit to that specific area.
Also gleaned from the experience: the more I blog, the more proficient I become at the boring technical stuff that goes on behind the scenes. Some of the tasks become almost a reflex. I hope to keep this level of proficiency as it gives me more time to create in the kitchen, more time to dine out and travel.
Tonight I pondered whether I will continue blogging as frequently or if this experience will change how often I write. While I enjoyed the experience, I don't feel it is possible for me to turn out high quality posts every single day. I AM going to create more recipes, visit more restaurants, go on more adventures and share with you, just not every single day.
Thanks for coming along for the NaBloPoMo journey with me. Thanks for cheering me on, leaving comments on my posts and encouraging me to stick with it this month. I'm so glad I gave it a go!