This post contains affiliate links. See my disclosure for more information.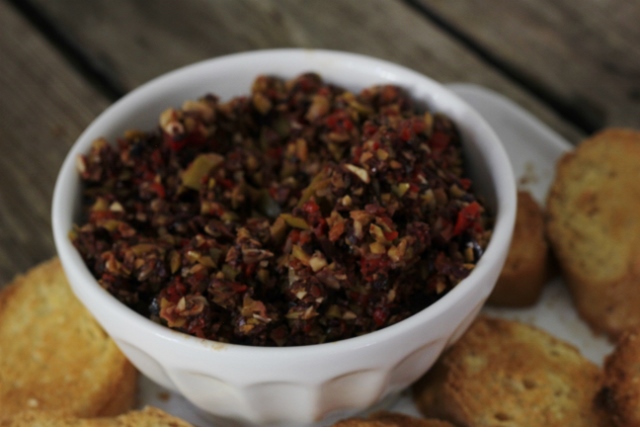 This post is sponsored by Mezzetta, my favorite brand of olives. I have been compensated for ingredients and this post. All opinions are my own, as always. I only endorse products I believe in and use in my kitchen.

I was so excited when the folks at Mezzetta asked me to create a holiday recipe. For as long as I can remember, I've been the A-Number-One olive eater in my family. As a wee one, I would load my fingertips up with olives, both green and black, and return to the olive dish many times to reload. As an adult, I've branched out a bit and eat a more diverse selection of olives but I'm still a formidable opponent in the race to the olives at any gathering.
I love taking a homemade appetizer to holiday gatherings. But I don't always have time to make some complicated recipe that requires seventeen ingredients, sixteen of which are not currently in my pantry. I need a quick and easy appetizer that's still impressive. Even better if it causes folks to think I spent hours in the kitchen, that I planned ahead, that I marinated olives in Napa Valley wines with fresh herbs.
Ah, see? There's my secret. I don't really marinate olives in wine with herbs grown in my own garden. I don't have to, I can buy them at my local grocery store. Mezzetta olives make me look super fancy when in fact, I make this appetizer in under five minutes. You can, too. Your secret is safe with me. I won't tell your friends your secret for making holiday fanciness happen in a flash. Or maybe I will…this one is too good to keep quiet about!
Here's the proper description of this Herb'n Olive Tapenade: Colossal Queen Olives marinated in Napa Valley Chardonnay, along with Kalamata Olives marinated in Napa Valley Cabernet, combined with fresh garlic, herbs, sea salt and roasted red peppers served atop crostini.
And here are the ingredients: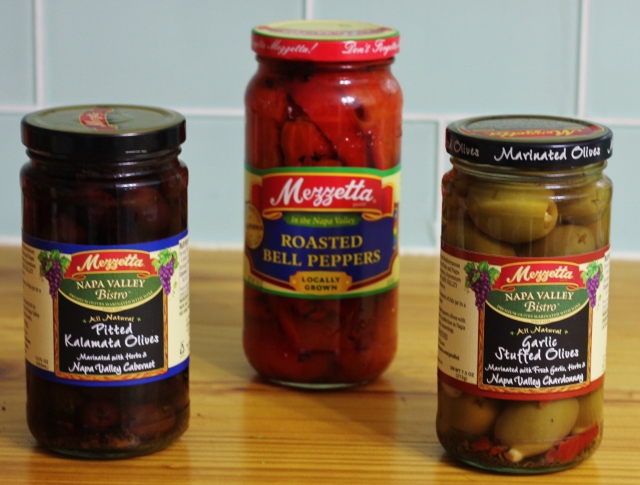 That's right, just three jars of Mezzetta goodness.
Take a look at just a few of the Mezzetta choices I had at my local supermarket. So many choices and truly, they all work well in this recipe. You can use any combination of Mezzetta olives and roasted bell peppers. Just use two jars of pitted olives and half a jar of roasted bell peppers. You can spice it up with Jalapeno Stuffed Olives or use the Home Style Cured Pitted Olives to add veggies and savory spices to the tapenade.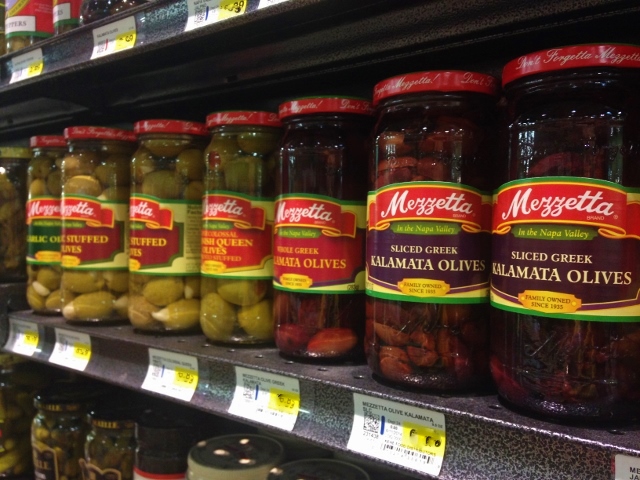 As promised, super easy, yet it sounds very complicated and impressive! Traditional tapenade recipes require lots of ingredients: olive oil, lemon juice, individual herbs and spices, garlic, lemon juice, capers… You have to measure them out, sometimes you accidentally grab a jar of olives with pits so you have to remove those, it's tedious! This recipe is the opposite. Three jars of ingredients from Mezzetta: olives and roasted red peppers, all available at all of the grocery stores near me, along with sliced bread, toasted pita or tortilla chips and a quick zip through the food processor is all that is needed to make this.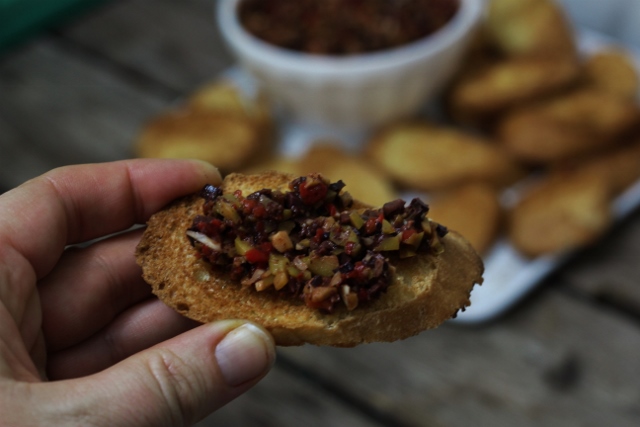 One more tidbit before I share the recipe. Each day this month, one lucky winner will receive a gift basket full of tasty Mezzetta products. Just visit Mezzetta's holiday page to enter. OH! There's also a coupon on that page for fifty cents off any Mezzetta product. So now you've got a recipe that looks like you spent hours planning and creating it AND a coupon to make it economical to make. Good stuff for the holidays!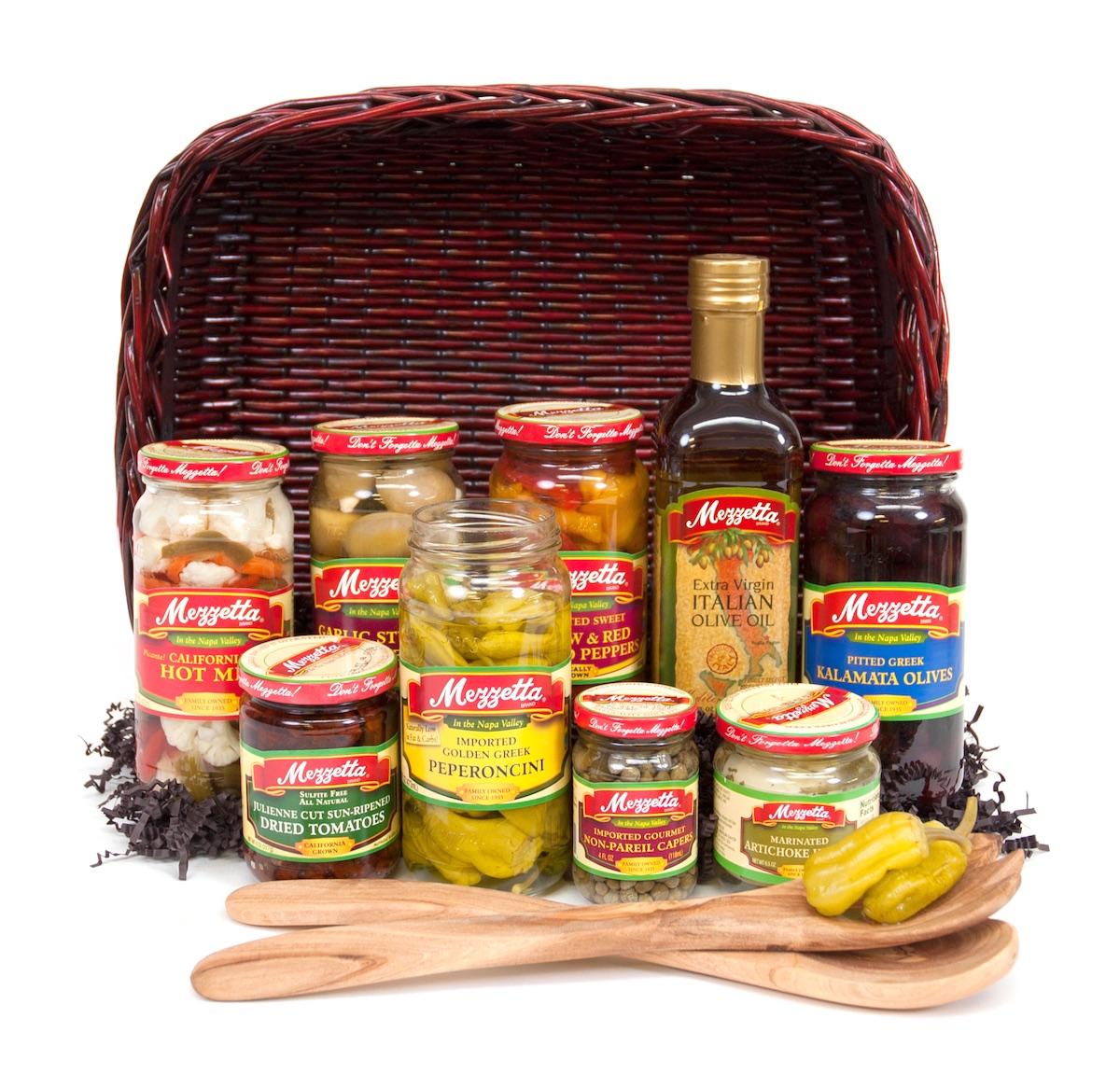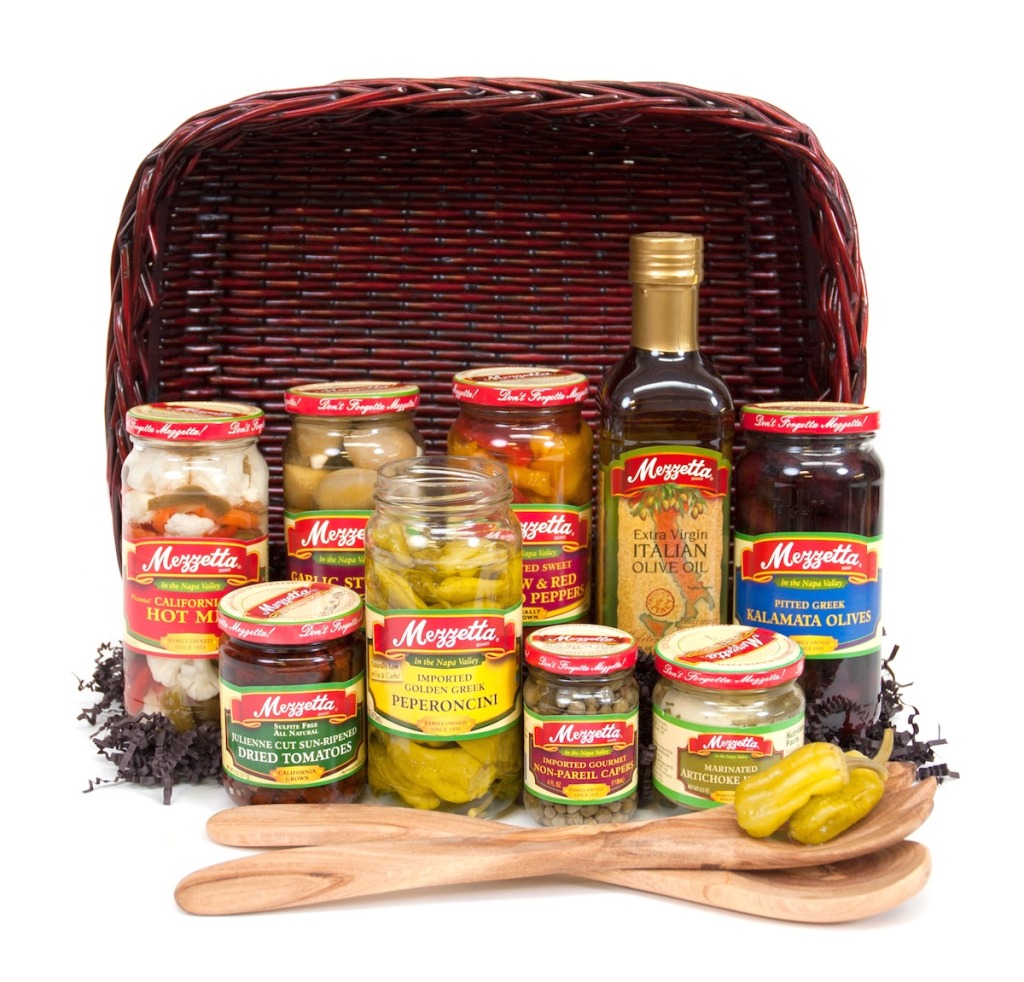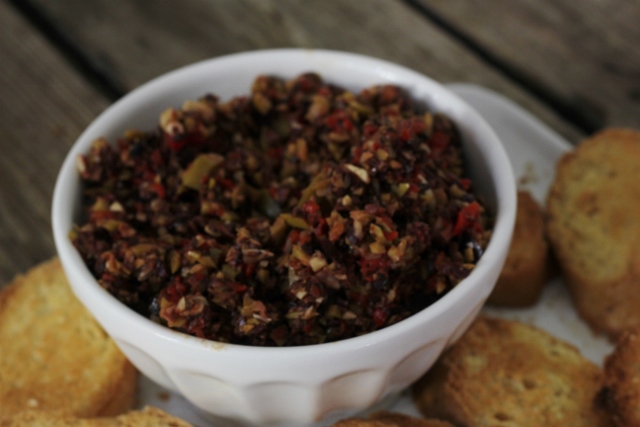 Herb'n Olive Tapenade, Holiday Appetizer in a Hurry!
Ingredients
1

jar Mezzetta Garlic Stuffed Olives or Colossal Spiced Sicilian Olives

(a variety with herbs is nice)

1

jar Mezzetta Pitted Kalamata Olives or Mediterranean Nicoise Style Olives

(again, with herbs is nice)

1/2

jar Mezzetta Roasted Red Peppers

crostini

, toasted pita or tortilla chips
Instructions
Fit food processor with "S" blade and set aside.

Drain both jars of olives. Places contents of the jars (olives, garlic, herbs) in the bowl of the food processor.

Remove half of the roasted red peppers from the jar. Roughly chop so they are in slightly smaller pieces and add to the bowl of the food processor.

Pulse the food processor until a tiny chop texture is achieved. Do not run for too long or you will have an olive pâté. While also delicious, we want a slightly chunkier texture for this dish.

Remove and place in a pretty serving dish. Serve with crostini, toasted pita or tortilla chips.

Store any leftovers in the refrigerator.
I'm linking up withe Gluten-Free Wednesdays. Pop over for many more recipes!