This post contains affiliate links. See my disclosure for more information.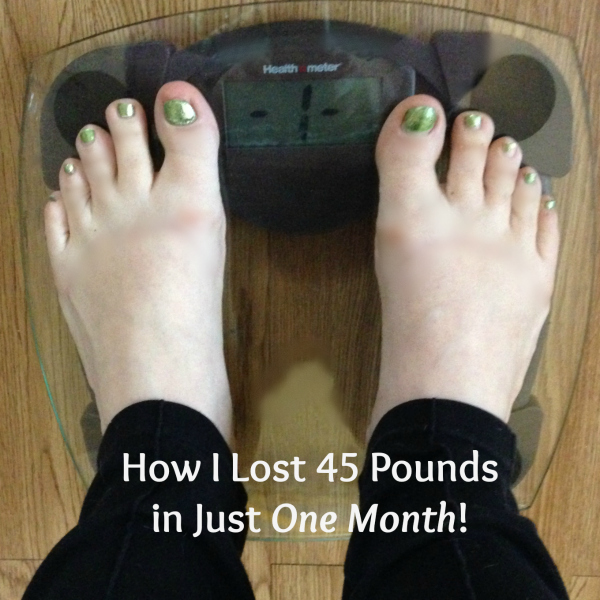 It's that time of year. Soon our social media feeds will be full of our friends gangbuster, all-in attempts to lose weight, to exercise more, to get healthy.
And the sad reality? Most of the tactics we try are not at all healthy. Severe calorie restriction, eliminating entire nutrient groups, exercising to the point of injury…none of these things help us to get healthy. Trash talking our bodies, hating on ourselves in a way we wouldn't treat any other human…not helping to get healthy.
So you wanna know how I lost 45 pounds in just one month?
I didn't.
I'm not trying to either.
But if I were, I could spend thousands of dollars on every weight loss drug sold at Complete Nutrition and GNC, buy every multi-level marketing weight loss program, join at least 3 gyms (and never visit two of them), buy body wraps or go to a spa for infrared wraps, schedule a consultation with a plastic surgeon for lipo, hire a fitness trainer to beat me into submission, count calories to the point of obsession, try the latest and greatest herbal wonders, drink a magic potion three times a day, go on a lengthy juice cleanse, seek advice from a shaman, have multiple colonics…you get my point. Most of us have invested in at least some of this craziness at some point, right? It ultimately didn't help to lose weight and keep it off (if it did, those companies would be out of business) and it probably did more harm than good to our health.
Here's what I want you to know. You are perfect and beautiful right now.
Sure, it's okay for us to want to improve our bodies. But it's also okay to do that without hating ourselves and participating in really unhealthy behaviors. I have weight and fitness goals, but my biggest goal for 2015 is not to get sucked into the destructive patterns of the past, the patterns where food became the enemy and not the nourisher; where exercise became punishment, something I had to do to earn food. My goal is to nourish my body, love my body right this very moment and exercise in a way I enjoy.
Will you join me in this? Instead of jumping on the weight loss crazy train, let's support each other in feeling good about ourselves starting now. No fad diet necessary, no expensive gym membership. Just gentle, effective change, a softer way to reach our goals and love ourselves.
Got tips for doing this? I would love to hear them. Will you leave a comment below? It could be the greatest source of encouragement for others in your shoes!
P.S.–Here's my first tip: Social Media Cleanse. If you have a friend who has jumped on the crazy train, is attending 3 exercise classes a day and boasts of losing 45 pounds in just one month, it's okay to hide them from your Facebook feed for awhile. If reading those posts makes you feel bad about yourself, don't read them. It's also okay to round up a group of like-minded friends, create your own "secret" Facebook group so you can support each other. I participate in a group like this with wonderful women who understand my disordered thinking about food and don't share numbers as they relate to exercise or food. (That's an ugly trigger for me.) Find your tribe and love each other. Also, know that most of this will pass by February 1st.
P.P.S.–Did I mention you are perfect and beautiful right now? Well, you are!