This post contains affiliate links. See my disclosure for more information.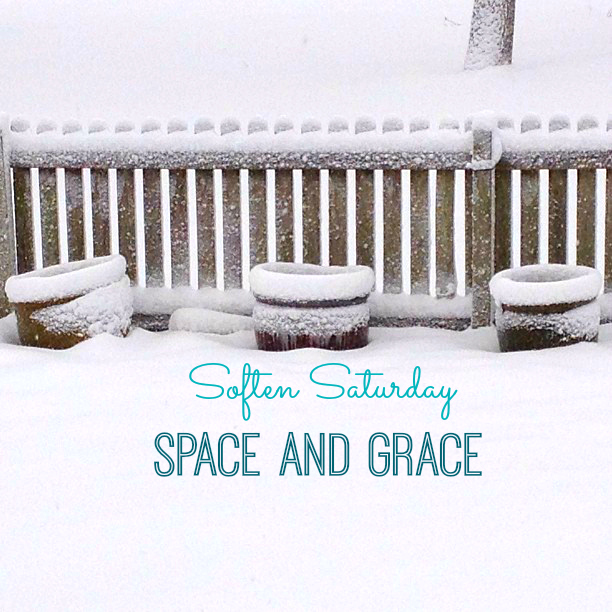 I have this amazingly upbeat friend who does something good to change the world every single day. I'm just sure she does. Her happiness and energy are infectious, her work is meaningful. She lives in the Boston area where the snow is currently deeper than she is tall. I have heard not a single complaint from her about all of this never-ending barrage of winter.
Until today. In response to a text message I sent this morning, she said, "It sucks so much here."
And then something I've seen her share many times came to mind: Space and Grace. I need to give her space to be grumble for a minute.
I'm going to give her the space to be unhappy, to say it sucks. Because it does!
And this week when I complained at yoga about how stinkin' cold it is here and how my body hurts because of the cold, I was granted grace from my fellow yoginis. "It's not snow but it still hurts." Yes, that was what I needed.
When a friend shared a photo of a snow-packed highway she had traversed in the south, one friend said, "Well, it's not Boston." And another said, "Right, it's not but I'm sure it was frightening for her in the moment." That. That's what I'm suggesting. We all just give each other Space and Grace right now. Give a little extra space on the road. Extend a little grace to the exhausted mama whose kids have a bad case of cabin fever. Whatever it is you can do, now is the time to do it. Space and Grace.
Spring is 28 days away. We're going to get through this. Whether "this" is eight feet of snow, inches of ice, windchills below zero or cold that is record setting in your usually tropical locale, we're going to get through this. But in the meantime, let's give each other Space and Grace. It will surely make the days go faster.