This post contains affiliate links. See my disclosure for more information.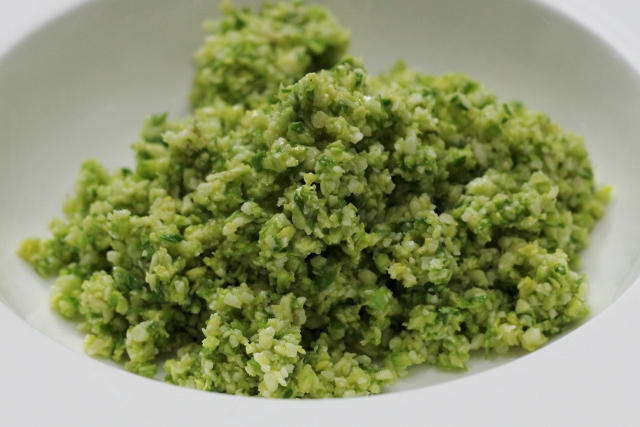 Over the holidays, my favorite fella and I slipped away to Chicago for a few days. I'm excited to share more about the trip with you because there are few cities where food is as fantastic as Chicago and we stayed at a real gem of a hotel. What's that got to do with a Brussels sprout and Pecorino recipe, you ask?
On our flight home, I asked my fella what his favorite thing was he ate on the trip. He was torn between pizza from Chicago's pizza and donuts from Do-Rite. I was torn between donuts from Do-Rite (go on, act surprised!) and an incredible scoop of a Brussels sprouts and Pecorino salad that was on the Antipasto Misto platter at Eataly. That's right, I was torn between a donut and a Brussels sprout salad.
I'll tell you about the donuts I ate soon, but first I'm going to share a little more about the Brussels sprouts salad AND my homemade rendition.
The Antipasto Misto platter at Eataly included olives, pepperonata (which included anchovies, so I asked it to be left off), delicata squash and the Brussels sprout and Pecorino salad. I was delighted when our server delivered the platter and told me the kitchen had doubled the Brussels sprout salad since I asked to have the pepperonata omitted. Yay!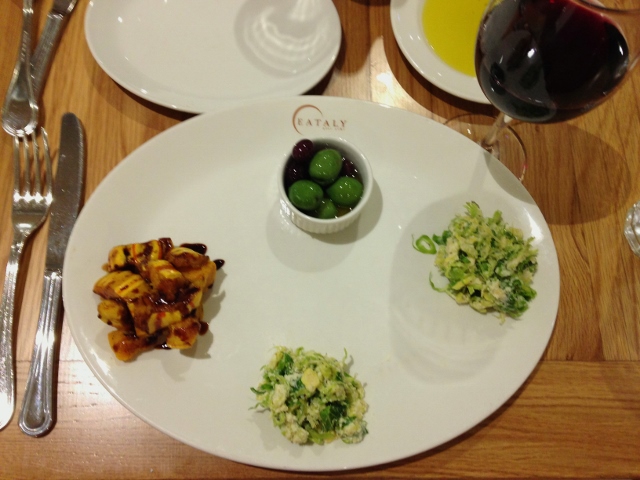 My entire meal and shopping experience at Eataly was terrific and I'll tell you more about it soon, but first I want to share my rendition of the salad.
You can make this salad with whole Brussels sprouts and shave them yourself, either by cutting them into fine ribbons or shredding them in the food processor. I prefer buying the bag of shaved Brussels sprouts at Trader Joes. Another nice alternative is the bag of Cruciferous Crunch also sold at Trader Joes.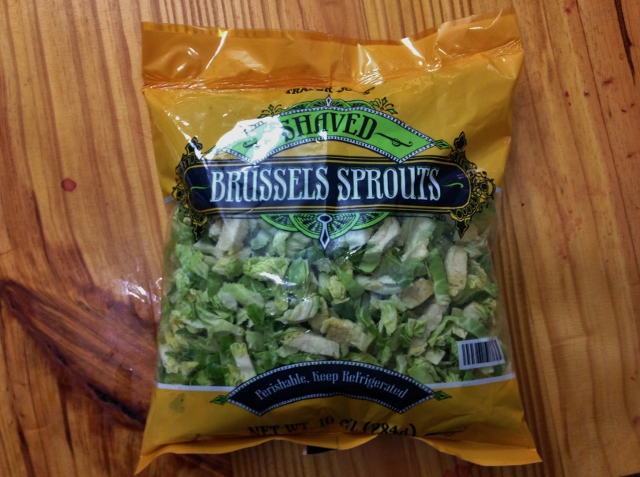 I've used Pecorino Romano cheese in this salad. When you see a cheese made in Italy labeled Pecorino, it means it is made from 100% sheep's milk. An American-made cheese labeled Pecorino is probably made from cow's milk. I point this out because I know some of you are like me and tolerate goat and sheep milk much better than cow milk. Both versions are salty, which will explain the absence of any added salt in my recipe.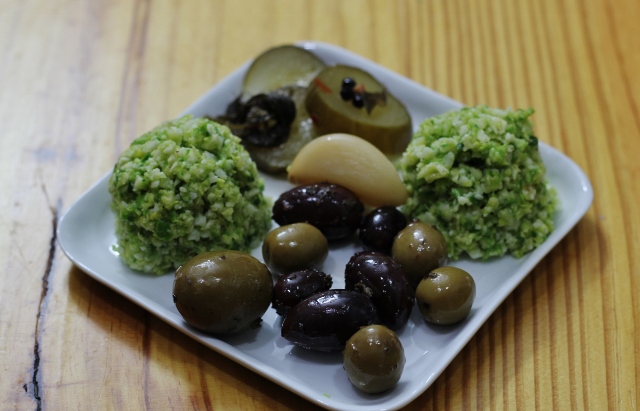 Ok, enough about all of that; on to the recipe. I hope you'll enjoy this one as much as we do. I made it twice last week. While not quite the same as Eataly's original, it's crunchy and salty and absolutely perfect for enjoying with our small homemade version of an Antipasto Misto platter.
Shaved Brussels Sprout and Pecorino Salad
Ingredients
10

ounces

shaved Brussels sprouts

6

ounces

Pecorino Romano cheese

1/2

cup

olive oil

1/2

teaspoon

white pepper

(black may be used, I like the look of white in this recipe)
Instructions
In the bowl of food processor fitted with the "S" blade, pulse Brussels sprouts (either shaved or whole with the ends removed) until they look like this OR leave them larger if you prefer:

Remove the sprouts from the bowl and place in a medium mixing bowl.

Add the Pecorino Romano to the food processor and pulse until the cheese is crumbly. This is the texture I prefer:

Remove the cheese from the food processor and add to the mixing bowl.

To the mixing bowl, add white pepper and olive oil. Mix to combine.

Can be eaten immediately or can be refrigerated for later. I like it best the next day when the flavors have melded together.
I'm linking this post up with Gluten-Free Wednesdays. Click through for many more terrific recipes!