This post contains affiliate links. See my disclosure for more information.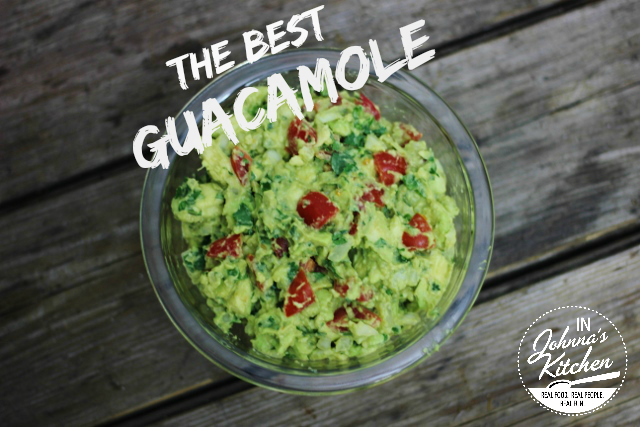 Oh, how I love guacamole! I make the BEST guacamole. Not kidding, mine is the best. And my secret ingredient will make any guacamole better. Wanna know what it is?
It's cumin. You've probably got cumin in your spice collection right now. I first saw cumin used in guacamole in an Alton Brown recipe. I've since seen cumin as a guacamole ingredient in many places, including Food & Wine. I guess it's technically not a secret ingredient nor is it exclusively mine, but it IS what makes my guacamole the BEST!
I decided to share my guacamole recipe after the recent media chatter about Jack White's guacamole. Several of you asked if I had seen the news. Apparently it's no secret Jack White tunes and guacamole are two things in frequent rotation in my kitchen. Some asked my opinion of the recipe–looks pretty solid to me, spicy with serrano peppers, I would add cumin. And as for a student newspaper releasing an artist's rider and contract, well…
In the real world (the one that exists outside of this blog), I'm an artist whose business relies heavily on contracts and riders. At some events, those contracts are public information should anyone ask. That said, anyone outside of my occupation or field who sees these contracts might draw many conclusions based on unfamiliarity with what I do, which is nowhere near as complex as being a rock star with a crew of 30. When I'm traveling for work, having familiar food (and a strict absence of gluten) helps me do my best work. So if Jack White and his touring crew want some fresh guacamole and ask that there be absolutely no bananas in the building, I think that's fine. And if the media wants to talk about it for days, that's cool, too. Because really, our world needs more good guacamole. Whatever is takes.
Speaking of guacamole, here's mine. It really is the best. If you bump into Jack White somewhere down the road, would you tell him? This girl will make guacamole for concert tickets and limited edition vinyl. 😉
The BEST Guacamole: My Secret Ingredient Revealed
Ingredients
4

avocados

1

cup

halved or quartered cherry tomatoes

1/2

yellow onion

, finely chopped

1/2

bunch cilantro

, finely chopped

1/2

to 1 jalapeno

, seeds and veins removed (adjust to your heat preference)

1

lime

, juiced

2

cloves

garlic

, finely chopped or minced

1

teaspoon

cumin

sea salt to taste
Instructions
Slice each avocado in half, removing the pit. (You may save the pits for later. Putting one or two in the bowl of guacamole will help reduce discoloration.)

Cut the avocado in the peel, a minimum of four lines vertical, four lines horizontal or more if you prefer small pieces of avocado. Using a spoon the size of the avocado (

get a big spoon like this

), scoop out each half of the avocado. Hold the avocado half in one hand, spoon in the other. Lay the edge of the spoon alongside the avocado and gently scoop. So easy!

Pour the lime juice over the avocado chunks and toss well to coat. This will also help to slow down any browning/discoloration of the avocado.

Mix in all remaining ingredients. Using the back of the spoon, you may choose to gently mash some of the avocado chunks. I like my guacamole more on the chunky side. You can decide how chunky or smooth you like yours.

Refrigerate for one hour prior to serving for flavors to meld. Serve with your choice of fresh veggies of chips. Shown here are jicama spears dusted with smoked paprika and cucumbers.