This post contains affiliate links. See my disclosure for more information.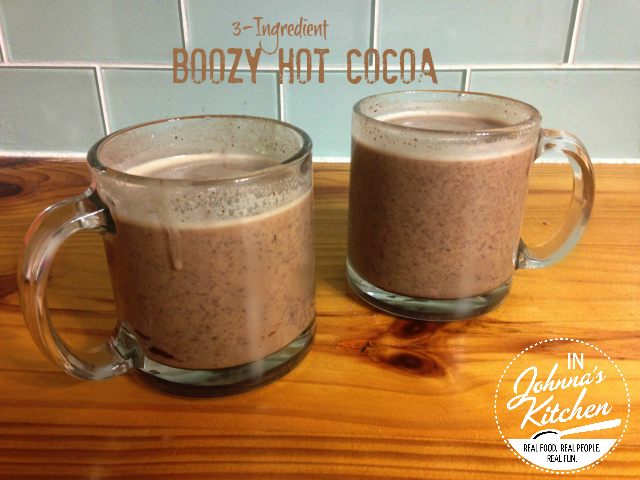 I'm so thankful we are going to have a bit of warmer weather later this week. February just about did me in this year. I thought I had just about worked through every possibility of a warm beverage when the idea for this hot cocoa came to mind. Just 3 ingredients: dairy-free milk, chocolate chips and bourbon. Two minutes from start to finish for a piping hot cup of boozy hot cocoa.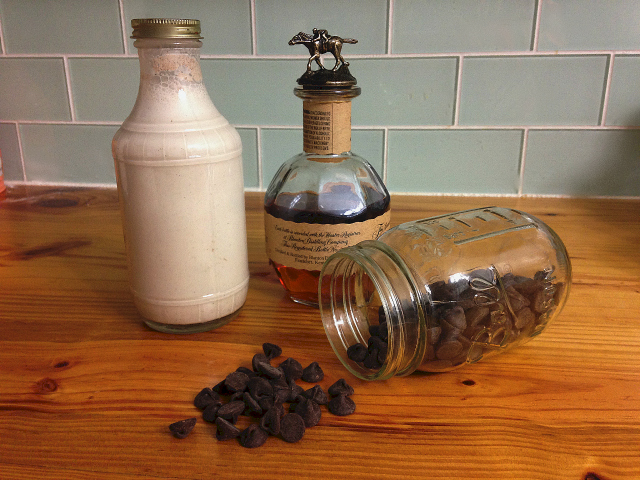 Can I tell you about the chocolate chips in this photo? They are cold smoked over apple wood. I'm gonna guess you just said, "What the heck does that even mean? And where do I get those?" I'm gonna do my best to answer, but I'm new to this whole smoking of food thing, so I by no means claim to be an expert.
See, we just recently got a charcoal smoker. Two vegetarians living in the barbeque capital of the country, it seemed like the right thing to do. Soon I hope to have a fancy electric smoker so we have more control over the temperature. But for now, the $10 smoker my favorite fella snagged when he went to help friends load up a small greenhouse they bought secondhand is doing the trick. We fill it with hardwood charcoal briquettes, a tray of water and a foil packet of wood chips that have been smoked in water. It magically creates clouds of smoke. The thermometer built into the smoker was shot, so we got an inexpensive oven thermometer and installed it inside. Putting chocolate inside a smoker is a temperature-sensitive venture.
Here's what I can tell you about cold smoking versus hot smoking: hot smoking is over 100 degrees and actually cooks the food. Cold smoking is below 100 degrees and does nothing but impart flavor into whatever is in the smoker. I'm liking cold smoking for things like jackfruit and bell peppers and cranberries and chocolate chips.
The trick with chocolate chips: they melt at about 90 degrees. You probably know this because you've snagged a handful of chocolate chips while baking and they started to melt in your hand. So the trick with cold smoking chocolate chips is to get them in the smoker when it's cool inside yet still producing lots of smoke. My favorite fella does this well, but I know nothing more about it to explain to you. Just that the resulting chocolate chips have a nice hint of smoke.
Oh, what's that, you don't have a smoker? Well, guess what? I bought cold smoked chocolate chips recently at a fun local spice and home goods shop, Season + Square. They are from Hot Cakes Molten Chocolate Cakery in Seattle. Their version is smoked over alder wood for TEN hours. These are some seriously smoky chocolate chips. If you don't have a smoker at home and want to try smoked chocolate chips in this hot cocoa, you can buy them here.
OR you can make this with *regular* chocolate chips, no smoke needed. I've tried it both ways, with smoked chocolate chips and with regular chocolate chips, and both were warm, comforting, perfect for a chilly evening. The chocolate chips I smoked as well as the ones I used not smoked were Enjoy Life's Dark Chocolate Morsels.
A couple of quick tidbits on ingredients: I used homemade cashew milk in making this. I'll share a recipe on that soon, but the milk of your choice will work fine. I've selected Blanton's bourbon because I like the flavor of Blanton's with anything smoked. You pick your favorite bourbon though, okay?
Alright! Off to the recipe now. Try this, won't you? Report back and let me know that it warmed you from top to bottom on a cold night. That will make all of my taste-testing efforts worth it. 😉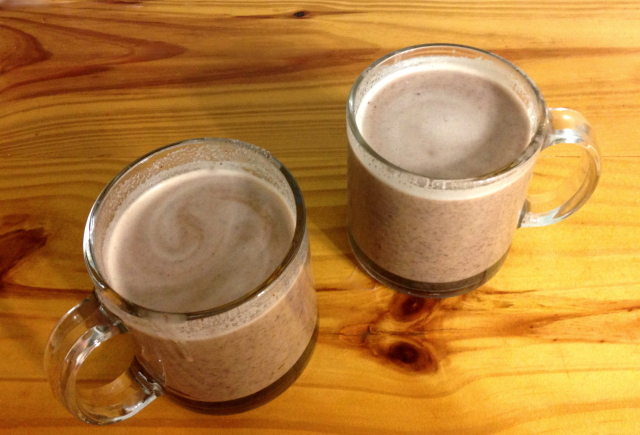 Boozy Hot Cocoa: 3 Ingredients AND Dairy-Free!
Ingredients
8

ounces

of your favorite dairy-free milk

2

Tablespoons

dairy-free chocolate chips

1

ounce

of your favorite bourbon
Instructions
Heat milk until piping hot used your preferred method, whether that be cooktop or microwave. Pour into mug.

Add chocolate chips, stirring until melted.

Stir in bourbon and serve immediately.