This post contains affiliate links. See my disclosure for more information.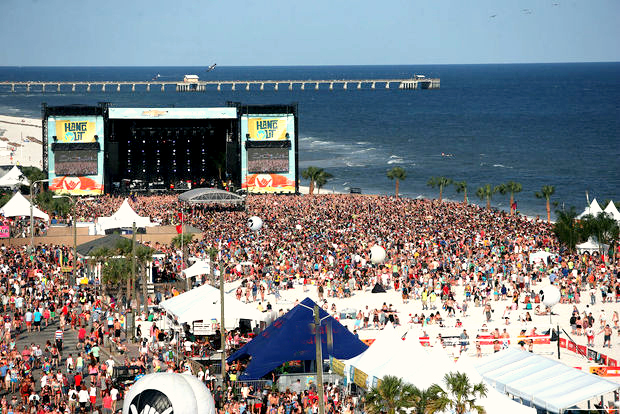 Next week I'm hitting the road (or the skies as it may be) for Hangout Music Festival. I'll be sharing all of my food finds on Instagram and Twitter while I'm there. But first, I've got to pack my bag of music festival essentials.
There are many music festivals packing lists online, but most of them relate to festivals where you can camp. Hangout is right on the beach in Gulf Shores, Alabama. There's no camping, just plenty of lovely resorts, hotels and condos. So the packing list is going to be a bit different from the others you've seen. No tents, no sleeping bags, no camp stoves. Think of this as the Day Pack Survival List.
Below my list of essentials, I've included a few pointers on what not to pack, what not to wear. Read on through for all the good stuff…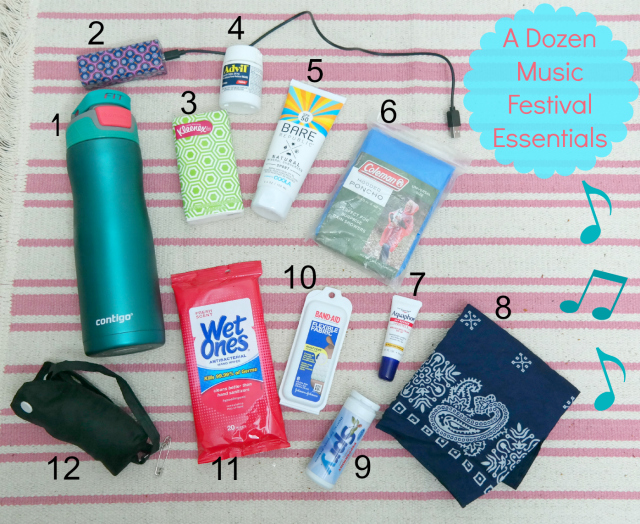 1. A refillable water bottle. Hangout has four complimentary filtered water stations sponsored by Camelbak. Bring an empty bottle to the fest, stay hydrated all day. In the photo is my Contigo Autospout bottle. It's stainless steel and keeps water cool for a long time. (Pro tip: Two packs of these at Costco right now for the price of one on Amazon.)
2. A battery pack for your electronics. You'll want this for your smartphone. I keep one of these in my purse all the time, super handy. I like Powerbots. My fella has a larger, flat one that has a flashlight built in. I couldn't find it online to share. If buying from Amazon isn't your thing, I sometimes find great prices on these kinds of things at TJ Maxx and Marshalls. Look by the registers. (Tip: download the app for the music festival and the app for the surrounding area, like these for the area around Hangout.)
3. Kleenex. Tissues. Whichever you prefer to call them. You might get the sniffles when your favorite band plays your favorite song. You might find the port-a-potties are out of toilet paper.
4. Advil. Tylenol. Some sort of pain reliever. You might get a headache when the tall guy in front of you elbows the top of your noggin' showing off his crazy dance moves. Your legs are going to hurt from all of the walking. You might have over-indulged the night before…
5. Sunscreen. So.Much.Sunscreen. Put it on constantly. Not to sound like your mother, but you don't want to be sunburnt on day one of a three day festival. It will make you cranky, plus you should take great care of your skin. I'm a big fan of Bare Republic sunscreen, made by the folks at Coola. So far, I've only located it at Target for around $15. I'm comfortable putting all of the ingredients on my skin. It's mineral-based.
6. Rain poncho. I know, it's not super fashionable. You won't look adorable in it. But you'll thank me the minute it starts pouring. Umbrellas are a no-go at most festivals. A rain poncho that fits in a tiny pouch like this could save your day and whatever electronics are in your pocket.
7. Lip balm with sunscreen. I have had the worst sunburn on my lips thanks to lip gloss that essentially was like putting oil in a frying pan. Ouch!
8. A bandana. Useful for so many things: cover your head, make a headband, block the sun from your neck, make a tourniquet after a shark attack…I'm kidding on the last part, but a bandana is an essential for me.
9. Gum. Not one packed with artificial sweeteners, pick something like Spry.
10. Bandaids. Maybe even a little travel first aid kit. Look where the travel size toiletries are sold at your favorite store. They often have a $1 travel first aid kit. You are gonna walk a lot, you might get blisters. Or you might fall down dancing and scrape your knee. It could happen!
11. Wet wipes. Put this on top of your must-have list. You're gonna feel gross and grimy. It's gonna be hot and humid. You are gonna dance your ass off. Wet wipes are a great way to freshen up a bit.
12. A reusable bag that packs small OR a reused plastic bag. You might buy something, t-shirts or an autographed vinyl record. It's nice to have a way to tote it back to your hotel room or condo. You'll notice I've attached a couple of safety pins to mine. Another handy thing to have.
BONUS ITEMS: These items seem like no-brainers to me but I'm putting them here just in case.
13. A hat. I pack this hat. It goes flat in my suitcase. Regardless of what kind of hat, take one. Wear it. If you are fair skinned and fair-haired like me, you know the pain of a sunburn on your scalp. It's miserable. Plus a hat will shade your eyes.
14. Sunnies. You're gonna need your sunglasses. Not a bad idea to pack an extra pair of cheap ones.
15. A beach towel or blanket to sit on.
One last tidbit on all of this "stuff" I take with me: rent a locker already! It's maybe $50 at festivals like Hangout. Sometimes locker rental even includes a place to charge your phone. It's totally worth $15 or so a day to have a place to safely stash your stuff. Plus I feel free to buy more goodies from my favorite places like Life is Good and Natural Life when I have a locker.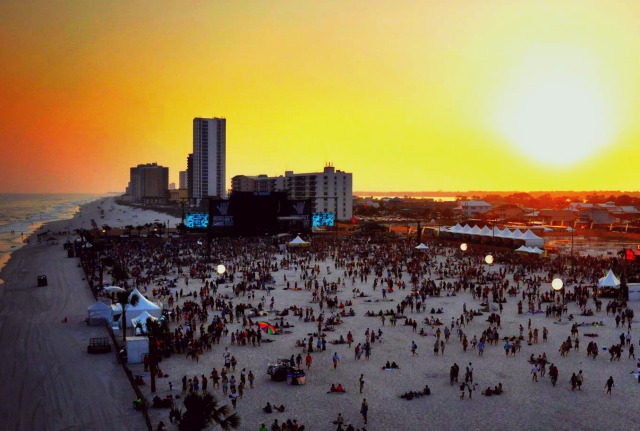 Want one more list? How about what not to wear?
1. While all of that rayon boho attire is cute, cotton is your friend in hot, humid situations.
2. Rompers. I know, they look super cute on 6.3% of the population, but have you ever tried to use a port-a-potty in a romper? Oh, good grief! Not gonna happen.
3. Pricey accessories. Leave them at home. If you drop an earring in the sand beneath a thousand pairs of dancing feet, it's gone.
4. New shoes. Super high platform sandals. Wear something comfortable and that actually makes sense for walking miles, some of it in the sand.
5. A frown/bitch face. Don't wear your smile upside down. It's easy to get grumpy, tired, overheated. Take a break. Go chill out in the shade. Take the shuttle back to the hotel and skip the band you've never even heard of. Take a nap instead. It's easier for me to say this in my 40s than it was in my 20s, but festivals are much more fun when I take care of myself. I give you permission to take care of you, too!
So let's wrap this thing up. Pack a bag of useful goodies, wear comfortable clothes, take good care of yourself. Will I see you on the beach next week?
Oh, hey, one last thing! I'll be updating Twitter and Instagram throughout Hangout with my gluten-free food finds. You guys, there are some amazing gluten-free eats at this festival. Follow along and check #hangoutglutenfree for updates from me!
Full Disclosure: This post contains affiliate links. Should you make a purchase by clicking on an item I recommend, I may make a small commission. I use affiliate links to offset the cost of maintaining this website and providing gluten-free food, fun and travel information at no charge to you. Thank you for your support!